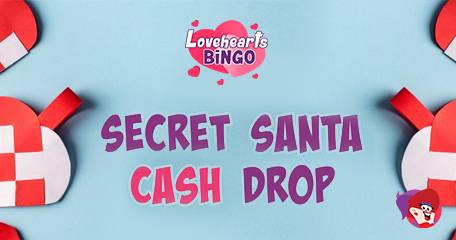 Are you starting to feel festive yet? November is almost over and that means December 1st when the advent calendars start to open, and the treats start to flow – a time of the year I'm dreading to be honest! All year I've been exceptionally good and have watched what I've eaten and managed to lose over 4 and a half stone! December for me will be a nightmare!
Luckily, there are alternatives out there – daily treats that not only guarantee not to increase the size of your waistline, but they also guarantee to never come with wagering requirements, especially at Lovehearts Bingo! Anything you win whether it be from a welcome bonus (if you're yet to join!) or a chat game bonus (because there's plenty of those too!), what you win guarantees to be cash and therefore withdrawable!
Secret Santa is a brilliant concept…
…derived from western Christmas tradition, members of a group or community are randomly assigned a person to whom they give a gift to. The identity of the person giving the gift is to remain a secret and hence the name Secret Santa! A gift exchange is what it is and everyone who takes part will buy a gift and receive one in return and that's exactly how Lovehearts Bingo are running things!
Surprise from Santa's Sack
Remember you gift one, you receive one, so in order to take part in the biggest surprise in online bingo, you need to qualify and to qualify you must wager at least £10. Between now and December 6th, the little bingo elves will be crediting player's accounts randomly with some terrific surprises; will it be bonus spins for the latest releases, free bingo tickets, cash back, casino games bonus or real money? There's only one way to find out!
Remember, regardless of what you win, it will be added to your real money bankroll. If you win more than the minimum deposit amount (£10), we recommend taking it out (a withdrawal!) and treating yourself to something nice. A tenner will buy you a couple of coffee and a cake each – nice lunchtime treats for you and a friend maybe, or, that £10 could buy you a half price gift set from Tesco or boots – have you seen the deals on Christmas gifts already?! I've almost finished my shopping by taking advantage of these deals.
The rules state that £10 must be wagered, but…
…it doesn't say what on! Why not try the 'Even Stevens' bingo room where everyone has the same chance of winning the jackpot? The 90-ball bingo room delivers three prizes per game and each player is required to purchase 24 tickets at a cost of 48p – in total, meaning nobody has an edge over anyone else. Or you could try the new Twin Spin Megaways? In fact, there are hundreds of online slots to use your funds on and each one delivers plenty of chances to win!
Bingo Promotions & Bonuses
Back to articles
Your feedback
Please enter your comment.
Your comment is added.
Member's Feedback (1)
Bubles12
11/25/20, 10:11:39 AM
Another great promotion from Lovehearts! The even stevens room is good but unlike the other rooms, prizes are smaller.