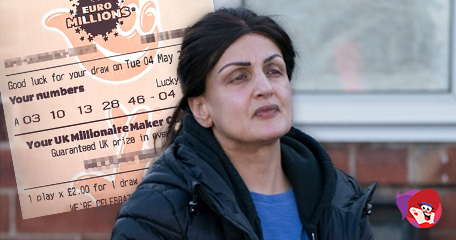 Always Listen Out for That Lottery Jingle!
Most of us have played the lottery or scratchcards at some point and when we do we put our utmost trust in the cashier to tell us whether we have a winning ticket or not. The majority of shopworkers are trustworthy, but some are not. Due to the latter, The National Lottery installed a "jingle" on the machines to alert customers to a win. The change came after a woman was jailed for stealing customer wins.
If you have a winning lottery ticket or scratchcard win the machine will produce an alert sound when that ticket is scanned. But what happens if you are hard of hearing? You have to rely on what you are being told, and one 81-year-old man almost lost out on his £130K EuroMillions win for this very reason!
What Happened?
In May 2021, retired delivery man Frank Gowland purchased a EuroMillions ticket for the May 4th draw. When it came to checking his ticket, he was happy with what he was told – he didn't win, but 52-year-old Narendra Gill, the shopworker at the GT News shop at the White Rose Shopping Centre in Leeds was lying through her teeth!
The deaf father of two was unaware of the winning alert produced by the machine as Narendra scanned the ticket, and 15-minutes after he left the shop, she was on the phone to Camelot claiming his win as her own! It was a very sophisticated and callous act carried out by a woman in a position of trust, and she did this by confusing the pensioner with crumpled, losing lottery tickets.
The £130,928 real money winning EuroMillions ticket matched five main numbers drawn and 1 of the 2 lucky stars, was now in the position of the shopworker and when she rang Camelot to claim the win, alarm bells were ringing when they could hear her serving customers. Admitting to working in newsagents, the thief claimed she was gifted the ticket but couldn't say where from.
Camelot contacted the police who scanned CCTV in the shop. This led them to Mr Gowland who was shocked at what he was told. At first, he thought it was a scam and instructed his stepson to deal with it, but when the police revealed what he had bought and when, down to a roll of toilet roll, he knew it wasn't a scam. He eventually received his winning 6-months later.
Narendra Gill, when approached by the media said "Obviously, I wish I had not done it. It was stupid." She admitted theft and fraud and was jailed at Leeds Crown Court for 28-months. The branch where she worked has since closed.
Source: "Crackpot Plotto Shopkeeper Told OAP he Had Lost EuroMillions So She Could Steal His £130,000 Jackpot". The Sun. March 4, 2022.
Bingo Society News
Back to articles
Your feedback
Please enter your comment.
Your comment is added.
MadamMilly
03/10/22, 06:03:07 PM
Only 28-months? You'll be lucky if she serves 4 month of that! She shouldn't be allowed to work in a position of trust ever again!