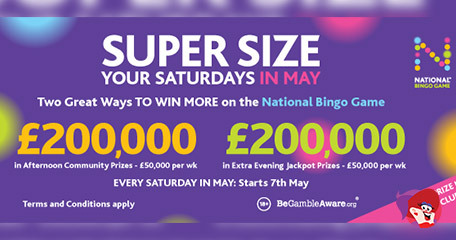 Enjoy Extra Prizes at Your Local This Month
This month selected bingo halls up and down the country will be hosting a super-sized promotion and with it comes a guarantee of producing even more winners! The National Bingo Game is already played twice a day with as much as £50K extra going to lucky dabbers who can win a full house within a set number of calls, but they understand not everyone can win which is why they have introduced bigger cash prizes and now community prizes!
There will be two promotions every Saturday, one for the afternoon and one for the evening. During afternoon bingo sessions, simply win on the lowest number of calls to win up to £50K. Other players in your club also have the chance to win a share of the prize too. Being a 50-ball bingo game, there's only the full house to mark on the ticket:
Claim in 24 calls or less and win £100 on top of the in-club full house prize stated
Claim in 20 calls or less and win £1K as well as the full house prize
Claim in 16 calls or less and win that £50K jackpot plus the full house!
More Prizes, More Winners
In the evening things get a little better. If that's even possible! An extra £50K will be added on top of the National Bingo Game jackpot prize and if it's not won in 16 calls or less, it will roll over to the following Saturday evening game until it is won:
7th May: £100,000 prize (£50,000 Jackpot Prize + £50,000 extra)
14th May: £150,000* prize (£50,000 Jackpot Prize + £100,000 extra)
21tst May: £200,000* prize (£50,000 Jackpot Prize + £150,000 extra)
26th May: £250,000* prize (£50,000 Jackpot Prize + £200,000 extra)
* Unless the prize was claimed on a previous Saturday evening, which will result in the prize being reset, starting again at £100K (£50,000 Jackpot Prize + £50,000 added prize).
Promotions are for Super Saturday 7th, 14th, 21st and 28th of May only. Call in 24, 20 or 16 calls in the evening to win an extra £100, £1K or £50K respectively. Community prize pots will go to the club where the winner manages to win a full house in the least number of calls. This is a national game and can be achieved in any of the hundreds of bingo clubs dotted around the UK. Participating clubs include Buzz Bingo, Carlton Bingo, Mecca Bingo, Apollo Bingo and Club 3000 Bingo. A full list of bingo clubs can be found on the National Bingo Game website.
The National Bingo Game tickets are in addition to the usual session bingo books, costing just £1 for 2 tickets or £2 for 5 tickets. Every club will have its own winner, but if that winner calls within 24 numbers, they get extra cash. Every jackpot winner of £50K will be thrown their own bingo party to celebrate their win, of course it comes with a free bingo session for all members, nibbles and fizz! Will you be a lucky May winner?
Bingo Promotions & Bonuses
Back to articles
Your feedback
Please enter your comment.
Your comment is added.
HangingAround
05/06/22, 12:05:10 PM
There's been a few of these big winners in my club. I haven't even managed to win a full house let alone a jackpot but it's fun!