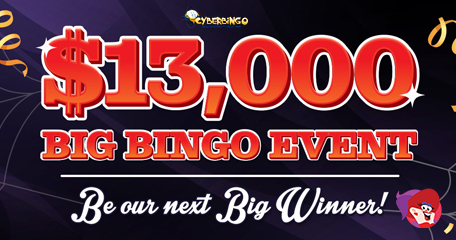 Why brace the cold this Halloween when you can grab more than a mitt-full of treats at Cyber Bingo? And, you don't even need to dress up for the occasion! The big bingo event is coming and it's an event that many of us have been looking forward to all month, what with there being thousands and thousands of dollars up for grabs! The bingo event will take place in the 'tourney bingo room' on Saturday 31st October, but unless your name is on the guestlist, you won't be coming in!
If you're wondering what you have to do to get an invite to this big bingo bonanza, you really don't have to do much other than be a registered player with a funded bankroll, as these big prize paying games are strictly for depositing players only.
Once-a-Month Special
The event promises big fun and cash spills – all of which is real money that can be withdrawn with no restrictions. To kick the fun off, three incredible warm up bingo games will take place on the hour between 7pm and 9pm (EDT). Each ticket will cost $2 with a chance to win $1K guaranteed! And then for the main event; the biggest game of the month, $10K will be won!
As you can see, Cyber Bingo is pushing the boat out with this upcoming Halloween special where just four bingo games will see lucky bingo dabbers shouting "house" for a share of a $13K prize pool! Want in? This hugely popular US bingo site is welcoming new players with a free trial offer, so if you're yet to join, here's your chance!
Will you join the growing family of big fixed jackpot winners this month? Somebody has to win, so why shouldn't that be you? Tickets to the grand finale will set you back $5 a ticket, which isn't exactly cheap, but there's ten thousand dollars to be won – we're talking life-changing cash! And with Christmas fast-approaching, it could come in handy for all those presents you need to buy!
The last five winners of the $10K jackpot never expected to win either, but you've got to be in it to win it LBB'ers! Bettyboob442 purchased her tickets and walked away from her computer to get a snack and when she returned, she saw her bankroll had been boosted by $10,000! Lorna who also won the big prize said: "I was so surprised when I managed to get back into my tourney screen and found my balance was so huge. I wish I could have seen the red card. It's been 2.5 hours and I'm still stunned."
Tickets are available to pre-buy in the lobby right up until the games kick off at 7pm on Saturday 31st October. We'll keep our fingers crossed for you!
Bingo Tournaments
Back to articles
Your feedback
Please enter your comment.
Your comment is added.
Member's Feedback (1)
lollipops321 10/27/20, 07:10:46 AM
The best bingo site for US players to date! I've never had issues withdrawing my winnings and there's always something to look forward to.