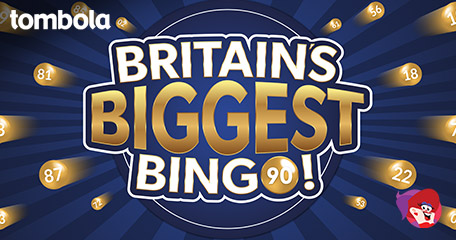 A Look At What's Ahead At Tombola
Christmas may be over but that doesn't mean the fun has to be! Tombola have revealed their promotional schedule and it's every bit as exciting as we could have hoped! From additional prizes in every game to life-changing real money prizes in Britain's biggest bingo game – you won't find these types of promos or prizes anywhere else!
On January 1st at 9pm, a minimum of £100K will be won! The prize pool currently stands at £115K with the prize money only expected to rise before this date. There are four ticketing options, which can be purchased in advance. I'll most likely have a huge hangover from the previous evening New Year's Eve celebrations, so I welcome the idea of purchasing in advance!
Buy one strip with 6 chances to win for 50p, two strips with 12 chances to win for £1, three strips with 18 chances to win for £1.50p or the maximum – four strips with 24 chances to win for £2. There is just the one prize available in these bingo games – a full house. The first person(s) to mark all 15 numbers off their ticket wins that real money prize!
Other winter promotions at Tombola include:
Bingo Lite Links:
Where: bingoLite room only
When: Between Monday 26th and Friday 30th December
What: There will be £500 in guaranteed full house prizes in the 11am and 11.30am link games
Festive £50K:
Where: bingo90 – the triple chance bingo room
When: Between Monday 26th and Sat 31st December from 9pm
What: Back to back link games with set prizes
Back2Back Lite Links:
Where: bingoLite – the 90-ball bingo room with cut price bingo tickets
When: Sunday 1st January
What: Prizes consist of 5 x £500 and 1 x £1000 full houses in linked-up games between 8pm and 8.30pm
Back2Back Cash Climber:
Where: bingo90
When: Monday 2nd January for one hour between 8.30pm and 9.30pm
What: Back to back link games with guaranteed prizes
Bingo80 Winter Party:
Where: bingo80
When: Wednesday 4th and Thursday 5th January from 9pm to 10pm
What: There will be £300 in guaranteed prize money in every game
Bingo90 Multi Links:
Where: bingo90
When: Friday 6th and Saturday 7th January
What: £10,000 guaranteed full house prize in the 9pm, 9.30pm and 10pm link games
Bingo Lite Back2Back Lites Week:
Where: bingoLite
When: Monday 9th to Sunday 15th January
What: £500 full houses will be won by real players in back to back link games between 8pm and 9pm.
Two Lines Tuesday:
Where: Picture bingo
When: Every Tuesday in every game
What: Additional 2 line prize to be won! One-line, two-lines and a full house on Tuesdays only!
General Gambling News
Back to articles
Your feedback
Please enter your comment.
Your comment is added.