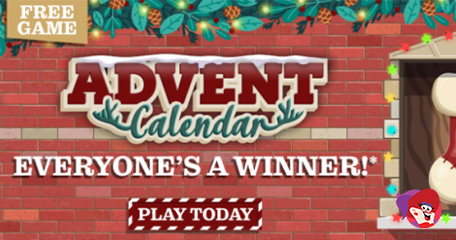 Daily Dose of Fun with Plenty of Big Prizes!
December fun is most certainly underway with more and more online bingo sites offering players a festive freebie, and this time, Tombola is promising everyone will be a winner. The daily advent calendar is packed from floor to ceiling with iconic seasonal images, all you need to do is match three to win a prize! A prize pool of £100K has been set aside with prizes ranging from a fiver to £5K!
Wager-free cash is also guaranteed, cash with no withdrawal restrictions, but there is one little thing we should mention…
…you're only guaranteed a prize if you take part everyday from the 1st to the 24th! If you miss a day, your chance of winning diminishes. You still stand a good chance of bagging a prize if you've missed just the first few days, so there's no harm in trying.
There are eight possible prizes to be won in this festive no deposit offer, and two ways to win each prize, so 16 ways to win in total. Take a look at what you need to collect to get a wager-free prize:
£5 (bonus): 3x stocking or 3x snowflake
£10: 3x snow globe or 3x rocking reindeer
£20: 3x Santa hats or 3x snowmen
£50: 3x sleigh or 3x candy canes
£100: 3x Christmas trees or 3x baubles
£500: 3x gifts or 3x holly
£1K: 3x wreaths or 3x candles
£5K: 3x golden stars or 3x golden bells.
Other Freebies
The Tombola Christmas raffle is very much underway and just like the Advent calendar, it promises guaranteed winners every week! The free mobile (bingo) game is simple to opt-in to, just make sure your mobile phone is signed up to the offer by heading to the promotions page, then every Monday like clockwork you'll receive a free raffle ticket number!
The raffle number generated for me in week one was 697. Gutted to see the £2,500 cash prizes was awarded to raffle number 796 – the reverse of my number and it went to someone whose username is 'neverme312' – you sure about that chuck? Nine prizes are up for grabs each week with multiple winners on most of those. There are 10x prizes of £10 in Amazon vouchers, 10x Tombola mystery boxes, 10x £75 in Love2Shop vouchers, 10x Amazon Echo Show 8 devices, 10x £100 in cash, 10x Apple AirPods Pro, 5x Apple iPhone 13 Pro's and 1x £2,500 in cash and that's every week!
Also, that I'm A Celebrity Bug Match game is still active, giving you two chances to win up to £15K in cash every single day! Lift those lids on the nine food platters to reveal your critters. If three match, you win anything from a fiver to that top prize of £5K! This one runs until December 12th. Anything else? You bet! Every evening at 10pm, £20K is guaranteed to be won in the bingo90 room! Just a heads-up though, last night I purchased the maximum tickets (£2 stake) and was competing with almost 18,000 other players to win that prize. Needless to say I didn't win!
Bingo Promotions & Bonuses
Back to articles
Your feedback
Please enter your comment.
Your comment is added.
Member's Feedback (1)
bridgetjones
12/05/21, 03:12:39 PM
The offers at William Hill Bingo are amazing! They really do give away lots of cash and I've never had a problem withdrawing my winnings. Last week I won £50 in...
The offers at William Hill Bingo are amazing! They really do give away lots of cash and I've never had a problem withdrawing my winnings. Last week I won £50 in free bingo games and withdrew the lot. PayPal deposits mean I get my funds in minutes rather than days.
Show more