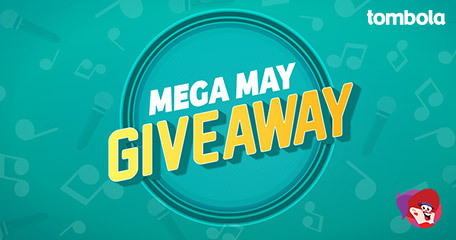 £1 Bonus = 12 Chances To Win In £100K Bingo Game
Have you heard… tombola is giving away physical goods every day in their Mega May Giveaway, and it's totally free to enter! There's just a few days left to get your name into the virtual hat and we're going to tell you how to do just that very shortly…
…but before we do we want to remind you of the other no deposit promotions at tombola, including Free Form. Available to play once a day, the free feature gives the community a chance to pick up one of 6 potential prizes per day – 25p, £1, £5, £20, £100 or a huge £5K!
To win a share of £50K each week in their free games, request a 4 digit code on a Monday and use this for a whole weeks access to the game. You should automatically receive the code on a Monday to your registered mobile but if you don't, you can get it by clicking the link at the start of the game.
No deposit tombola features continue with:
Super Spins: Head over to tombola arcade to play this daily free game for a chance to win cash, bonus prizes with no wagering requirements and free plays on their exclusive games. The scratchcard style game features 9 boxes, just click each of those to match 3. Three yellow "S" icons initiates the top 1x3 reel for a chance to win again while three green "FP" spins the wheel to reveal up to 20 free play credits.
Eurovision: Open until Saturday 13th, the Eurovision sweepstake will be dishing out £1, £2 and £3 bonus prizes based on the Eurovision song contest results on Saturday evening. Log in, opt-in to be assigned a random country. If your country wins, you win! Prize money will be added to winning accounts by 3pm on Monday 15th. The bonus prizes may not seem like much but it's more than enough to get you into the upcoming £100K minimum bingo game on June 1st!
Mega May Giveaway: There's over £5,000 worth of prizes to be won in the tombola Mega May Giveaway draw and the best part? It's completely free to enter! All you need to do is log in and answer the music-themed question from 10am ever day between Monday 8th - Friday 12th May for your chance to win a prize. The questions are simple like "If you had to pick one song to sing on a karaoke, which would you choose?", so don't sweat it! Take a look at what you could win:
Monday 8th: 2 x Apple iPad Air or 50 x £1 bonus credit
Tuesday 9th: 4 x 43" Toshiba TV or 50 x £1 bonus credit
Wednesday 10th: 2 x £500 Apple Voucher or 50 x £1 bonus credit
Thursday 11th: 4 x Ninja Foodi Multi Cooker or 50 x £1 bonus credit
Friday 12th: 4 x Shark Cordless Vacuum Cleaner or 50 x £1 bonus credit
Bingo Promotions & Bonuses
Back to articles
Your feedback
Please enter your comment.
Your comment is added.