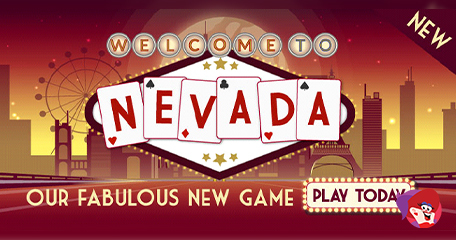 Play a Flippin' Good Game from 10p!
Tombola's Nevada is like bingo, only with cards, and what makes this new bingo variant so exciting is the number of ways to win per game! Plus, there are jackpots of up to £20K to be won in each round too! Suited to both low stakes players and those with a bigger budget, this latest arrival is proving to be popular, what with games starting as low as 10p! Styled very similar to that of their Cinco game, players compete to win by matching cards from a standard deck of 52 cards. The difference being all players have the same chance of winning!
Get Ready for a Big Deal
How do you play? Pick a room, select a stake and keep your fingers crossed for a win! It really is that simple. There are three rooms to choose from, Mojave, Fremont and Paradise, each with their own separate chat feature. Tickets cost 10p, 25p, 50p, £1 or £2 each. Once purchased and the game begins, you will be assigned a 4x4 bingo ticket featuring 16 different cards. As cards are announced, all matching instances will be removed from your screen. Be the first to match 4 horizontally to win the line, 8 cards horizontally to win the two lines and all 16 to win the full house.
Look out for promotion days at Tombola…
…where 3-line prizes are added to make more winners and more excitement! How do you win a jackpot? We're just about to tell you! The jackpot comes in two tiers with the amount you can win being based on your stake and how quick you can call house. The less cards you win on, the bigger the prize, and the best news? Jackpots at Tombola are never shared. If more than one person wins the jackpot at the same time, they all win the full amount.
Jackpot 28: Call within 28 cards to win £20,000 with a £2 stake, £10,000 with a £1 stake, £5,000 with a 50p stake, £2,500 with a 25p stake and £1,000 with a 10p stake.
Jackpot 31: Call within 31 cards to win £2,000 with a £2 stake, £1,000 with a £1 stake, £500 with a 50p stake, £250 with a 25p stake and £100 with a 10p stake.
Nevada is just one of scores of exclusive games at Tombola not available anywhere else, with games based on rollercoasters, pirates, circus acts and even bingo murder mysteries! All registered players also get to play for a share of £40K in real cash every week with the free-to-play, Merge. Two chances to win £5K every day just by matching foods – it doesn't get much more entertaining than that!
If you want to join in the fun, there's an unbeatable welcome offer waiting to be claimed – deposit £25 and receive £50 free! All winnings from the deposit bonus are wager-free and will be credited as cash.
Bingo Games
Back to articles
Your feedback
Please enter your comment.
Your comment is added.
Feelin froggy
07/26/21, 06:07:21 PM
Few changes since the launch: There's now a 3-Line prize up for grabs in every game. So that's a 1-Line, 2-Line, 3-Line and Full House to play for. The Nevada Jackpot...
Few changes since the launch: There's now a 3-Line prize up for grabs in every game. So that's a 1-Line, 2-Line, 3-Line and Full House to play for. The Nevada Jackpot is now just a single tier, and up to £1,000 can be won if you clear all your cards within 33 calls or less. There's only one chat room for the game now. There is no name for the chat room as players will go in automatically as they enter the game.
Show more
lollipops321 06/30/21, 06:06:29 AM
Not played this one yet! Normally the rooms are heaving when a game goes live, so I'll wait a few more days.