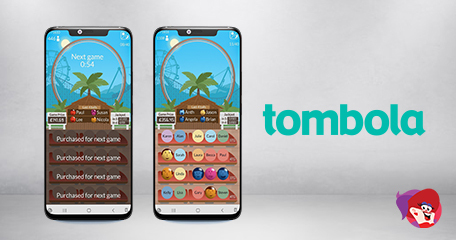 Fill Your Carts to Win up to £10K!
Monday 25th January saw the launch of Tombola's revamped Rollercoaster game – the unique bingo variant where winning sees you relying on heads falling out of carts to win! Forget playing with balls (oh' err!), you'll be playing with a cast of 40 multi-coloured heads with names ranging from Karen to David, Liz and Laura and I for one am mighty glad it's back!
Of all the games offered over at Britain's biggest bingo site, Rollercoaster was my favourite and while the aim of the game has remained very much the same, the graphics, visuals, audio and amount you can win has changed dramatically! Oh, and you can now play on mobile as well as desktop!
You may recall back in November I brought you news of the imminent…
…demise of Flash, and this was the reason for the death of the original rollercoaster game. The ability to play on mobile has brought the masses – and when I say masses, I mean the masses, out of the woodwork! Usually, a typically busy game back in December would see some 60-players fighting for a pot of about £50, but on the day of launch, approximately 1,400 people were playing for eye-watering sums!
Call My Name!
Styled on a 40-ball bingo game, rollercoaster allows you to purchase up to a maximum of four carts per game, starting from just 5p each. Each of those carts houses 5 heads and to win, you need to fill a cart before anyone else. The heads have various styles and colors to help you identify the ones you need. As the game begins, the rollercoaster pulls the carts around the track and when it reaches the highest point, a single head will drop. If you have that head, it sits in your cart!
Simple, no? Before the re-launch, an average game would last 20 heads, now, you're lucky if they last 10 – making it faster than a game of speed bingo! The unique variant is gathering a lot of attention and on launch day, a 5p stake was offering cash pots of almost £400! That's insane! Add to that two-tier jackpots for each stake level; 5p, 10p, 25p and 50p, and you can see why players are flocking to ride the new game in their droves!
To win the top jackpots of £1K and £10K, a 50p bet is needed, which isn't much, but what makes winning these prizes even more difficult is the fact you need you cart to be filled in the first 5 or 6 heads: five heads for that £10K or 6 heads for the £1K! Seems almost impossible when each cart houses five individually named heads, but that didn't stop the 16 jackpot winners on launch day!
As ever, the chat feature is awash with disgruntled players claiming the games are rigged and the same winners are winning each time – they're not, it's just a way of them seeking attention! Rest assured, all of the games featured on Tombola and the arcade and every other bingo and casino website on the net to be frank, are legit, fair and random at all times! The moaners were out in force when Cinco had a makeover too, but they soon died out.
Will you be trying the new game? Let us know what you think of it below!
Bingo Games
Back to articles
Your feedback
Please enter your comment.
Your comment is added.
Member's Feedback (1)
MadamMilly
01/28/21, 02:01:20 PM
It's so busy in the rooms it's madness! Chat is way too fast and so are the games, Lots have been calling for four separate rooms based on the stake, just like cinco...
It's so busy in the rooms it's madness! Chat is way too fast and so are the games, Lots have been calling for four separate rooms based on the stake, just like cinco offers. That would be better and offer more chance to win.
Show more