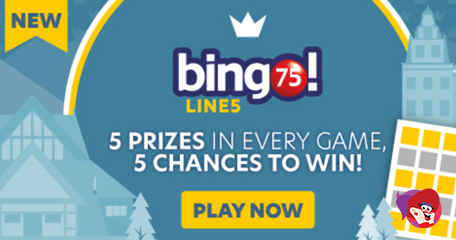 Hold on to your hats roomies, Tombola has just today opened up a brand-new bingo room and it's surpassing all expectations! 'Bingo 75 Lines' is a typical Swedish version of bingo where players have five chances to win per game! Add to that a jackpot too and you'll begin to see why it's so popular!
As soon as the doors opened, the room was packed with players all looking to win big and win big is what's been happening already! Can you believe there has already been a winner of the jackpot in this new bingo room? 'Barmpots' scooped an additional £1,000 for calling full house within 52 calls.
If you're a regular over at Tombola, you'll know the chat hosts have their work cut out for them and poor CM-profiterole was thrown in at the deep with players asking questions instead of reading how to play. In the words of CM-profiterole "It's chaos, but it's good chaos!" If your debating whether to give it a try or not, take a look at our handy guide on the new Bingo 75 Lines.
Line Up to Win
Before you buy your tickets, be prepared for a packed chat room! At the time of my visit there were more than 1200 players trying to win one of the five prizes. Sadly, unlike the many other bingo rooms at Tombola, the chat feature is permanent, so you'll have to grin and bear it – or play on mobile, because this is the only way the chat feature remains hidden!
Tickets are 20p each and you're able to buy a maximum of 4 strips (£2) per game. The amount you can win will be determined by the number of players in the game. At midday on Monday, a 20p ticket could see you winning one of the following prizes:
One Line: £99
Two Lines: £131
Three Lines: £164
Four Lines: £197
Five Lines: £455
Remember, the amount you win is not determined by your stake but by the number of players in the game. The first prize is a single line, you must mark off all numbers in a line – across only. Once the line prize has been won the next prize becomes the two lines, where you must mark off all numbers in two lines. This continues until the five-line prize has been won; this will result in your entire ticket being marked. If there is more than one winner per line, the prize is shared equally. Unless you win the jackpot that is then all of you who call will win a fixed sum of £1K each!
Bingo 75 Shapes is more popular today than it ever was, and that's despite being available for years! Tombola decided to not only introduce us to a new bingo game, but to treat us to a new-look room in an aim of bringing the US to our living rooms. A pleasant and immersive screen is now offered with more of an emphasis on your tickets rather than chat and if the roomies get a bit much, you can hide them!
General Bingo News
Back to articles
Your feedback
Please enter your comment.
Your comment is added.
HangingAround
11/03/20, 08:11:28 AM
Absolutely love this type of bingo game! Five chance to win in each game is better than one chance in the patterned 75-ball bingo game.