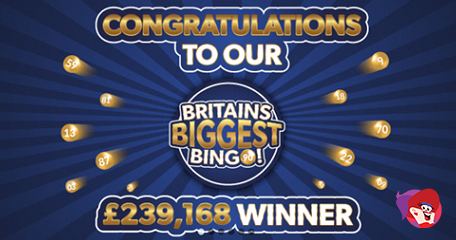 Monthly Big Bingo Game Is Huge Success
November 1st, 2022 will go down in history as the day Tombola created their biggest ever bingo winner, when babbz84 won a mega £239,168!
Since October, the bingo community have been waiting with bated breath to see who will win the full house prize, and the bingo game was every bit as exciting as we could have hoped. Styled on a typical 90-ball bingo game, only without the one-line and two line prizes, the pot of cash was only ever estimated to be worth £100K…
…but as more people got wind of the promotion, more joined and that pot more than doubled in size! Tickets started at 50p and no single player could have more than £2 worth of tickets into the game.
Eyes Down – Jaws To The Floor
At 9pm sharp the all-important bingo balls started to come, one after the other. It didn't matter if the full house went in 15 numbers or 90, the money was going to be won! There were a few technical difficulties with chat, that's a given what with there being almost 118,000 players eagerly attempting to join in with fun chat!
Babbz84 called that full house before any other player and was a single winner, taking home almost £240K in wager-free cash! Tombola process withdrawals in a flash, especially for Visa debit customers, meaning the winner will have had her funds within the hour!
As exciting as it was, there have been a few "comments" on social media about the game, the most common being that the winner was announced in the bingo rooms before the username vanished from all news alerts. Even on Facebook it simply says the winner won £239,168, no username.
Antony Harley said: "Well done winner be much better if had one line 2 line and full house give others a chance."
Shan Marie added: "Well done to the winner! And tombola maybe next time you should do a game where it has 1 line, 2 lines and a full house, I feel like having just a full house game isn't really fair on the rest of us when just one person gets to win!"
Angela Coady had her say too: "A lot of hype for very little in the end. A line or 2 would been a great warm up and make you feel like you had a fighting chance. Tombola please take note."
Less than a month to go until the next big bingo game. Will you be taking part? Tickets to the game on Thursday 1st December can be purchased any time right up until 9pm on the evening. Play from 50p to £2. Minimum prize pot is £100K.
Bingo Games
Back to articles
Your feedback
Please enter your comment.
Your comment is added.