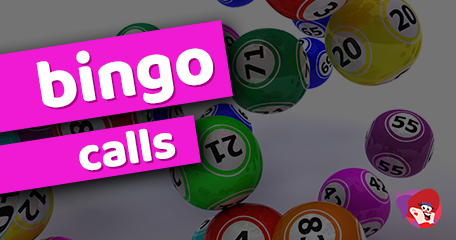 I was playing bingo last night when as you do, you start counting down your numbers…3TG, 2TG etc. When I got to 1TG – 22, I wrote "1TG – two little ducks" into chat and was surprised by the response I got, and not just from the bingo dabbing community but the chat host too! Every reply to me queried my phrase and many wanted to know what it meant, so it got me thinking, does nobody know the traditional bingo calls online anymore?
Traditional calls are a prominent feature of a bricks-and-mortar bingo hall, but nowadays with the ability to play online, those features we have come to know and love have been removed in favour of more modern touches. That, to me, is quite sad. Below you will find all the bingo calls and their meanings however silly they may seem, so consider this a bingo lesson LBB'ers, and pay attention because I'll be asking questions at the end!
Reminiscent Recap
Number 1 = Kelly's Eye: A reference to the one-eyed Ned Kelly, the infamous Australian outlaw. Research has revealed Ned Kelly had two eyes, so why he would be known as the one-eyed outlaw is a mystery in itself.
Number 2 = One Little Duck: The number 2 does look like a lonesome duck after all.
Number 3 = Cup of Tea: A popular British pastime installed into the nations favourite game of bingo.
Number 4 = A Knock at the Door: Purely because it rhymes with the number four. Modern online bingo games have their own rhymes to fit.
Number 5 = Man Alive: An expression of shock and of course it rhymes.
Number 6 = Chopsticks: Another based on its rhyming nature.
Number 7 = Lucky Number Seven: In many religions, they believe God created the earth in six days flat and rested on the seventh (Sunday), which led to the number seven being labelled as lucky.
Number 8 = Garden Gate/One Fat Lady: Generated due to its rhyming nature and the number 8 represents a 'full-bodied' woman.
Number 9 = Doctors Orders: Rumour has it that in military circles, doctors would close their doors to patients at 9pm, plus, army goers had created a slang word for laxative, which was of course the number nine. Laxatives would help keep the soldiers regular.
Number 10 = PM's Den: The residence of the Prime Minister – 10 Downing Street.
Number 11 = Legs Eleven: The number one side by side resembles a pair of legs. Up until recent years, this number would be greeted with a wolf-whistle once called, but not anymore.
Number 12 = One Dozen: Simple enough to understand.
Number 13 = Unlucky for Some: Many people around the world consider the number 13 to be unlucky, just as those who believe the number 7 is lucky.
Number 14 = Valentine's Day: No explanation needed. Unless you've never bought or received a gift on February 14th!
Number 15 = Young and Keen: Rhyming slang.
Number 16 = Sweet Sixteen: The oldest call in history as it refers to the title of a song from 1900.
Number 17 = Old Ireland: The date of St Patrick's Day, the Irish celebration, March 17th.
Number 18 = Coming of Age: The age considered to be adulthood with those turning 18 now able to drink alcohol and gamble.
Number 19 = Goodbye Teens: Reference to final year as a teenager.
Number 20 = One Score: Simply put, once score means twenty!
One Score to Dirty Gertie
You ready for the next batch of traditional bingo calls?
Number 21 = Key to the Door: The age of 18 may be adulthood, but the age of 21 is considered to be the age of maturity, when young adults would be trusted with their own set of door keys.
Number 22 = Two Little Ducks: The number 2 side by side resembles two ducks on water.
Number 23 = The Lord is My Shepherd: The first line of Psalm 23 in the Bible.
Number 24 = Two Dozen: A dozen (12) x2 = two dozen (24).
Number 25 = Duck and Dive: Rhyming slang which originated from boxing ring circles before being modernised. Duck and dive were a term once given to those nimble on their feet in the ring, now it's given to someone who is good at hustling and evading the law.
Number 26 = Pick 'N Mix: Rhyming slang that came into circulation when high street store Woolworths, introduced self service pick 'n mix products.
Number 27 = Gateway to Heaven: Another rhyme, only this time referring to the stairway to heaven.
Number 28 = Over Weight: Yep, you guessed it, a rhyme.
Number 29 = Rise and Shine: Rhyming at its finest once again.
Number 30 = Dirty Gertie from Number 30: Do you remember Basil Brush? The loveable TV puppet and household name generated this phrase in reference to the number 30. Since airing sometime between 1963 and 1984, it has become a popular term in a game of bingo.
Number 31 = Get Up and Run: Said to be a rhyme, but I can't see how this one rhymes!
Number 32 = Buckle My Shoe: This one rhymes!
Number 33 = Three Feathers: A popular saying here in Welsh bingo halls as it refers to the Prince of Wales.
Number 34 = Ask for More: It rhymes!
Number 35 = Jump and Jive: Not only does it rhyme, but jive is a form of US dance which became popular in the 1940's and 1950's.
Number 36 = Three Dozen: A dozen (12) x3 = three dozen (36).
Number 37 = More Than Eleven: good old fashioned rhyming slang.
Number 38 = Christmas Cake: More rhyming to keep the bingo dabbers entertained.
Number 39 = Steps: Reference to the John Buchan novel and Alfred Hitchcock film 'The Thirty Nine Steps'.
Number 40 = Blind 40: No explanation needed!
Time for Fun to Five Dozen
How many do you know so far?
Number 41 = Time for Fun: Reference to the old saying that life begins at 40.
Number 42 = The Street in Manhattan: This one is strange given that 90-ball bingo is a UK favourite. The term used to describe the number 42 is taken from the title of a 1933 musical starring Ginger Rogers.
Number 43 = On Your Knee: A simple rhyme with possible links to a marriage proposal?
Number 44 = All the Fours: The most number of fours possible from 1 to 90.
Number 45 = We're Halfway There: Quite literally, we are halfway there what with traditional bingo having 90 possible calls.
Number 46 = Up to Your Tricks: Rhyming reference.
Number 47 = Four and Seven.
Number 48 = Four Dozen: A dozen (12) x4 = four dozen (48).
Number 49 = Rise and Shine: A rhyming reference referring to getting out of bed each day.
Number 50 = Half a Century: 100 is a century and half a century is 50.
Number 51 = Highland Division: Reference to the 51st Infantry (military) Division.
Number 52 = Number of Weeks in a Year.
Number 53 = Stuck in a Tree: Rhyming reference.
Number 54 = Clean the Floor: Another rhyming term pulled from absolutely nowhere relevant.
Number 55 = Snakes Alive: The number 5 is 'one little snake', so two would need to hold the same resemblance, hence 'snakes alive'.
Number 56 = Was She Worth it? Number 56 refers to the cost of a marriage licence back in the 50's – 5 shillings and sixpence. When called, the men in the bingo hall would reply with either yes or no. This one is quite fun.
Number 57 = Heinz Varieties: The folks behind baked beans and condiments have 57 varieties.
Number 58 = Make 'em Wait: Rhyming slang. Five and eight, you're never too late to try something great!
Number 59 = The Brighton Line: Term referring to the trainline of route 59, where day-trippers would go from London to Brighton.
Number 60 = Five Dozen: A dozen (12) x5 = five dozen (60).
And the Numbers Continue
We're getting nearer the end, so this may be a good time to go and pop that kettle on. You'll need your stimulate your brain for the questions at the end!
Number 61 = Bakers Bun: Said to be rhyming, but again, I can't see how it does!
Number 62 = Tickety Boo: Military phrase from the times England's military were in India.
Number 63 = Tickle Me: Rhyming slang.
Number 64 = Red Raw: Could you imagine laying in the sun (when we get nice weather that is!) and someone saying to you "You're number 64 all over"? No, me neither!
Number 65 = Old Age Pension: When you could retire at 65 and get a pension. Those were the days eh!
Number 66 = Clickety Click: A good little rhyming ditty.
Number 67 = Stairway to Heaven: Rhyme referring to the steps to heaven once again.
Number 68 = Pick Up a Mate: Rhyme referring to take your mate to bingo?
Number 69 = Any Way Up: A reference to a saucy position in the bedroom!
Number 70 = Three Score and Ten: 3 x score (6) + 10 = 70.
Number 71 = Bang on the Drum: Said to be used for its rhyming sounds, but it doesn't sound anything like it to me.
Number 72 = Six Dozen: A dozen (12) x6 = six dozen (72).
Number 73 = Queen Bee: Number 73, it's Queen Bee Bingo!
Number 74 = Candy Store. It rhymes.
Number 75 = Strive and Strive: A rhyming reference to do with someone who keeps trying.
Number 76 = Trombones: The famous 1950's Broadway musical, 'The Music Man', stated there were "Seventy-six trombones led the big parade".
Number 77 = All the Sevens.
Number 78 = Heaven's Gate: Rhyming referring to heaven.
Number 79 = Another Time: This is a rhyming reference. I have one of my own – 79 it's Bet365 Bingo time!
Number 80 = Blind 80.
Eighties to Top of the Shop
You're almost there roomies! Give yourself a nice round of applause! You may have noticed a lot of the number's sayings are purely down to rhyme, and many modern-day bingo venues have their own versions, so don't be surprised if you hear something other than we have listed. Number 8 for example, I've heard it being referred to as 'in a state' and 'gonna be late.'As fascinating as that is, let's get back to the final round of numbers.
Number 81 = Fat Lady and Her Walking Stick: Quite a mouthful and not very PC for today's bingo market, but it was a visual reference to the number 8 being one fat lady and the number one being a stick.
Number 82 = Straight on Through: Could mean anything but it's used for its rhyming purposes. Number 8 and 2, do we have some new releases for you!
Number 83 = Time for Tea: Milk and one sweetener please!
Number 84 = Seven Dozen: A dozen (12) x7 = seven dozen (84).
Number 85 = Staying Alive: Reference to the popular Bee Gees song "Stayin' Alive".
Number 86 = Between the Sticks: Term used to describe a goalkeeper standing between the goalposts. What that has to do with bingo is beyond me!
Number 87 = Torquay in Devon: Rhyming slang with precise accuracy.
Number 88 = Two Fat Ladies: if the number eight is one fat lady, two 8's has to be two fat ladies. This term is not considered ethical in today's bingo circles and therefore rarely used. This call would be met with the bingo dabbers shouting, "Wobble wobble".
Number 89 = Nearly There: just one number to go.
Number 90 = Top of the Shop: The very last number in a game of 90-ball bingo.
Just the one question for you. How many references are there to religion in traditional bingo calls? Leave your answer below!
Bingo Society News
Back to articles
Your feedback
Please enter your comment.
Your comment is added.
lollipops321 03/10/21, 10:03:55 AM
Four? There are a lot of calls on here that I didn't even know about and I've been playing for years! I might start using these now to confuse my friends!