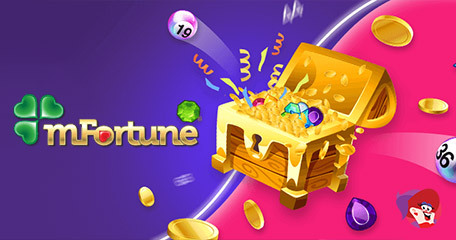 Looking for more chances to win but without having to spend any more money? Well you've come to the right place!
We're about to reveal how you can win tangible goods on top of real money prizes in the mFortune Bingo weekly draws, so go grab a cuppa (mine's milk with 2 sugars!) and get ready for a unique way to boost your chances of winning!
Nobody Else Does It Like mFortune
There's way more to mFortune than meets the eye – as you're soon to find out. Not only do you have prizes available to be won via one-line, two lines and full houses, but in bingo prize draws too. All gem-themed bingo rooms are packed with mega jackpots, each one unique but won the same way…
…by calling a full house in 35 numbers or less. The jackpots are won in addition to the full house prize and as of today there are 11 jackpots ranging from £8K to £135K up for grabs! Any ticket could trigger those eye-watering real money prizes but you can't win unless you're in.
The Prize Draws…
Two times every week you could be in with a shot or winning a physical prize ranging from shopping vouchers to tech, and what's more, you don't need to win loads, wager the most cash or get yourself on a leader board, all you need is a single bingo ticket!
Every Tuesday and Friday at 8:30pm while the bingo games are in session, a random draw will be held by the mFortune Bingo team. All players who have at least one ticket in play at the time of those draws will be included automatically. Whether you're a newbie or someone who likes to nip in and out weekly, you have the same chance of winning!
It's not whoever has the most bingo tickets is the most likely to win, it's all done fairly at mFortune. Remember, to be in with a chance of winning, just make sure you have a valid mFortune online bingo ticket in any room when the prize draw begins!
Another Unique Feature…
Besides the gem-themed rooms with progressive bingo jackpots and those twice weekly draws, mFortune has something no other online bingo website has – a loyalty shop. Sure we've seen loyalty shops where you can exchange points for bonus-related prizes, but here you can swap your loyalty points for bonuses, top-up vouchers or gift vouchers to use on all manner of items/experiences.
Deposit and play to earn loyalty points then transfer your loyalty points into items you really want. mFortune have recently reduced the number of points needed for bonus credit. The top option is the VEX gift card where there are a variety of high street spending options available, anything from Fashion and Homeware to experience days!
Bingo Promotions & Bonuses
Back to articles
Your feedback
Please enter your comment.
Your comment is added.
bridgetjones
08/29/23, 05:08:01 AM
The mfortune loyalty shop has changed recently, you used to be able to shop for ipads etc but to be honest the points to item ratio was extortionate. At least now with fewer options the exchange rate is favourable.