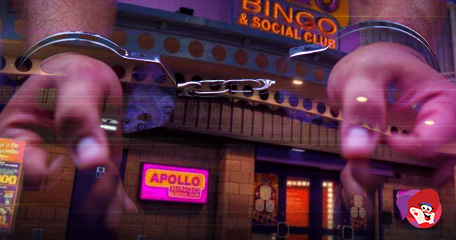 Bingo halls are full of opportunities; from winning on the many different bingo games to winning on slots, but for one man from Walney, he saw a very different opportunity – an opportunity to take money. Other bingo goers will purchase bingo tickets in the hope of landing a win, but 39-year old, Michael David Holland,2 decided to prey upon the needy by swooping in on not one, but two charity boxes; why give when you can take?
Appearing before South Cumbria Magistrates Court, the thief pleaded guilty to the offences set out before him. He was charged with two counts of theft; stealing a collection box owned by St Mary's Hospice on September 11th and the theft of a collection box for Great Ormond Street Hospital on September 14th.
Game's Up:
The thefts came to light when Holland was spotted hanging around the reception area of a popular bingo hall; Apollo Bingo in Barrow's Hollywood Park, and after swiping his membership card at approximately midday on September 11th. Holland was then seen hovering around the slot machines for more than an hour, only diverting his attention from his mobile phone to gaze upon the charity boxes.
Holland then marched over to the counter taking the charity box from the and before tucking it under his coat and then left the premises. All-in-all, the amount taken was very little; £30 from the St Mary's Hospice charity box and just £10 from the Great Ormond Street Hospital charity box. The magistrates ruled that Holland should go to prison for a total of 8-weeks for the offences and was ordered to pay just £30 in compensation.
Holland was instructed that his sentencing was aggravated due to him committing an offence during a period of post-sentence supervision. The judge presiding over the case told Holland that his actions were "callous offences that impact not only on the charities but those that they seek to help."
The Charities:
Great Ormond Street Hospital (GOSH) was established in 1852 and is the world's leading children's hospital which has always depended on the generosity of charitable support and it's easy to see why they need every penny they can get. According to the hospital statistics, GOSH 237,908 outpatient visits and 43,218 inpatient visits every year (figures from 2018/19) and there are more than 63 different clinical specialists at the hospital to help treat sick children with complex illnesses.
St Mary's Hospice are a charity organisation that provide care and comfort to patients living with life-shortening illnesses of long-term conditions and to their families. Fundraising includes a St Mary's Lottery to win £1000 a week and local events such as cake sales, car boot sales and even sky-dives! Every penny collected is a bonus to both worthy-causes.
Land Based Bingo News
Back to articles
Your feedback
Please enter your comment.
Your comment is added.