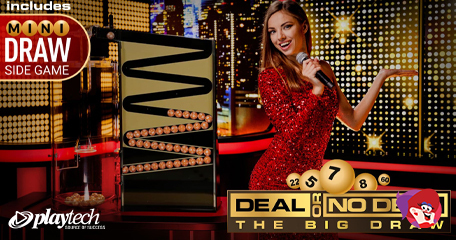 It's been almost two months since Deal of No Deal – The Big Draw launched and while playing last night, I thought it would be a great idea to give players a little more detail on how to play and more importantly – how to win. Powered by Playtech, the live casino game will launch with a 6-step guide on how to play, but as easy as it seems, it can get quite complicated, even for us old-timers.
Stage one is to buy a ticket. The cost of the ticket is connected to the potential prizes you could win. The higher value ticket, the more you can win. Stage 2 offers you the chance to boost the prizes you want to win, and this is where I got a little confused. A total of 16 prizes can be won; low values and high values. If you're under the impression this is gameshow identical to that with Noel Edmonds, you'll be disappointed.
Hanging on the Telephone
Set in a live studio setting? with a fun host, Deal or No Deal – The Big Draw Live is essentially a live online bingo game with a touch of, only with many more thrills and the potential for more than just a few winners. When playing 50p tickets, the values offered increase from 5p to £10, but the boost feature allows players to increase the top prize (or any other value shown), by what is effectively known as boosting.
What's boosting? While waiting for the live gameshow to begin…
…prize boost kicks in which is effectively a side game which is not included in your ticket price. If you choose to boost any of the values shown, it will cost an extra sum each boost (depending on your original ticket prize). The mini game is simple; select one of the five briefcases to reveal a sum of money; this sum is then applied to your chosen boost amount.
You can choose to play the main draw without boosting those values; this is how I like to play, but if you're looking for a huge win, it's a handy feature. It's important to remember you're not guaranteed a win and to get a banker's offer, you need to match 6 balls within 20 calls. Don't like what the banker is offering? To play on you need to buy more balls.
Still Unsure Whether to DOND?
There is also a mini draw option which can be accessed within the prize boost screen; buy extra bingo tickets to win additional cash prizes from the main bingo balls being drawn. Reading this back, it still does sound very complicated but to sum up;
Buy your ticket – one per game
Choose to boost your values or play with the standard prizes at no additional cost
Buy mini game bingo tickets for a shot at more cash - or don't
When the countdown timer reaches zero, it's to the live studio where the live host will interact with players as the balls are being drawn
Match 7 numbers to get the banker's offer (based on the values you have left)
Choose to deal to accept a guaranteed prize or no deal to 'pay' to go on for more money.
Edo Haitin, Managing Director at Playtech Live Casino, comments: "We're delighted to be bringing the excitement of one of TV's most enduring formats to Live. With the addition of the mini draw side game, allowing players to buy multiple tickets with up 6 points of decision making during the game, whether it be to buy more balls or take the bankers offer, Live Deal or No Deal – The Big Draw brings the player a new level of engagement and strategical involvement. For many players, Live play is as much about the experience as it is about gambling, and we've seen a growing trend towards gameshow-style formats – which is why we're so confident Live Deal or No Deal will definitely be a big draw."
Playtech have ditched the 22 identically sealed red boxes in favour of briefcases. There is no telephone – the iconic telephone in which a banker offer is submitted and there is no Noel. Instead, what you have is a dazzling studio setting with fast-paced gameplay that requires very little interaction. When the banker is ready to submit an offer, a silhouette appears on the large screen – not exactly the same as a phone ringing, but never mind. It's nothing like DOND Bingo either!
Once 7 numbers have been matched, there's the potential to boost the amount in which the banker offers you; 8 matched numbers multiplies that offer by 2x, 9 matched numbers awards a 3x, 10 matched numbers a 4x multiplier, 11 numbers is a 5x multiplier, 12 numbers is a 6x multiplier, 13 numbers is an 7x multiplier, 14 numbers is an 8x multiplier and match all 15 numbers for the maximum multiplier of 25x. Remember, these multiplier values boost the values remaining in gameplay and the offer!
Lex Scott, Head of Business Development for Banijay Brands adds: "We're thrilled to be extending our partnership with Playtech through the launch of Live Deal or No Deal – The Big Draw. The in-studio presentation is fantastic and, with the combination of a proven format and innovative elements such as the mini draw, we believe it offers something genuinely unique and entertaining for Live players which aligns with the brand."
Where can you play Deal or No Deal - The Big Draw? Over at Coral Bingo where a £10 spend on bingo tickets triggers a Playtech bingo bonus of £40!
Source: "Playtech Launches Live Deal or No Deal – The Big Draw". Playtech. September 25. 2020.
Bingo Games
Back to articles
Your feedback
Please enter your comment.
Your comment is added.
Bubles12
11/16/20, 09:11:02 AM
Sounds so different to the original! Why do they have to change it so much? Even if they only had boxes – at least it's keeping something that we recognise!