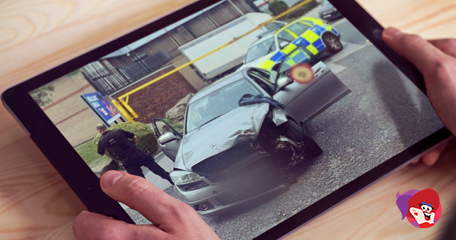 A Brutal Bingo Experience in Bradford
Playing bingo is usually a fun experience with shouts of excitement when calling for a full house, only this wasn't the case for one Buzz Bingo club recently when three men ran into the venue mid-game! But why were they there? Not only did the bingo dabbers drop, but jaws did too on hearing there were men with guns outside.
Frightened bingo players were then caught up in an armed police response with many left visible shaken by the experience. While some sought the safety of the toilets, many fell to their knees and hid under their tables in the hope of staying out of harms way. West Yorkshire Police found no weapon, nor was there any evidence of a firearms discharge.
Terrifying Ordeal For All
An image has since been released showing a smashed up car left by the Buzz Bingo entrance in Tong, and despite looking like it was used in a ram-raid with the front and front-left wing completely buckled in, the damage was said to have been caused by a brick!
One Buzz Bingo customer told the local media: "I didn't see the car until afterwards. At first a young lad dressed in black with gloves on came in, he was stood near the banditand women's toilet and we noticed him and thought he looked strange. My auntie could see the main doors and seen staff running so she said something's going on and shouted to the staff."
She continued, "My mum was pressing the bingo buzzer to catch the attention of the main bingo hall because we were sat in the bar area near the bandits, then all of a sudden a man came running round waving a machete. He started shouting 'Everybody get down, get down now, get down and nobody will get hurt."
The terrified player revealed that while everyone was screaming and panicking, they headed off out the fire exit to the rear of the building to call the police. Within 20-minutes the three men had been startled by armed police and evacuated from the building.
She added: "I feel more shook about it today than when it actually happened, I think it's hit me more because I couldn't stop thinking about it last night. I'd like to hope if anyone knows who was responsible they would come forward with information, it will have a massive knock on effect on people who experienced it. There were old people hiding under tables and then couldn't get home because they [police] closed the car park because it was a crime scene, so I can imagine they were really frightened."
A Bingo Response…
A Buzz Bingo spokesperson said: "We can confirm that an incident occurred at our Bradford club on Sunday 4 September. Member and colleague safety is our number one priority and we are supporting the authorities with their enquiries into this matter."
Rumours are circulating that the men were not being chased, in fact, the men were inside to carry out a bingo robbery but soon realised it would be impossible. It was only then the story of being chased was made up to cover up their actions. Why carry a machete into a bingo hall? There are a lot of unanswered questions with this one.
Source: "Bingo Hall Terror: Frightened Players Were Running, Screaming and Hiding Under Tables". Telegraph & Argus. September 05, 2022.
Bingo Society News
Back to articles
Your feedback
Please enter your comment.
Your comment is added.
HulioSas 09/27/22, 06:09:41 AM
Wow. Those poor bingo players! I've seen the image and there's absolutely no way a brick can cause that damage. I believe the rumours that these men have used the...
Wow. Those poor bingo players! I've seen the image and there's absolutely no way a brick can cause that damage. I believe the rumours that these men have used the car in previous ram-raids and then thought the bingo would be an easy target.
Show more