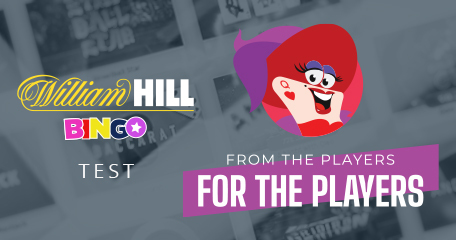 William Hill is a household name with a sports betting history dating back to 1934, the year William Hill opened his first off-track betting shop. Over the years a lot has changed, including the introduction of additional betting products. The invention of the internet saw the gambling operator open their online doors in 2001 and, then in 2014, the bingo client was born. Operating on the Playtech software means a great diversity of bingo rooms such as DOND Bingo plus a few unusual games - Cash Cubes Bingo and Spirit Twister to name but a few. Are bingo players getting a quality experience? Busy rooms from 1p a ticket, big jackpots and cheaper tickets to play bingo at special times of the day? We all know what they claim to offer, but do they actually deliver?
We put William Hill Bingo to the test as part of our From the Players for the Players project to get a first-hand experience of how William Hill Bingo operates. From deposit to withdrawal, our team of reviewers are waiting to bring you the latest information as they have it, and not just info based on words found on the operator's website (like many review websites do!), but by playing real money games. Find out how they got on here.
Tester of the day: mum25dogs
KYC Verification: Existing players and previously completed.
Deposit date, amount and payment method: Monday 6th September, £150 via PayPal.
Withdrawal request date: Monday 6th September, £75.26p via PayPal.
Withdrawal received date: Monday 6th September, £75.26p via PayPal.
The Registration Process
William Hill Bingo was put under the microscope by mum25dogs, a seasoned bingo player who also enjoys playing online slots. With almost 2 decades playing bingo games both online and off, our reviewer recognises a good operator when she sees one. Having been a member of William Hill Bingo for some years, the registration process wasn't required. All she had to do was log in, make a deposit, play some games and initiate a withdrawal.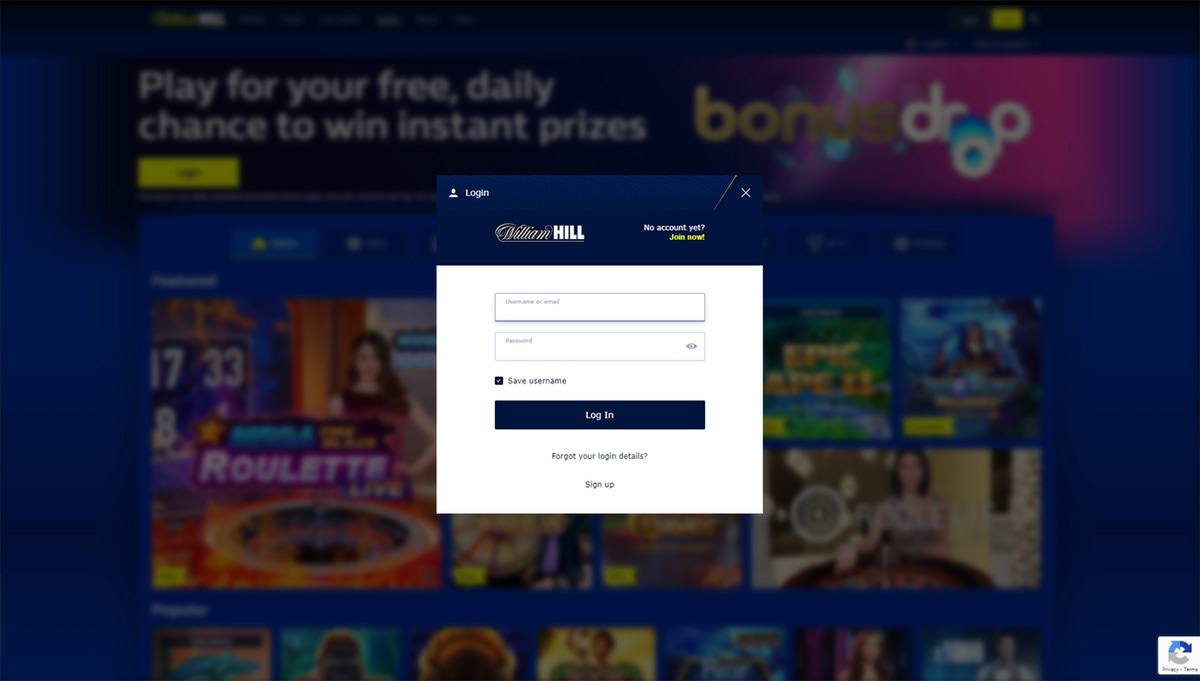 Initial Deposit
To be able to test a variety of bingo rooms (and games), our tester of the day decided to deposit £150 via PayPal, the only deposit method to guarantee quick withdrawals. Heading to the cashier, she selected the funding source along with the sum she wished to play with and instantly a new window appeared prompting her to log into her PayPal account. Due to what they call "PSD2 Strong Customer Authentication" regulation, the tester needed to confirm it really was her making the deposit and was offered three ways of verifying her identity; by opening her PayPal app on her smartphone, by receiving a text or by answering a phone call. The text was the easiest option and once she had verified the code sent to her, she was able to proceed with the transaction.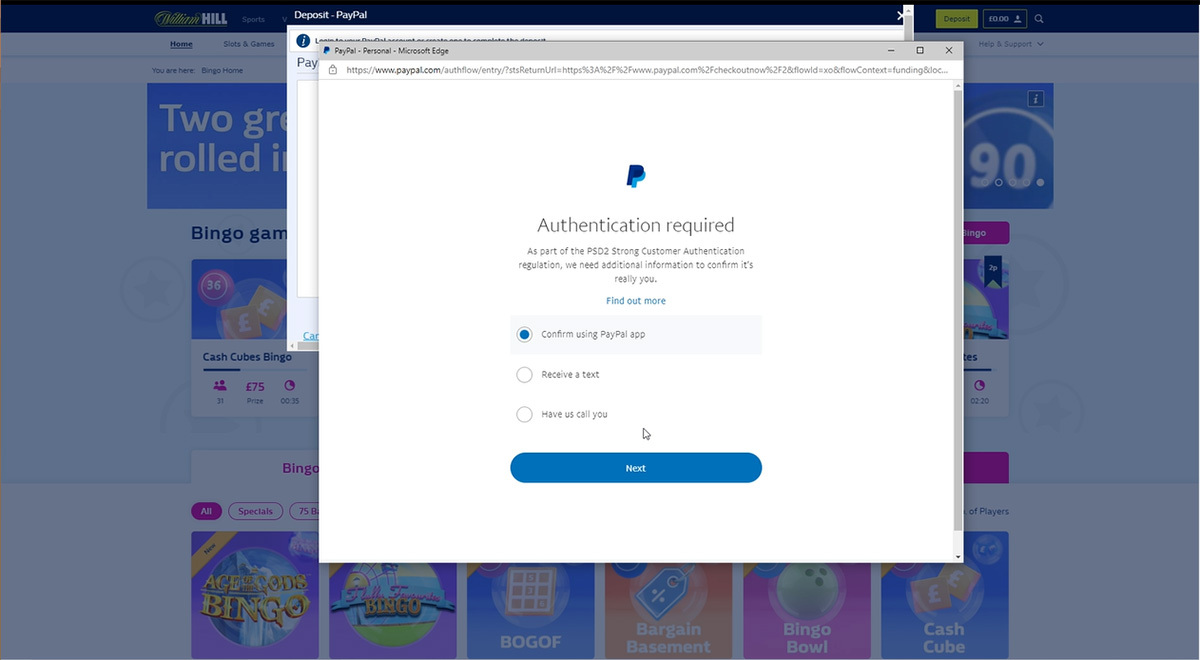 Gameplay
The lobby makes choosing a bingo room extremely difficult, what with there being so many different variants and themes to choose from. To help narrow down that list, there are five categories, 90-ball, Spirit Twister, 75/80 ball, specials and games. You can sort rooms by time too. All rooms come with details on when the next game is being played, the ticket prices, prizes, jackpots and whether or not there are additional features such as roll-on or 1TG/2TG.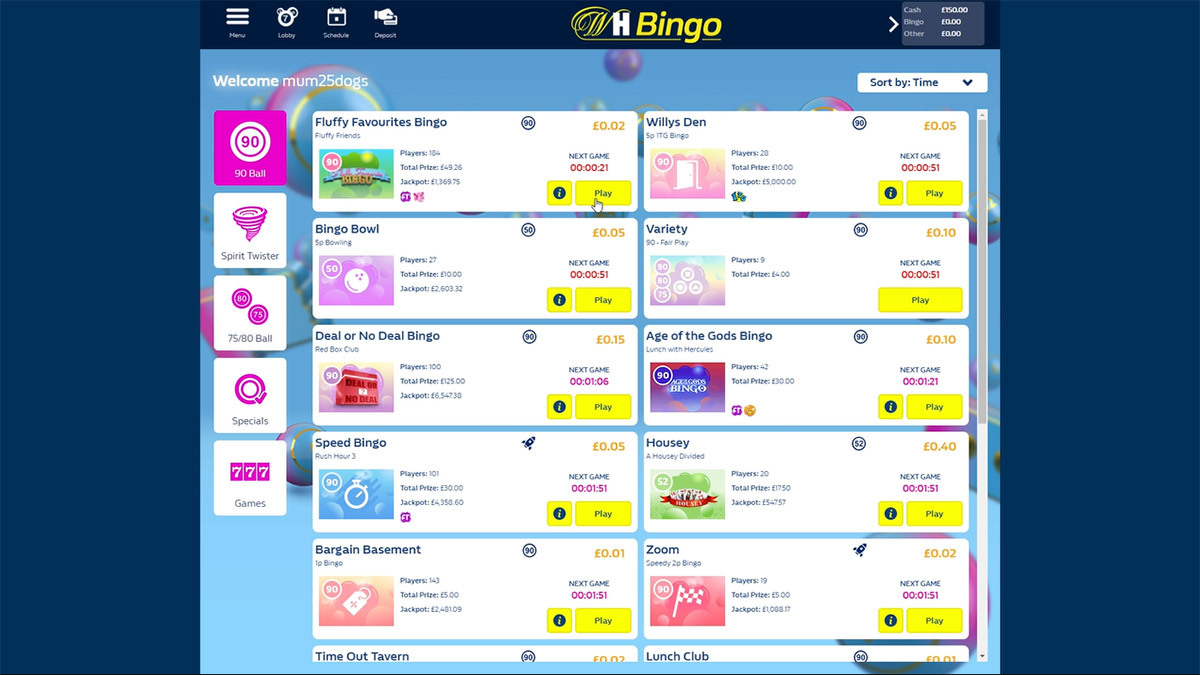 Before you can start dabbing those tickets, you will need to choose a chat name. Once this has been done, you won't need to do it again in future.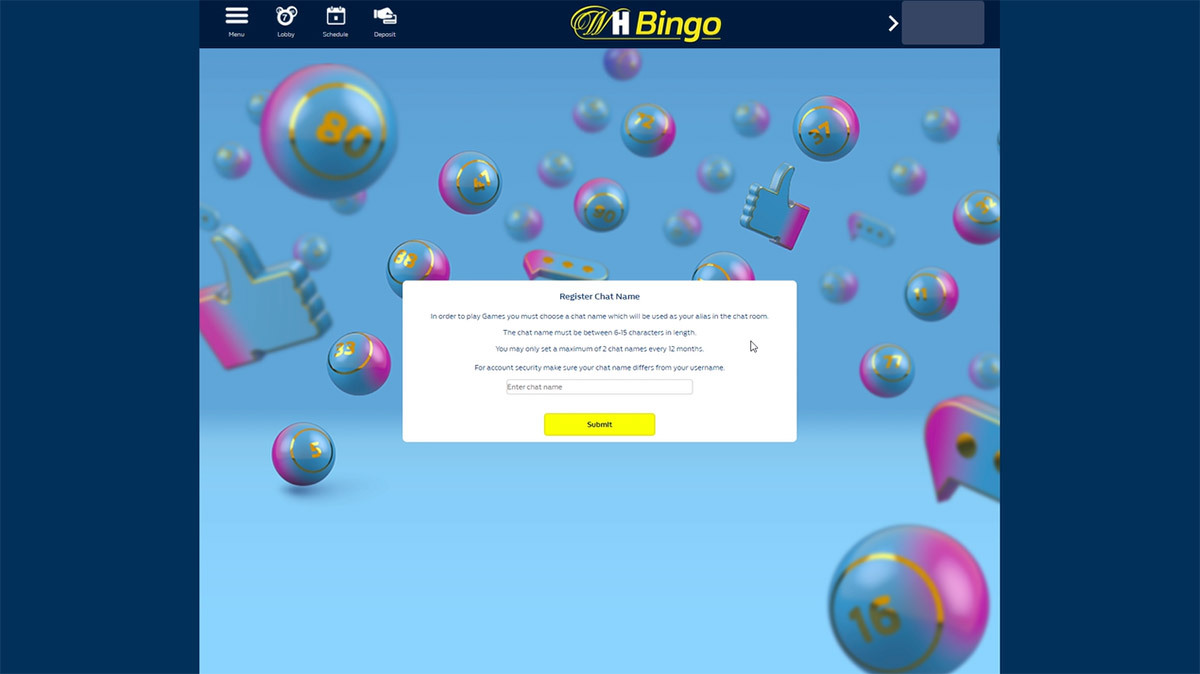 Deal or No Deal offers the full house winner some extra cash – guaranteed! As the numbers are drawn, boxes are eliminated. When the full house is won, the lucky player then takes part in a banker special. Noel Edmonds appears on screen and the iconic telephone begins to ring. Answering that call, Noel relays the offer from the Banker to the winner. The community gets to vote on whether they think they should take the money or open the box. The results will be displayed on screen when that decision has taken place.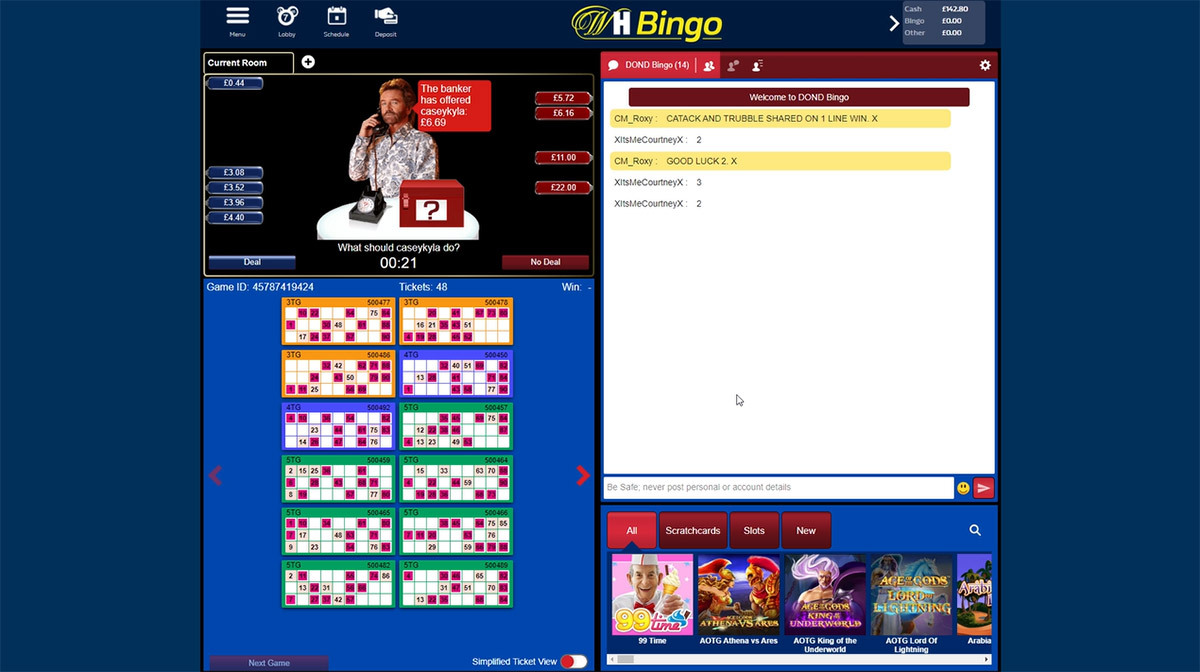 Cash Cubes may seem like a complicated bingo game to play, but it's really rather simple! All you need to do is match the numbers surrounding your cube to win the single prize on offer. Do it within a set number of calls to win additional cash. Receive a bonus cube for every cube of numbers you complete, and when you have fifty, you generate a bonus prize of up to £10.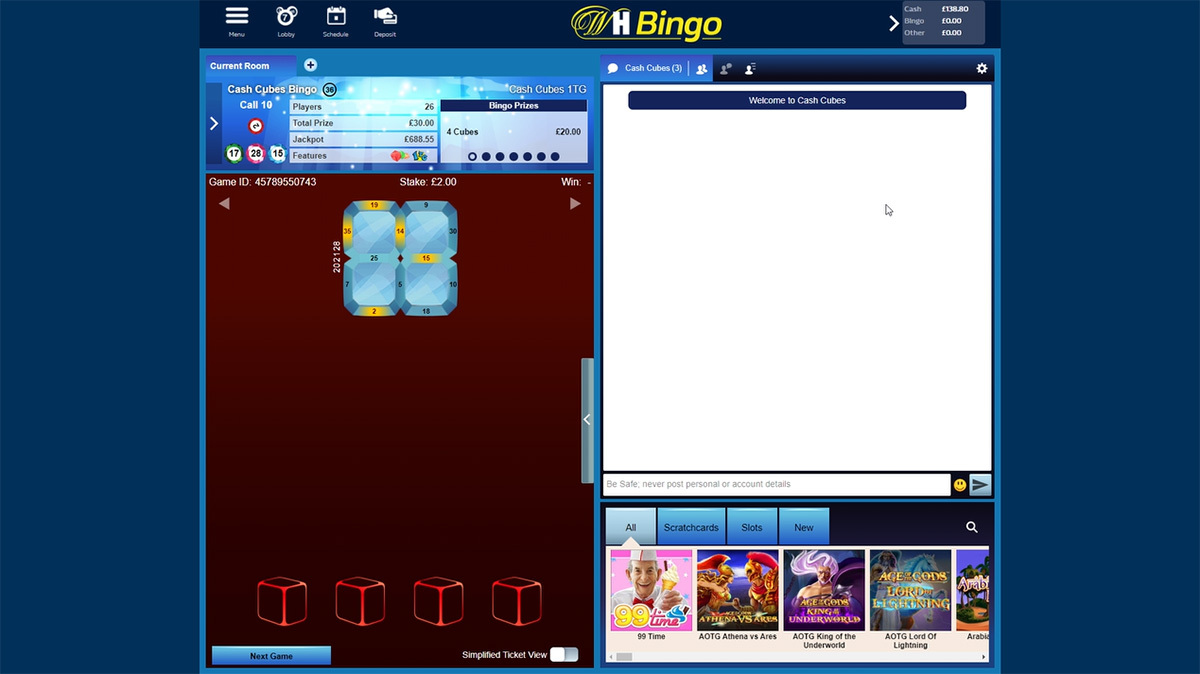 Another favourite to play at William Hill Bingo is Rainbow Riches Bingo, the 40-ball bingo variant with a bronze, silver and gold community jackpot, a wishing well bonus and one-line, a full house and 1TG features! Four clovers award the line, 8 on the same ticket awards the full house. Choose your lucky wishing well number before the games get underway, and when you have collected 40, you win a fiver bonus from the leprechaun's well!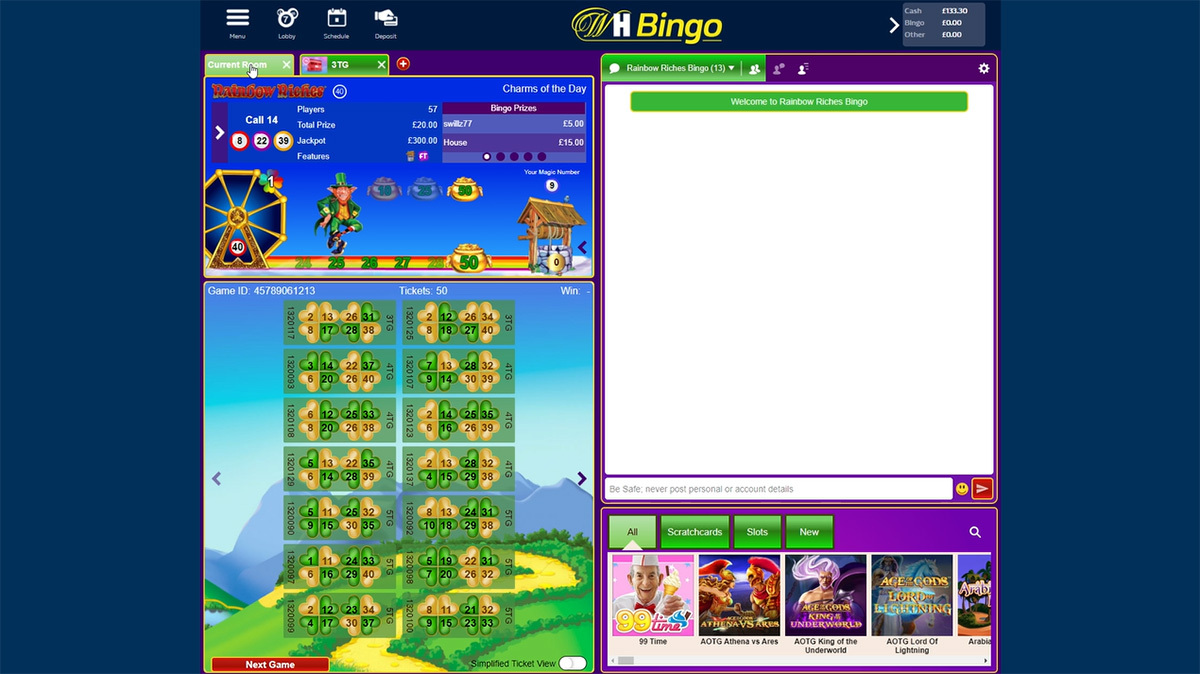 Requesting a Withdrawal
The process of making a withdrawal was simple. All withdrawals are sent back to the last deposit method that was used to credit the account, so in this case, it was PayPal. The sum of £75.26p was withdrawn with the cashier displaying how long our reviewer would have to wait (on average) to receive their funds. E-wallets withdrawals are quick with a turn around of a maximum of 1 working day. This time, our tester only had to wait a couple of hours to receive the withdrawal!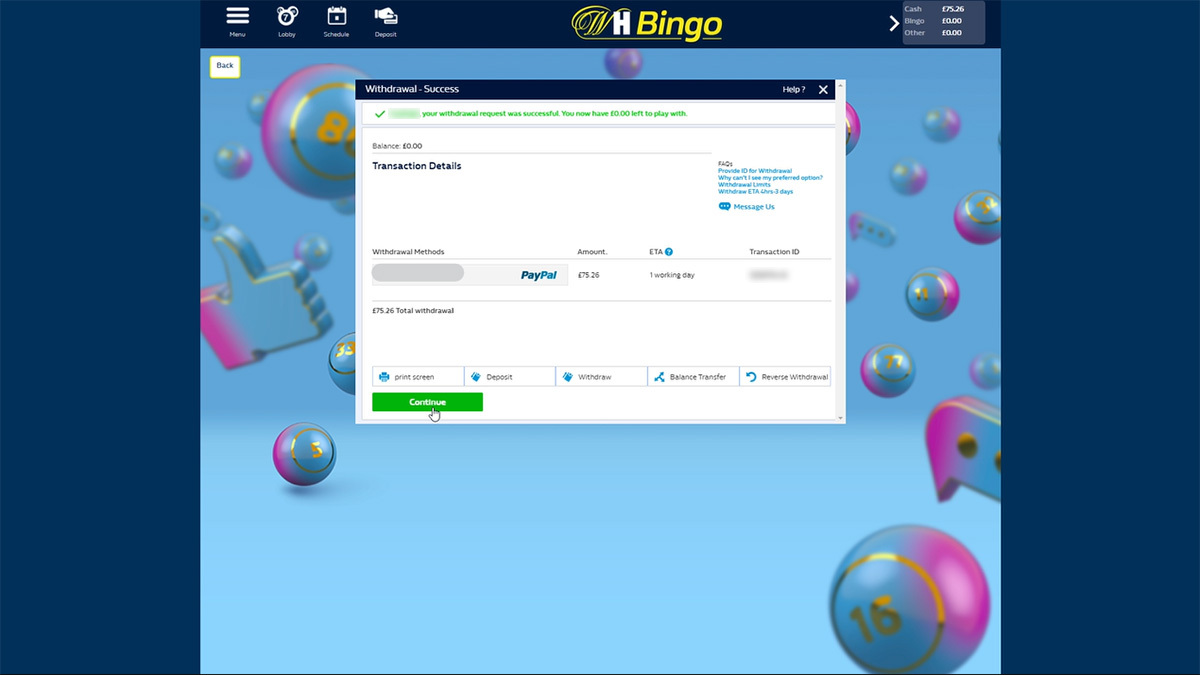 The only downside to the cashier is there is no way of keeping track of the withdrawals. Yes, the cashier clearly shows you the estimated time of arrival into your account, but once this has been submitted, all you get is a summary of your withdrawal within your 'transaction history'.
How Does William Hill Bingo Stack Up?
The choice of games is extensive with the likes of Deal or No Deal and Rainbow Riches drawing in the greatest number of players. The Main Event room is where the 'biggest' of prizes can be found, but only at set times. Our reviewer logged in during what we call 'off-peak' times to maximise the chances of winning, alas, her luck proved to be anything but fruitful.
One account and bankroll can be used to access several core gaming products owned by William Hill, including live casino and sportsbook, however, the withdrawal process despite it being super-quick, remains the same – you cannot track its progress once submitted. Via PayPal, the payment was received within approximately 2 hours.
Feel free to drop by and leave a comment about your experiences with William Hill Bingo!
General Bingo News
Back to articles
Your feedback
Please enter your comment.
Your comment is added.
Member's Feedback (3)
Feelin froggy
09/16/21, 02:09:58 PM
William Hill Bingo's selection of bingo rooms is among the best. Fast payouts are critical, which they passed with flying colours. Another successful test!
Dzile10
09/16/21, 01:09:33 PM
The overall impression is that everything went well, the withdrawal is really fast, it is certainly one of the most important things
MadamMilly
09/16/21, 01:09:07 PM
Love playing at William Hill, glad the test went well!