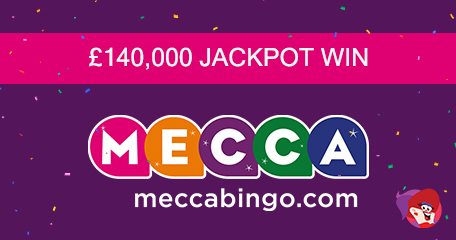 As someone who enters a lot of competitions, I can tell you I look forward to the postman visiting, because you never know when that next surprise win may come calling. Delivering news to the nation is the sole role of a postman (or woman) but there's one specific postie here in the UK that will never forget the day she delivered herself a win of more than £140K!
Wishing to remain anonymous, the Mecca Bingo player known only as Key121212 admitted she was in total shock before openly stating what most of us do – she never expected to win such a vast sum of money! Especially from such a small stake of just 75p! The 36-year-old Royal Mail worker is in the business of delivery good news to other folk and very rarely has any for herself, until recently!
Playing bingo is a passion of the winner, who until last year was a regular...
…at the Mecca Bingo hall in Northampton. With all that's' going on in the world today, she decided to take her bingo dabber online and I bet she's mighty glad she did! The mum of four has revealed her children are desperate to go to Disneyland, but she has a fear of flying. All I can say is there is a boat/train route too! I was in total fear of flying until I won a holiday to New York – I had to get on a plane then and I loved it! It really isn't as bad as you think. And talking of holidays, you can win one worth £10K thanks to Bingo!
How Did She Do It?
Plans are being drawn up on what to do with the money, one of which include the purchasing of a new home without having to go through a mortgage. The family car has been playing up too, so that will be upgraded to a newer (working!) model. New computer games and consoles will be bought too, and it's safe to say she won't need to collect points to get her hands on one!
So how did she do it? If it was through bingo, we'd have seen it all over the Mecca Bingo Facebook page, so she must have won it through playing any one of the numerous jackpot slots – including Red Tiger's revolutionary 'must drop' titles. Big winners of slots are plastered on social media too, including the recent lucky mum from Cheshire who turned a £5 stake into £568,467.26p on January 2nd! What a way to start a new year! But she wasn't all seeing and believing at first!
The 43-year-old mum couldn't quite understand how a fiver had resulted in over half-a-million in cash, so she did what any of us would do in that situation – she videoed her phone showing the win and went straight to Mecca support! Here, they confirmed her win was genuine and she was in total shock! We know from the site that her win was triggered on the IGT hit release – Cleopatra Mega Jackpots.
Source: "Rugby Postwoman Turns 75p Bingo Stake into a Life-Changing £140,000 Jackpot". Rugby Advertiser. January 14, 2020.
Bingo Society News
Back to articles
Your feedback
Please enter your comment.
Your comment is added.
Member's Feedback (1)
bridgetjones
01/18/21, 07:01:42 AM
What a tremendous win! I've never won more than a couple of hundred quid – it's always £40 or £50 at a time and I need to let it build up. Hope I get lucky like...
What a tremendous win! I've never won more than a couple of hundred quid – it's always £40 or £50 at a time and I need to let it build up. Hope I get lucky like this one day.
Show more