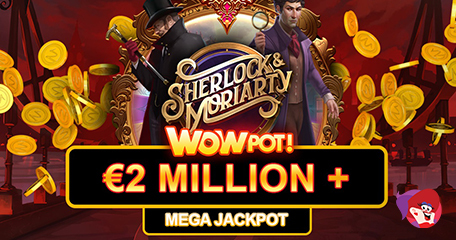 Two Huge Jackpot Wins in Under A Week!
It's a double-whammy and double-wow for Microgaming, as two players scoop life-changing sums of money within days of each other. More than €19million has been won by two lucky online slots players after the mega jackpot on the WowPot jackpot decided to drop. The first ever mega win came on April 14th when a lucky Brit managed to land an epic sum of €17,529,047.11 on the Book of Atem title, but a few days later, that seeded mega pot decided to erupt once again, awarding €2million+ this time!
To date, Microgaming's progressive jackpot network has created 94 euro-millionaires with more than €1.3billion paid out and counting! The lucky UK slot spinner was playing just 80p a spin when the treasure chest filled with gems and awarded the jackpot bonus round. Now, for anyone who has ever played this game will know, when this kicks in, players are guaranteed one of the four stated progressive pots!
Never in a million years did he expect to win such a substantial sum of money from such as small stake, but he did. A month prior to that, another eight-figure sum was won on a WowPot linked game – Sister's of OZ: WowPot, but unlike the largest win of all time; that crazy sum of €17,529,047.11 (£15,183,085.96), the winner from March only managed to trigger just shy of €1.2million, which is still tasty!
Winner's Lining Up
Sherlock & Moriarty WowPot is the latest title to join the progressive jackpot ranks and in its short time of existence, it has awarded more than 58,000 prizes across all jackpot tiers. The London Victorian-era themed slot is a little like a whodunnit with twists and turns and plenty of mystery thrown in with each spin. The famous gumshoe detective is on the case to track down huge cash and should the reels fall right, players like the lucky spinner from Belgium, can walk away with life-changing cash.
Just five days after book of Atem erupted, Sherlock & Moriarty unearthed a win of €2,025,388.75 for a Belgian customer of the Napoleon Sports & Casino Online website, making it the second-largest win on WowPot since the jackpot system went live last February. What makes Microgaming's jackpots so popular is the fact the prizes are paid in one lump sum, and another we have our eyes on is Mega Moolah, what with a pot of more than £17million up for grabs!
John Coleman, CEO at Microgaming, had this to say on the more recent win: "Remarkable to see a second hit on WowPot just days after the first! Sherlock & Moriarty is a beautifully crafted game by Just For The Win.My congratulations go to Napoleon and their player on this brilliant win."
Source: "Double Wow! Microgaming's WowPot Jackpot Strikes again". Microgaming. April 23, 2021.
Bingo Promotions & Bonuses
Back to articles
Your feedback
Please enter your comment.
Your comment is added.
Member's Feedback (1)
TinTinn
04/26/21, 07:04:31 AM
So many big winners from small stakes all the time! Why can't I ever be that lucky?! Well done to the recent winners and good luck to all who are trying to scoop...
So many big winners from small stakes all the time! Why can't I ever be that lucky?! Well done to the recent winners and good luck to all who are trying to scoop the mega moolah pot.
Show more