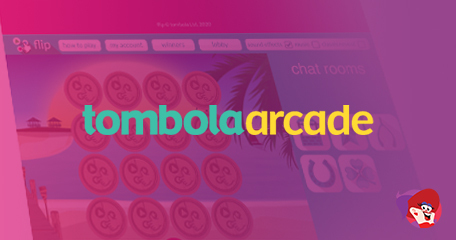 If we were to sum up Tombola with one word it would be unique, there's absolutely no doubt about that. Every single game they produce is different to what you might expect, especially when it comes to their arcade games. Prizes of up to £500 are available in every game; from spin to making your way around an oriental-inspired board game in go, with bonuses ranging from free games to shooting down a dusty gold mine track to pick up dazzling prizes!
It was only recently we were treated to a new-look bingo 75 game, as well as a completely new bingo game – 75-lines, and now, players are being treated to a brand-new look Flip with the added excitement of a new room and a new bonus game! For those of you who are yet to discover Flip, it's a nostalgic game where the flipping of coins can land bonuses as well as big prizes. You select your bet, and 16 counters will be turned – will it be cash, a bonus or both?
Dip into New
Pub, medieval and diner are still very much there; pub with its bar snacks and drinks, medieval with brave knights and castles and diner where American style fast food (and pays!) is delivered to your table. Beach offers something completely different in terms of the bonus round, something that isn't quite visible to the player.
On first impression, you've got plenty of ways to land a win and a bonus game, but there are no rules or explanation on how to play the bonus game. Pretty silly if you ask me! It's literally like launching a slot machine and not having any info on its bonuses! Could you imagine loading a new video title having nothing to explain the bonuses? I've dropped the team an email to ask why there is no bonus game info, so hopefully that will be addressed shortly.
The good news is…
…I have actually played the new Flip game and have been lucky enough to trigger the bonus game, so I know how the game works. I wasn't exactly impressed I had to spend real money to understand how the game works, but there you go. Beach aims to bring the sunny shores of a tropical destination to your surroundings with crystal clear oceans gently caressing the golden sands.
Playable from 5p to a max of £1 per go, wins are achieved on 10 win lines across the 4x4 grid. There are sixteen different chips and each of those can produce an icon representing the theme: deckchair, seashell, inflatable ring, flip flops, sundae, coconut drink, cocktail, shades or that all-important bonus icon – the camera.
At least three symbols on a win line will produce a win based on your stake, with the highest paying being the shades with a top prize of £25, £50, £100, £250 and £500 – depending on your bet level. Three or four camera icons on a win line activate the pick and click bonus. Your screen will change to display many different chips, all facedown. The aim of the game is to uncover as many seashell icons as you can. Prizes are awarded via multipliers based on the number of seashell icons hiding beneath the chips.
Will you be giving the new Flip a try? Tombola players can access the arcade without having to re-register; simply log in with your details and you're good to go!
General Bingo News
Back to articles
Your feedback
Please enter your comment.
Your comment is added.
Member's Feedback (1)
HulioSas 11/23/20, 09:11:05 AM
Never really understood flip and found the bonus game was very poor in terms of pay. Max multiplier previously was just 10x – and only 2 of those were under the...
Never really understood flip and found the bonus game was very poor in terms of pay. Max multiplier previously was just 10x – and only 2 of those were under the chips. I like the sound of the new one though – multipliers on each icon found. It'll be worth a try that's for sure!
Show more