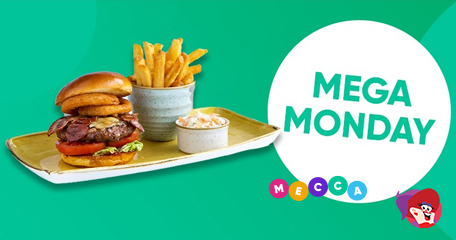 Great Value Deals In-Club Too
Mecca Bingo is not just the home of great bingo games and fun-filled slots, it's also the home of live entertainment, tasty food and drink and much more! For more than 60 years, Mecca Bingo have been delivering bingo and entertainment to the masses from one end of the country to the next and you won't only find money saving offers and promotions online!
#1 - Mighty Monday Money Off Deal:
Kicking things off is Mega Monday where you get all your bingo and a delicious juicy burger for £10! The budget-busting bingo bundle includes all of your main session bingo games (from 7pm to 9pm) and a choice of burger from the pre-order menu. Additional tickets and flyers can be bought in addition to this offer for more chances to win.
Monday's offer is for a minimum of 2 people and you must book at least 1 day in advance. Use the Mecca Bingo app or website or ring your local venue. Select 'MEGA MONDAY' and then choose your burger (beef, chicken or vegetarian/vegan) and head on down to your preferred bingo hall.
#2 - Saving Monday Tuesday:
Join in with the fun every Tuesday and get a fiver off your bingo experience. To claim this offer, download the mobile bingo app and bring along your exclusive £5 off voucher. All clubs will have the 'Appy Tuesday £5 off your bingo in the evening, except for Exeter. The £5 to be claimed off the main game excludes flyers and the National Game. In Luton it will be £5 off bingo played 7-9pm and in Knotty Ash and Wood Green the offer will be £5 off Max packages (electronic bingo).
#3 - Win Win Thursday:
Does exactly what it says on the poster – if you win on a Thursday you'll get a free main game voucher! Everyone who wins one-line, two-lines and/or a full house will receive a free main game or flyer to be redeemed at a later date. All clubs will have be running the Win Win Thursday offer, excluding Knotty Ash and Wood Green.
#4 - Christmas is Coming:
In the 'other offers' category we have the festive specials! Christmas is fast approaching so why leave your Christmas party to the last minute when you can book in advance with Mecca Bingo? Why not experience a night of festive bingo entertainment with food and drink and your local Mecca Bingo? The package includes 2 whole hours of bingo (from 7pm to 9pm), a drink (excludes Scotland) and a bingo voucher for January.
England & Wales: Thursday £20, Friday £25 and Saturday £25 per person. Includes a meal and a drink from the festive menu
Scotland: Thursday £15, Friday £20 and Saturday £20 per person. Includes a meal from the festive menu.
#5 – The Main Events:
Mecca Men The Tour presents a raunchy evening of entertainment packed full of topless, sweaty male dancers who aim to make your evening as exciting as possible! "If you're risky, then grab your poncho, our front 3 rows are the 'Splash Zone'. If not sit back relax and enjoy the boys choregraphed full monty routines." To book your bingo and your evening entertainment, use the website or the app. The men will be touring around the whole country from October 14th.
Boots Down Bingo (by Kids Klub) is back and each city will have its own individual line-up. It's the ultimate and biggest drag bingo party in the UK! Take your seats, get your bingo dabbers at the ready to dab and grab some whacky prizes. Venues participating this year include Camden, Stevenage, Norwich, Leeds, Sheffield, Sale, Glasgow, Sheffield and Sunderland.
Bingo Promotions & Bonuses
Back to articles
Your feedback
Please enter your comment.
Your comment is added.
Jovana1407
10/11/22, 06:10:42 AM
They have regular offers on the app including slot bonus money too.