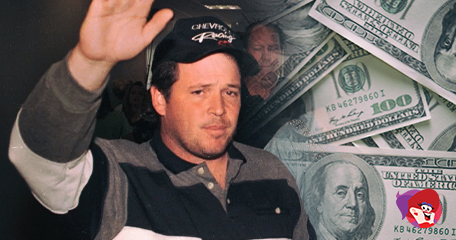 How a Small Tip Changed the Life of a Waitress Forever!
In 1997, Tonda Dickerson was a 20-something waitress at a Waffle House restaurant in Grand Bay, Alabama. Divorced and desperate for a change, she was always looking on the bright side of life, but what was to come was decades of misery, an attempted murder, and a lifetime of stress. On March 7th, 1999, Edward Seward, a local man, finished his meal and instead of leaving a tip, he left the server – Tonda, a lottery ticket. What happened next is the stuff of dreams and nightmares rolled into one!
Less than a week after being handed the lottery ticket, the results for the Florida draw were announced. The over-worked waitress discovered she had won a jackpot sum of £7.3million ($10million), which is roughly £11.94million ($16.4million) in today's money. In the US, winners are offered two choices when it comes to receiving the money – a lump sum minus taxes or annual payments until the total sum has been paid. She quit her job as a server before opting to take £275k ($375k) over 30 years.
Hey Big Spender
Before she could start spending her winnings, a lawsuit was taken out against her by her colleagues, who claim she promised to split the lottery ticket winnings with them if she won big. Were they making it up or was this the truth? A couple dining at the restaurant that fateful night Tonda was slipped the lottery ticket claim she had told them if she were to win, she would be banking the money and sharing with her colleagues. The court put an offer to her of $3million but she refused and continued to siphon off the cash through family businesses.
In 2000, Alabama Supreme Court ruled in the Tonda's favour because the way the deal was brokered was illegal. Was that the end of the matter? Absolutely not! The man who handed her the ticket as a tip now claimed he was promised a truck if she won, but like the other claims, her lawyers proclaimed her 'promise' was nothing more than a throwaway comment!
Believing her nightmares were over…
…Tonda began planning the rest of her life with her lottery winnings, but it was short-lived. Ex-husband Stacy Martin thinks he's happened onto a good by kidnapping his ex-wife and driving her to an isolated boating jetty in north Alabama. There, he threatened to kill her with a 0.22 calibre handgun unless she handed over (some) cash. Threats got worse and when she was given an opportunity to snatch his gun, she did and shot him through the chest!
Luckily for the lottery winner, her ex-husband survived, and no charges were brought against her. In 2012 she was back in the courts and was instructed to pay taxes on her jackpot, a sum of $1,119,347.90. Fast forward to 2021, Tonda is now working as a poker dealer at a casino venue in Mississippi and the money she was able to keep was shared amongst her family.
Source: "I Was given £7million Lottery Ticket as a Tip Before Restaurant Staff Tried to Claim My Jackpot – it Ruined My Life". The Sun. October 15, 2021.
Bingo Society News
Back to articles
Your feedback
Please enter your comment.
Your comment is added.
Member's Feedback (1)
HulioSas 10/20/21, 07:10:25 AM
What a rollercoaster of emotions! I thought when you chose the gratuity payment you didn't pay tax on it!