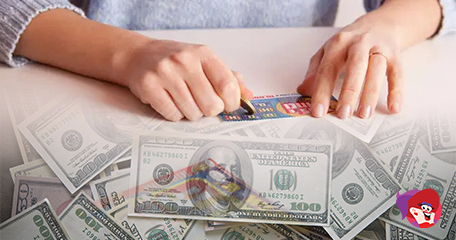 A Family Torn Apart by a Five-Figure Win!
Being an aunt to 14 people aged between 4 and 23 years old, and a great-aunt to a toddler, I know just how expensive it can get when it comes to buying gifts – especially at Christmas, and I'll admit, I've often found myself buying scratchcards and/or lottery tickets as little surprises for the older ones. On a few rare occasions they've won a prize, nothing too substantial though. If they ever did win something mega, I wouldn't in a million years even expect a penny of the winnings, but one woman from the US has!
Last year, a woman took to Reddit, the American discussion website, to ask was she being unreasonable for asking for the money back from a winning scratchcard she bought her nephew, and as expected, she got roasted! Explaining in her post that her predicament was very different tot hat of her nephews, she claims she struggles to eat whereas her wealthy sister and her nephew have everything they could want and more. The subject is that hot, it's still getting comments to this day!
Proclaiming her love for the unnamed relative, she said "I love my nephew and can't get by on the thought that I wouldn't be able to get him a birthday present (Nov 3rd). I scraped together whatever change I could and bought him some lottery scratchers. and holy s*** he actually won (on two of them no less)."
Family Feud Like No Other
Details were very scarce but without naming any names or revealing too much info, a surprise sum was dropped in relation to the win, a win the aunty described as being "life-changing money (I can't say exactly how much because in our state lottery winners are all public record)." The nephew already has a fully funded college course, a very well-off mother and father but in an attempt to get strangers on side, the woman says she can't afford to eat and has demanded he hand over the winnings!
Realising her nephew had won big money, she rang her sister to say; "it would be really cool if my nephew gave me at least 3/4 of the winnings," but her sister was less than impressed and asked her was she serious before hanging up on her. In a second attempt to get her hands on the money, she texted her nephew and told him why she needed a freebie, not before slipping in she was being nice in only asking for 3/4 because by rights she was entitled to all of it! Guess what…they blocked her!
Going on a sweary rant…
…she threw her nephew under the bus for strangers to comment on, but the replies she received were not what she was expecting! One user didn't hold back in their replies to the woman: "You're The A**hole! It was a gift. You don't get to ask for part of someone's gift. It sucks you're having it tough but still doesn't mean you're 'generous' for asking for only part of the gift. Sure, ask them for help, but don't ask for his gift."
Another user agreed: "If he hadn't won, you'd have been out the same amount of money. You were gifting him the chance to win more and guess what? He did. If he decides to give you some that's an awesome, heart-warming gesture - which you've totally ruined the chances of by demanding 3/4s. Just try and be happy for him. And reach out to local agencies for help."
The whole episode reminds me of when one woman won a large sum of money in our local bingo hall and refused to share with her friend of 30-years. Every week without fail they would share their winnings but when one of them won bigger than expected, greed took hold and an epic fallout followed – it was like bingo hell! Is the aunt entitled to demand 3/4 of the money, or is she being totally out of order? Let us know your thoughts in the comments below.
Source: "Aunt Who Bought Nephew Winning Lottery Ticket Demands He Giver Her the Money". Lad Bible. October 15, 2021.
Bingo Society News
Back to articles
Your feedback
Please enter your comment.
Your comment is added.
Member's Feedback (1)
bridgetjones
10/18/21, 09:10:03 AM
Wow! What a nice woman – not! How can you give something to someone and then say you are being nice for not demanding all of it back! I bet they're glad they have...
Wow! What a nice woman – not! How can you give something to someone and then say you are being nice for not demanding all of it back! I bet they're glad they have blocked her. Sounds a real treat!
Show more