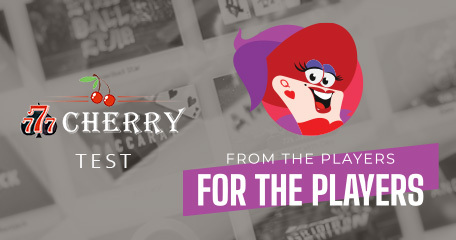 Our journey to thrilling and unpredictable testing experiences took us to a new gaming destination in September, where JuicyFruityWin navigated through the virtual realm of chance at 777 Cherry Casino.
The climax was nothing short of sensational – a £75 Visa Debit withdrawal that left us exhilarated and eager to share the tale of her thrilling escapade. So, join us as we delve into the heart of another casino test, exploring the highs, lows, and, ultimately, the triumphant moment that crowned the entire experience at 777 Cherry.
Before we start, here's a quick review of the test:
Tester of the casino:JuicyFruityWin
Date of registering:WED, Sep 13th, 2023
KYC:Driver's licence, utility bill (proof of address) and copy of card ownership
Deposit:£150 via Visa Debit on WED, 13th September (£100 followed by £50)
Withdrawal:Requested £77.79p via Visa Debit on WED, 13th September. After fees, the tester received £75.29p on 15th September.
Registration and KYC
Our tester's journey at 777 Cherry commenced on Wednesday 13th, 2023. After completing the registration process in a couple of steps, she adhered to the Know Your Customer (KYC) verification process.
For KYC verification, three essential documents were submitted: a valid Driver's License, a utility bill serving as proof of address, and a copy of the card used for registration on that very day.
The identity verification was instant, marking a smooth and reassuring start at 777 Cherry. However, it was made clear that verifying proof of address and card ownership might take up to three working days, so it's Friday the 15th that actually marked the culmination of KYC verification.
Depositing
With KYC verification successfully completed, JuicyFruityWin wasted no time and made the first deposit. A total of £150 was deposited via the trusty Visa Debit payment method, only this financial voyage was divided into two distinct installments.
Initially, our tester made a deposit of £100, laying the groundwork for what promised to be an exhilarating adventure. To double check the process, she then added an additional £50 to the balance on the same day.
At 777 Cherry, the minimum deposit is merely £10.
"To double check the process, she then added an additional £50"
Gameplay
As her journey at 777 Cherry continued, JuicyFruityWin embraced the vast array of gaming options the platform had to offer. From the heart-pounding excitement of slot 1 Million Fortunes Megaways to the enchanting charm of 9 Pots of Gold, our tester explored a plethora of popular hits that kept the adrenaline flowing.
She also had fun with Blazing Piranhas and another timeless classic Break Da Bank Again, where the thrill of possibility hung in the air with each new spin. However, the whims of fortune can be fickle.
Despite the thrilling gameplay and heart-pounding moments, our player's balance gradually dwindled. When the dust settled and the reels came to a halt, our player found herself with a balance of £77.79p.
With this balance in hand, JuicyFruityWin was ready to embark on the next phase of her journey – the withdrawal that would bring their 777 Cherry adventure to its climax.
Withdrawal
With our player's balance standing at £77.79p, the time had come to conclude this captivating journey at 777 Cherry. On the same day she began this adventure, Wednesday 13th, our player submitted a withdrawal request that would mark the culmination of her gaming experience.
The withdrawal request, amounting to the balance in hand, a total of £77.79 Pound Sterling, was initiated via Visa Debit. Two days later, on Friday 15th, the moment we had all been waiting for arrived.
The withdrawal was processed, and our player received £75.29p in their account. A nominal fee of £2.50p was deducted, leaving a final withdrawal amount.
Please be advised that the daily cash out limit at 777 Cherry is £1,000. For weekly payouts it stands at £3,000 while monthly withdrawals are capped at £5,000.
Conclusion
In the span of just two days, our tester's journey at 777 Cherry took her on a rollercoaster of excitement. From the initial registration, through thrilling gameplay on popular slots, to the climax of her withdrawal, JuicyFruityWin experienced the highs and lows of online gaming.
While the balance may have settled at £75.29p after fees, 777 Cherry proved to be a thrilling destination, so thank you for participating in our project "From the Players, for the Players".
New tests are coming soon. Don't forget to play responsibly.
From the Players for the Players
Back to articles
Your feedback
Please enter your comment.
Your comment is added.