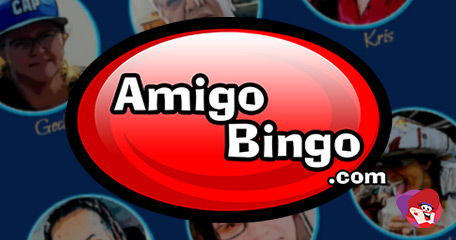 Fun and Friendly Bingo Entertainment!
Chat hosts (CH) can make the world of difference when you're not winning and feeling a little disappointed, especially the resident CH's over at Amigo Bingo HQ. From CH Missy to CH Gecko, each person has been selected for their unique uplifting and super-friendly qualities. Whether you're a night owl or an early riser, the CH's welcome you to the bingo rooms with fun chat, gossip, jokes and best of all – chat games and quizzes!
Each CH has their own games to play, most of which they have created themselves, so we thought it would be a good idea to introduce you to the people behind the name, starting with CH Galah, the Australian farmer with lots of animals! Her favourite thing about being a chat host is learning about new cultures, foods, and recipes from bingo players around the globe! Her typical work outfit is her PJ's and her favourite bingo patterns are coveralls, 4 corners and 75-ball games. Typing errors happen to the best of us, only when telling her fellow colleague to "have a good shift," she sent the message without the "F!" Oopsie!
Fun and Frolics Continue
CH April is part of the furniture at Amigo Bingo and describes herself as an "old school granny." When asked what the best thing about being a chat host is, her reply was simple, "you get to work from home!" Her favourite bingo patterns are three-part games, in other words 90-ball bingo. Her life motto is to treat others as you would want them to treat you. There are two things guaranteed on her watch, the first being a cheerful room with no complaining and the second being no bickering. Her best advice to roomies to increase their chances of winning is to buy more tickets.
CH Tex, when choosing a username, took inspiration from where he was born – Texas. He has a strong stomach and can easily wade in when there are issues in chat, what with being in the U.S army for 6-years. When asked "what was the funniest thing that has ever happened while you have been in a chat room," he revealed he accidentally spilled his hot coffee onto his groin when wearing shorts! Ouch! When CH Tex is around, you're guaranteed lots of fun chat with plenty of bingo bonuses for those taking part!
Over to CH Shaniko now, who loves nothing better than getting to know players from all over the world. Her favourite chat game is 'beat the CM' where players compete to make them look silly! The funniest thing she has even heard while being a chat host was when a player attempted to pay for their bingo tickets via cheque, by inserting it into the CD drive of her desktop computer! A hypothetical question now: "A zombie apocalypse is coming; what are the three things you would take?" Her answers were startling…an axe, fire and someone who runs slower than her!
CH Boomy, the New Yorker with Italian descent, has three bits of advice for bingo players:
Change the number of cards you are playing
Wish everyone good luck (good karma)
And don't whine!
Introduce Yourself to Big Wins
You can get to know many other chat hosts by visiting Amigo Bingo, where new players are welcomed with a free trial bonus of $50! There is no risk to your cash by signing up for this offer and this LBB exclusive is not available anywhere else! To give you an idea of what promotions are like every month, take a look at what other players are taking part in:
Honey Money: $150K is guaranteed to be won with jackpots of up to $10K being won every hour! Each of the Honey Money games will feature multi-part games with double or triple the chance of winning a big prize! Earn points as you play to make the leader-board. Top five players plus randomly selected players will each receive bingo bonuses, plus there is a grand prize draw at the end of the month where real cash will also be won!
Cash is King: $250K will be won in the weekly casino tourneys. Play your favourite Parlay and Mobilots games and compete against your fellow players to bag a prize. Points really do mean prizes here with a leader-board offering points based on deposits and wagers.
Ladies Night Hour takes place every Friday, Saturday, and Sunday in the weekend room, offering over $30K in guaranteed real money winnings! Games play non-stop with top-of-the-hour guaranteed cash jackpot games at just 0.50 a ticket!
Free Games: Get your hands on no deposit bonus spins twice a week when you log in on a Sunday and a Wednesday this month. A new slot title will be selected each week. September 22nd to 26th is Aloha Wild time – 25 spins on the Wednesday and 25 on the Sunday, meaning you get 50 no deposit spins every week for a month!
Bitcoin Rewards: Bitcoin is a reliable, easy, secure, fast and a cheap way to send and receive funds at Amigo Bingo and now you can claim exclusive benefits by using this banking method. Bitcoin deposit package, boosted bonuses, a depositor reward card, monthly raffle and more await!
Throwback Thursday: Every Thursday, players receive 20% of their total deposits from the previous week, and the sum is credited automatically! No having to work out your deposits to trigger the offer, as long as you don't have a withdrawal request pending, you'll qualify!
Bingo Society News
Back to articles
Your feedback
Please enter your comment.
Your comment is added.
Member's Feedback (1)
HulioSas 09/27/21, 06:09:45 AM
The ch's are super friendly and go above and beyond to make sure everyone is having a good time. Plus, when the moaners start, they are ready to leap into action...
The ch's are super friendly and go above and beyond to make sure everyone is having a good time. Plus, when the moaners start, they are ready to leap into action to stop them! Nothing worse than losers bringing the tone of the room down.
Show more