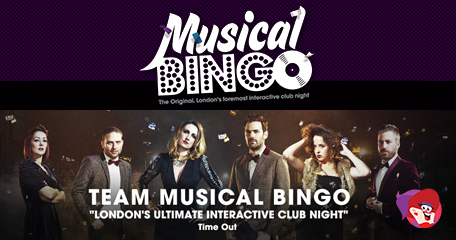 A regular game of bingo is so much fun, but they always offer the same thing; a session where bingo games are packed with cash and intervals where you can spin the slots, socialise or grab yourself something to eat, but in 2007, a man with a master plan to change the face of bingo came up with an exciting new concept; Musical Bingo!
It's just like regular bingo, but instead of shouting out numbers, they play songs! You may think it's a total bizarre way to play the popular game, but these events are sold out every time tickets go on sale! Every round will take on a different theme of songs (base on decade, genre or a random topic), but there is one thing these games have in common with the traditional bingo game – and that's bingo cards!
After months of zoom meetings and seeing 'closed' on every shop and business and down the country, founder of Musical Bingo, DJ Johnny Unknown couldn't wait to tell the public he's back! "We can't wait for Musical Bingo's first show after lockdown, which will be on the 12th August in Brixton. We'd love to see all our friends from past shows and our virtual show Cribs, some familiar faces, and even some newcomers down for what will truly be an amazing event."
Win A Private Booth and Fizz
These bingo games are extremely popular what with being a combination of both bingo dabbing and a night out on the tiles and there's nobody who enjoys these more than the Millenniums (born between 1977 and 1994). The evenings begin with the handing out of unique cards and as the music plays, one-line, two lines and a full house are up for grabs!
Throw in some unexpected twists with a multi-choice mystery box and a chance to gamble your grand prize winnings on the 'killer question' and you've got yourself a thrilling bingo session like no other! As exciting as they are, many are sceptical about getting back out in the open, which is why Johnny Unknown wanted to reassure his fans on safety:
"To adhere to social distancing regulations our dear friends at The Prince Of Wales have converted the terrace area into 26 lovely booths, that you and your friends can book out and stay within your respective bubbles. Don't worry you will still be able to enjoy the full Musical Bingo experience, including your favourite hosts, some new and exciting challenges, banging tunes and even some lovely food and drink to go along with it."
The first scheduled event is to take place on August 6th at the Clapham Grand in London, a venue that has been open to the public for the last 120-year, but with recent on-goings, the venue has warned it may be set to close for good. Johnny doesn't want that so has organised a fundraising event for one night and one night only!
An all-star cast has been promised along with a superstar DJ and there's even the promise of huge prizes on offer throughout the night! All proceeds will be going to the iconic venue to stop the threat of closure. If you can't make it to this event, maybe you can to the event scheduled for August 12th? There's a competition over on Facebook to win a private booth for you and your friends along with a bottle of prosecco!
Bingo Society News
Back to articles
Your feedback
Please enter your comment.
Your comment is added.
Member's Feedback (1)
HulioSas 07/30/20, 09:07:33 AM
It's great to see things getting back to normal! I've missed getting out and am looking forward to trying new experiences – this one included!