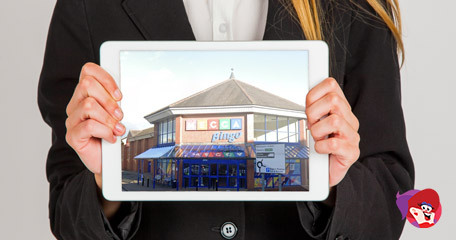 It Was A Dab And Grab For 1 Lucky Bingo Player
Do you believe in superstitions? Can a number or seat really define luck? If you ask me nothing works because lately I have about as much luck as a turkey who just caught Bernard Matthews looking at it!
So, where am I going with this? April 1st every year is dominated by jesters whose sole aim is to prank or mislead other people. I know because I myself participated this year. Let's just say my nephew won't trust walking into a doorway any more…cling film + doorway = squished face!
Lucky Number One:
On April 1st, April Fool's Day, one lucky bingo player from Wrexham didn't know her life was about to change as she sat down eagerly awaiting the bingo session to start. After purchasing her tickets into the evening session, the anonymous lady was enjoying the night's events oblivious as to what was about to happen.
The winner who has been a loyal Mecca Bingo player for over 30 years, and recently transferred from Chester to the Wrexham club on Smithfield Road, called "house" on the National Bingo Game flyer…bagging herself a massive £50K in cash! Despite the date, the winner knew it was no joke when her numbers seemingly came out one after the other!
The popular 50-ball bingo game offers an in-house prize as well as three jackpots in every game…
…and there are two games played daily. Hundreds of clubs up and down the UK particpate with players all hoping to win that top prize of £50K. There is one prize to be won – a full house and each strip comes with five chances to win.
Daub all 10 numbers on any one of the 5 tickets on said strip to win. Call in 24 numbers or less for an additional £100. Win a full house within 20 calls for an extra £1K on top of the in-house prize money. Mark all ten numbers within 16 calls for the £50K jackpot.
Tracy Leigh, general manager at Mecca Bingo Wrexham said: "Saturdays are always a great atmosphere at Mecca Wrexham but when we found out one of our loyal playershad just become a jackpot winner, the club virtually turned into a party. We are thrilled for her and her family!"
What happens now? The winners of the National Bingo Game jackpot have about a week to wait for their funds and during this time, the venue where it was won would have been busy organising a party for all members. Every jackpot winner is treated to a celebratory event with all members receiving great value bingo offers on the night as well as free food and drink. During the main event, a cheque will be presented to the winner for publicity purposes. In this event, the photograph will be kept strictly private.
Source:
"Wrexham Mecca Bingo Player Wins £50,000 Jackpot On April Fools Day", leaderlive.co.uk, April 11, 2023.
General Bingo News
Back to articles
Your feedback
Please enter your comment.
Your comment is added.