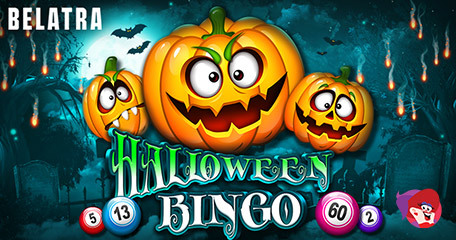 On October 16th, Belatra announced the release of a new bingo variant – Halloween Bingo and it promises to be just as exciting as trick or treating!
Halloween Bingo is not your typical game of bingo, instead it is a unique 60-ball bingo game that captures the aura of Halloween perfectly thanks to its sharp design and ability to immerse players within a frightfully freakish atmosphere.
Devilishly Delightful
To make this bingo game simple to play, a combination panel is displayed on the left of the screen with details on all potential winning lines and their corresponding values. Use the bet value to the lower of your screen to select the value of your cards. When you are ready to play, tap that pumpkin head to the right of the cards. All games play out automatically and you can decide on the speed in which to play.
When cards have been purchased and the bingo game is initiated, 30 bingo balls will be drawn at random to reveal their possible winning combinations. The game then offers an extra layer of excitement by allowing players to purchase up to 14 additional balls or they can choose to cash out and begin a new round.
Winning pumpkin combinations will be highlighted with a strike through them to alert the player to haunting wins, while pending lines will be showcased in ghoulish green. More colours come with witches black indicating the winning numbers on the bingo card, blood-curdling red pointing to the winning combinations and numbers that have been drawn will be marked in zombie yellow.
Keep an eye on the superstitious magic ball feature! When this special ball makes an appearance, players get the option to select any number that completes a winning sequence. A hint will appear on the number with the most lucrative winning return to help players make the best possible choice. The video bingo game will draw to a close automatically if a player's winning chances when buying the next ball, drop below 50%.
Halloween Bingo by Belatra stats:
RTP: 92%
Max win: 1500x
Volatility: Medium
Lines: 12 Possible Win Ways
Sergey Chernyavski, Belatra Games' CCO, said: "Halloween is a wonderful celebration that is observed across the world and our latest game is a worthy way to mark the occasion. Players are in for a real treat as they immerse themselves in Halloween Bingo."
General Bingo News
Back to articles
Your feedback
Please enter your comment.
Your comment is added.
bridgetjones
10/19/23, 07:10:44 AM
I enjoy video bingo games because you can play at your own pace and you're not competing with lots of other players.