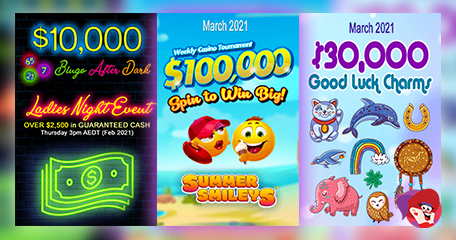 Aussie, Aussie, Aussie – oi, oi oi! If the Australians know how to do one thing well, it's big online bingo promotions and this month, they're packing so much cash into their specials, it's almost unbelievable! 'Stop and smell the roses' invites you to take a little time away from your busy schedule to try your hand at winning a share of more than $250,000! And you don't need to be green fingered to take part in this one!
Basically, you need to win full house prizes to gain entries into the grand prize draw. Plus, there are weekly extra prizes to be won along the way too and, you can have a blast in chat too! All floral (patterned) bingo games will grow as more players join in and to get those visitor numbers up, a huge buy 30 get 5 free tickets offer is place.
Wins add points to your tally and the more points you have, the better your chances of winning. Weekly prizes will either be awarded to the top 5 players or randomly, giving everyone a fair chance to win. Weekly extras include:
1st Place: $150 bingo bonus + 200% extra bonus.
2nd Place: $100 bingo bonus + 150% extra bonus.
3rd Place: $75 bingo bonus + 125% extra bonus.
4th Place: $50 bingo bonus + 100% extra bonus.
5th Place: $25 bingo bonus + 100% extra bonus.
At the end of the contest (March 31st), all players who qualified will be placed into a virtual hat where three lucky players will win either a Samsung 43", 4K Smart TV, a HP laptop or a Kindle Fire 7 tablet.
Jackpots and Prizes in Full Bloom
If more than quarter of a million dollars wasn't already enough of an offer, maybe the $30K good luck charms special will be? Running until the end of the month, $30K is up for grabs in a new session bingo style event. A flat fee of $10 will credit Bingo Australia players with 45 bingo tickets – no more and no less, meaning everyone has the same chance of winning.
Ten games with 3 prizes in each will pay back-to-back from Friday to Sunday this month with a minimum jackpot of $250 to be won. Want more? Good job there is more then! Every Thursday, a share of $10K will be won after dark. Play qualifying releases this month to be included in the $100,000 spin to win tourney. And there's a daily freebie where you log in each to see if you win big bingo bonuses with no deposit required!
Us Brits know how to deliver a promotion too, more often than not they're small but this month, Buzz Bingo are giving away a car worth £18K and many Jumpman brands are pooling resources to award one lucky player with £2K worth of luxury watches! But, that's for another day!
Bingo Promotions & Bonuses
Back to articles
Your feedback
Please enter your comment.
Your comment is added.
TinTinn
03/06/21, 06:03:12 PM
Wow! That is so much money! No wonder the bingo rooms are always full!