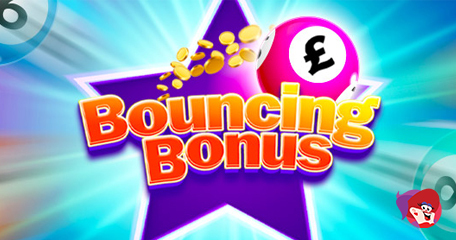 More Chances to Win with No Extra Spends
Do you want more chances to win bingo without having to play any extra for it? Then you've come to the right place! There are scores of different bingo games online delivering more prizes per game than you'd expect, with 1TG/2TG features, roll-on prizes and even bonus rounds. Take Deal or No Deal for example, the full house winner not only pockets that full house prize but gets to take on the banker for even more cash!
Rainbow Riches Bingo comes with a wishing well bonus with a £5 bonus for those who gather lucky coins, plus there are three community pots won multiple times every day. Age of the Gods Bingo delivers three prizes per game as well as a pick and click bonus where the community and full house winner get extra money.
Grab Bingo by the Bouncing Balls
Bingo is all about having fun and nobody knows this more than Bingo Cams, which is why they devised an exciting bingo feature that offers players more for less. The bouncing bonus is an exclusive feature and one where it can randomly be activated at the end of any game, but what is it?
The Bouncing Bonus is very much like a raffle. Each bingo ticket purchased will act as a raffle ticket and every now and then, the system randomly selects one of those bingo tickets. The player who purchased that ticket will then get to play the exciting bingo bonus game. Look for the bonus game icon in the bingo lobby to see what room the bonus is active in.
To qualify, a player is required to have at least 4 tickets in play and the tickets must have been purchased with real funds. You can increase your chances of being selected by purchasing more tickets. As always, it is a random number generator that determines the winning ticket (to keep it fair), but the more you have, the more likely you are to be selected to play.
Once ticket sales have closed and the game begins, an announcement may be made alerting players to the bonus game being active. When you hear that, it's surprise time and it means you must switch on your webcam! The aim of the game is simple, to grab as many bouncing bonus balls as you can. Each ball has a different cash value. When the timer reaches zero, the value of all bonus balls will be added to the full house winners bankroll.
Bingo Cams also invites winners to capture their winning moments on webcam and as a thank you for doing so, you'll receive an instant cash prize. Please note you only receive extra cash (on top of your prize winnings) for your Live Win Moment if you are participating in one of the selected jackpot rooms.
Bingo Promotions & Bonuses
Back to articles
Your feedback
Please enter your comment.
Your comment is added.
lollipops321 07/25/22, 07:07:10 AM
Sounds like a great feature and a unique one at that. I'm not too sure of the whole webcam thing but I can see loads of people do record their winning reactions, so it may be something I would do – if the cash prize was generous enough!