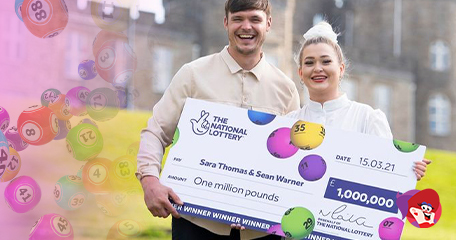 No Rich and Famous Lifestyle Required
If you were to win £1,000,000, what would you do? Besides splashing the cash, I mean. Would you continue to work or retire early? If it were me, I would have to really think about it, but a million quid is life-changing and a far cry from minimum wage. Sara Thomas, a 26-year-old carer from South Wales didn't have to think about her career options, because she knew what she was going to do right from the start – and that was to continue to work!
In March, the lucky lady went off on a lunch break and decided to buy a scratchcard, however, she never imagined landing a prize so big! Sitting down to eat her lunch, she pulled out the card and began rubbing away the coating. She'd won, but not the usual fiver I only manage to win, but £1m in cold hard cash! She passed the card around her work colleagues who thought she must have been playing a trick on them, but they soon believed her when listening in on a call to the National Lottery winner's hotline!
Live Fancy-Free?
Sean Warner, her 28-year-old partner had suggested the pair give up work thanks to her big prize win, but she rebuffed his suggestion by vowing to continue to work. Admitting her win had "opened the doors to lots of new opportunities" for her and her family, Sara has no plans to let her win go to her head. I suppose, one million is only a million if you don't touch it.
Posing for a selfie during a winner's photoshoot, the carer and mother of three said: "I love my job and want to continue working. The patients appreciate you being there for them when they can't see their family and it's just really comforting knowing that you are putting a smile on their faces. We have great banter. It's nice to know you are helping someone and making a difference. It has been tough, but I wouldn't change it."
The instant ticket in question was the 50x blue card at a cost of £5. I bought one myself yesterday and won nothing, but that's gambling for you. According to the National Lottery website, the 50x scratchcard still has two top prizes of £1,000,000 to be won with numerous other smaller prizes. Love to play the lottery and instant wins? New rules come into force from the 22nd of this month and they may affect you!
As it currently stands, you only need to be 16-years old to play lottery games, but from the 22nd of this month, you must be at least 18 or over. This is in line with the government's decision to raise the legal minimum age of play. This includes instant wins as well as lottery both online and at retailers.
Do you think luck runs in families? In terms of bad luck, it doesn't come worse than the couple who lost £182m recently, but what about good luck? Sean's cousin also won a large sum of money on the lottery a few years ago - £70K to be precise! That's two lottery wins within the one family! How mad is that! Most I've won on the lottery is £10, but I'm hoping my luck changes soon!
Bingo Society News
Back to articles
Your feedback
Please enter your comment.
Your comment is added.
Member's Feedback (1)
HangingAround
04/08/21, 09:04:30 AM
Carry on working? Why would you want to with a million in the bank?