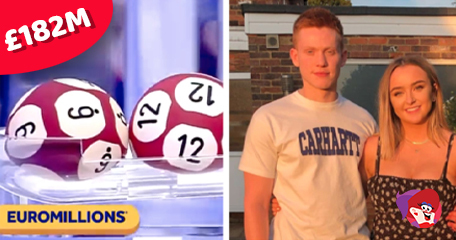 Number's Out – Luck's Out Too!
I'll set the scene; you've been playing the same set of numbers on the National Lottery for a while now, but instead of having to remember to play each and every draw, you decide to set up an automatic payment. You choose your numbers, select how many times a week you want those numbers in play and opt for the direct debit payment. Now with all that done, you can sit back knowing your tickets will automatically be in each draw without ever forgetting to pay.
But that's not how it went for one very unlucky teen who recently missed out on a whopping £182million EuroMillions jackpot! Rachel Kennedy, a 19-year-old from Hertfordshire has been left "absolutely heartbroken" after realising her numbers came up on February 26th, but her bank failed to pay for her £2.50 ticket. But why?
The university student's bank account failed to have sufficient funds clear at the time of the automatic ticket purchase, which then led to her ticket not being in play for the next draw. Camelot who has been running the National Lottery and instant style wins since 1994 have wished her all the best in future draws, but it's not what you want to hear after losing out on so much money!
Check Your Details!
For five weeks Rachel and her 21-year-old partner had played the same numbers: 6, 12, 22, 29, 33, 6 and 11, then on week six, when there was no money in her account, those same numbers were drawn for a life-changing £182million! After the draw, the teen logged into her account and was met with a message telling her the numbers she chose had matched the previous draw, but her joy soon turned to sadness.
Rachel, a business student at Brighton University, told the Sun: "I called my boyfriend Liam and my mum into the room and they couldn't believe it either so I was like, 'oh my god I need to call them'. I called the number thinking that I had won £182million and they said 'yeah you've got the right numbers but you didn't have the funds in your account for the payment of the ticket so it didn't actually go through'. I was on top of the world when I thought I had won, but when I found out I hadn't, Liam was actually more upset than me."
A spokesman for Camelot said in a statement: "We're aware of Rachel's story and hope she gets in early to buy a ticket for the next big draw." Yikes! The National Lottery claim you can play by Direct Debit and never miss a draw, but in reality, you can. Rachel is proof of that. If you, like me, play automatically, you need to make sure you have funds readily available prior to each draw, or you could end up losing out on a fortune and starring in the next big loser's story!
Continuous payments can be set for multiple weeks on any of the National Lottery draws, taking the stress out of logging in and paying each time there is a draw. When you choose this method, they will store your slips and enter you into your chosen draws, You can keep track of your tickets and draws online or via the mobile app at any time. Please bear in mind, it takes roughly 4-weeks to set up this system, however, you will be told a start date at the point of activation.
Source: "National Lottery Respond to Unlucky Teen who Missed Out on £182m EuroMillions Jackpot". Mirror. March 07, 2021.
Bingo Society News
Lottery & Scratchcards
Back to articles
Your feedback
Please enter your comment.
Your comment is added.
HangingAround
03/15/21, 01:03:27 PM
I think I would be physically sick! I'm off to check my account to make sure everything is up to date!