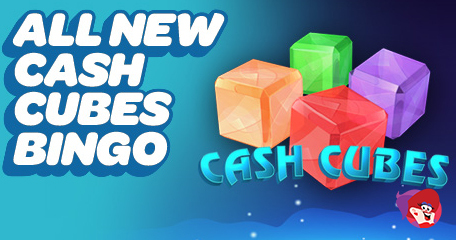 To engage in a game of bingo, you need a virtual dabber, some numbers and a ticket, but what if we told you that you can break free from paper tickets while still playing to win big cash and jackpots – would you be interested to find out more? Cash Cubes bingo is a unique take on a classic where the regular rules have been packed into a box and set aside, for this one all you need is one of four cubes and you're good to go!
Now, don't be alarmed, it's really rather simple; instead of tickets where you can buy as many as you like, you have just four options: 10p, 50p, £1 or £2, and this means everyone has the same chance of winning. The value of your cube will define how much you can win – the more your cube costs, the more you can win, but that jackpot remains the same whether you play the cheapest ticket or the most expensive.
Shaping Up to be a Great Game!
Each cube (one per person per game) is made up of 12 numbers and as numbers are matched, they will vanish from the screen. As more numbers are drawn (and matched) the cube will become weak until it eventually splits. The aim of the game is to match all 12 numbers on your cube before anyone else to win. Once you achieve this, the cube will explode from existence and the full house prize will be placed into your bankroll.
There are other little bonuses exclusive to benefit from while playing too – the first being the cube gatherer; here, once you have exploded at least 50 cubes, you will receive a bonus (based on stake) for your efforts. Playtech's Cash Cubes bingo also offers a jackpot where calling in 18 numbers or less will trigger a substantial sum, only unlike other jackpots, this one is split equally with all players who had a cube (ticket) in play at the time of being won! Imagine being in play when that drops!
Where can you play Cash Cubes? Bgo Bingo where new players are welcomed with a duo of welcome offers; deposit £10 to play with £30 and trigger as many as 250 bonus spins on the totally bizarre Super Scratch game! Don't be afraid to get involved with the chat because throughout the day in this specific room, the resident chat hosts often hold fun quizzes for extra bonuses.
Plus, you can access hundreds of slots, instant wins and table games while watching your cube play-out! Popular games include Jackpot Giant – where the wins are hotter than the volcanoes featured, Rainbow Cash Pots, Cleopatra Gold and many from the Age of the Gods franchise.
Bingo Promotions & Bonuses
Back to articles
Your feedback
Please enter your comment.
Your comment is added.
HulioSas 01/08/21, 07:01:44 AM
Never heard of this before! Everyone has the same chance of winning and a jackpot for all players is my idea of a great bingo game!