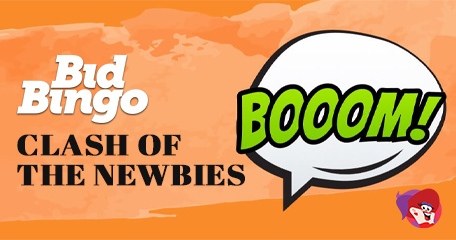 One of the most popular promotions we see in the online gambling industry is slot tournaments (tourneys), but what are they and are they really worth taking part in? Slot tourneys see players competing against their fellow roomies for a spot on the leader-board, but you can only get there by playing games and earning points from your gameplay activities. Points could be awarded for wins or for meeting specific criteria (bonus rounds, consecutive losses etc), but one thing that they all have in common is; you need to spend money to take part!
Some even go as far as awarding points based on how much you spend – not how much you win, and these types of tourneys will really hit you in the pocket. With a rule like this, you'd expect big cash prizes to be on the table, but there are exceptions to the rule! More points = more spend and more spends = more chance of winning, but is it really the right promotion to be advertising?
That depends! Take PlayOJO Bingo for example (who just happen to be in my personal top 3 of best bingo sites!), their tourneys are unlike anything we've seen before! Players wishing to take part purchase an entry ticket for just £1. Twenty spins are credited to your account to use on a specific game. You use those 20 spins to gather as much cash wins as possible and the person who wins the most lands that top spot on the board!
Now, those 20 spins will not cost you a single penny – that's what I love about these specific promotions! You're competing to get your name on the prize board for just £1! Anything you win via the tourney ticket will not be credited though, that's the only downside, but the upside is you can win a lots of big cash and this month even a brand-new Audi for just £1! Compare that to Bid Bingo's Clash of the Newbies and you'll see a major difference; although both offer wager-free cash prizes at the end of it (if you're lucky enough to win!), only one requires you to shell out extortionate amounts just to win a top prize of £100!
Are They Good or Bad?
Eight new slot games have been added to the ever-growing games lobby at Bid Bingo (including the new Larry the Leprechaun title) and they're eager to discover which is the best. Clash of the newbies will run for four weeks and the slot that has been wagered on the most will be crowned victorious. The top players who have wagered the most (cringe!) on the winning game will be "rewarded" with prizes of £25, £50 and £100. The top three players who played the losing game will win £10, £25 and £40.
Every £10 wagered is 1 point, so £100 spend is 10 points. Usually we can give you an indication of how much you need to spend to win by looking at the leader-board, but there's isn't a visible one this time round. If you're playing anyway, good luck, but if you weren't, the chances of winning a small amount of cash at the end of it are pretty slim! If I remember rightly, last time round the winner had over 15,000 points – I don't even want to think of the amount of money they spent to win just £100!
However, like PlayOJO…
…Bid have an upside as well as downside and I've already made it clear what the downside is, so what's the upside? Anything you win by spinning the reels of the qualifying games is yours to keep! Win £1K with the OJO tourneys and it's invisible to help you win the end prize; win £1K with Bid Bingo and you'll find it credited to your account instantly!
Bingo Tournaments
Back to articles
Your feedback
Please enter your comment.
Your comment is added.
bridgetjones
09/18/20, 07:09:13 AM
It should be points based on wins, not points based on £10 spend – that's madness just to win a max of £100!