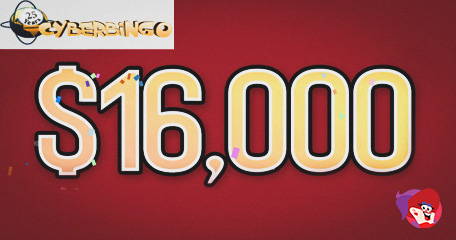 Plenty of Free Fun and Deposit Surprises!
"Christmas is here, and the prize pots are getting fat, please don't spend a penny more than you need to, to get in on the bingo act!" I think my version works better than the original! As fun as it is this time of the year, it's time to get serious. Something big is coming this month, and we're not referring to the guy dressed from head to toe in red and white! We're talking big money, and nobody does it better than Cyber Bingo!
From free trial offers to nickel games, B3G2F (buy 3 get 2 free) deals and an option to customise your own bingo cards, everything you could possible want (and more!) can be found here! Before we serve up the details on this month's biggest bingo promotions, let's take a minute to recap on how you can play for free with no risk to your own cash!
To get you in the festive spirit, Cyber Bingo have packed a little more of a surprise into their already generous welcome offer! Our exclusive offer know allows players to claim a $20 free trial bonus and 50 spins upon registration – that's $10 more than usual! This special holiday offer is available during the festive period and requires no deposit!
The Festive Countdown is On
A quick glimpse of the Cyber Bingo promotions reveal how much money can be won this month – it's a lot! If you're going to take a look for yourself (recommended!), you're at serious risk of getting confetti in your eyes! The big bingo event comes with so much confetti, you can't help but get into the party mood!
The Cyber Bingo crew are not kidding when it comes to the 'biggest monthly bingo event!' On December 25th, $16K will be won with $2K top-of-the-hour games to warm up the bingo community with a buy 3 get 2 free deal attached to each of those. The fun commences at 7pm (EDT) sharp! When the three warm-up bingo games have been played, it's time for the mega $10K at 10pm! Someone is guaranteed to win, why shouldn't that be you?
There are some pretty impressive promos and offers available this month, highlights include:
15 Days of Christmas: Daily bingo tourneys from midday to midday with $625 worth of prizes to be won. The top 40 players will get to share that prize fund. Multi-part games are guaranteed (at $25) and prizes will be doubled on Christmas Day.
Slot Circus Tourney: Play to win a share of $300 in cash every weekend by playing Circus-themed releases. Opt-in, collect points as you play and try to climb that leader-board. Only the top 20 players each weekend will win a share of $830. Player in first position gets $300 in cash and 300 casino points (VIP).
Christmas Bonus: Play with more for less this festive season with bonuses of up to 500% applied to your first deposit of the day (on Tuesday's). Regular players can claim anything from 125% to 300% while VIP's get the royal bingo treatment with 500% guaranteed!
Holiday Bingo Party: When you're full of food and celebrations, Cyber Bingo invite you to join in the fun on 24th, 25th and 26th of December. High/low games with $15 and $150 for just .75c a ticket, crazy pot games and a buy 7 get 3 free deal are all guaranteed! Look out for the second party kicking off between December 31st and January 2nd for double the bonuses/cash and fun!
Advent Calendar: Every day there will be something new to claim by opening the door on the virtual advent calendar. Day 1 was a $4 universal bonus, day 2 awarded 10 free games on Jolly Gingerbread and day 3 was an impressive $7 bonus! Every door opened will come with a different code. Just pop that code into the cashier to redeem the bonus.
VIP Bingo Tourney: Every Tuesday and Saturday from 9pm to 10pm, ten lucky players will win a share of a $545 prize pool. Unlike other bingo tourneys at Cyber Bingo, you won't need to use real money to buy tickets, instead, cards are purchased via points. Cash prizes of $20 to $200 are guaranteed to be won along with $15 bonuses for players in positions 6 to 10 on the leader-board. That's not all! The bingo games come with 250 bingo points to keep the fun going!
Christmas Cashback: It's the season of giving so Cyber Bingo wanted to give a little back. Every Monday this month, you can claim 50% back on your losses (as a bonus) as a thank-you for playing. Even if you don't manage to win when playing, you will receive a bonus back, a bonus that can be used in any of the bingo rooms.
New Year Bingo Tourney: Why celebrate on one night of the year when you can celebrate on several? Cyber Bingo are getting ready to host a 6-days of New Year fun with extra cash and bonuses! Starting on December 27th until January 1st, daily bingo events could result in you winning a share of $2,700 in prizes! There will be 40 winners with a top prize of $1K. The remaining 35 winners on that leader-board will win a bonus of between $10 and $500!
Fair n' Square: Every day between 6pm and 7pm, the seasonal room transforms itself into an even stevens room! This means everyone who plays the games has the same chance of winning! This is the only room with a set number of tickets in play, no more and no less, meaning everyone has the same number of tickets in play! Win up to $100 per game from .25c a ticket.
Guaranteed Games: It's non-stop fun in the seasonal room between 9pm and 10pm on a Monday, Friday and Saturday, with $150 guaranteed games! Tickets will et you back just 0.75c each!
Bingo Promotions & Bonuses
Back to articles
Your feedback
Please enter your comment.
Your comment is added.
Member's Feedback (1)
HulioSas 12/05/21, 03:12:04 PM
The monthly game is usually only $13K, nice to see extra cash available this month! I always pre-buy because I never know what I'm doing on the day.