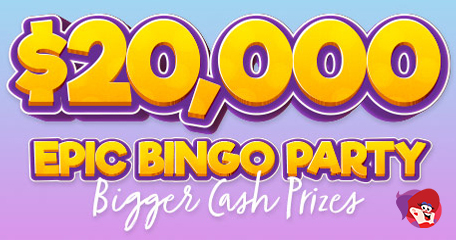 Tens of Thousands of Dollars to be Won This Month
May has arrived and so too have a series of brilliant bingo promotions, including those to win tens of thousands of dollars at Cyber Bingo. From new video bingo tournaments to the monthly bingo bash, Monday bonuses and Mother's Day fun, you'll never be stuck for something to take part in here.
Throughout May you get the chance to get more bang for your buck with the new Monday deposit bonuses, with as much as 300% on your first deposit of the day. VIP players could qualify for 350% extra, but this is for one day only! To claim, make a qualifying deposit of $30 or more on a Monday.
The bingo tournaments have been given a bit of a feminine touch this month with bingo patterns representing items you'd typically find in a handbag or would associate with a lady, such as lipstick, mirrors, dresses and jewellery. It's all about the girls but that doesn't mean you have to be a female to take part and win – anyone can rock up to the hourly bingo session on a Thursday to dab and grab some extra cash. There are multi-part games scheduled throughout the session with an incredible buy 7 get 3 free offer.
The Bingo Fun (and Bonuses) Continue
Video bingo tournaments have been introduced this month which are 1-day weekly events with a prize pool of $1,500. Twenty players will win a share of that prize pot with the top player bagging $500. To take part, players need to opt-in and play the qualifying games on a Friday. Participants will be ranked by best-equalized win over one consecutive round. Power Ball Xtra, Burning Peal Bingo, Neptune Treasure Bingo and Crypto Mania Bingo are the only video bingo games you need to be playing each Friday if you want the chance to win more cash/bonuses!
Mother's Day on May 8th will be celebrated in style over at Cyber Bingo HQ with 8-hours of fun scheduled from 4pm EDT. Back-to-back bingo games and prizes with a buy 6 cards get 3 free offer will cut costs while enhancing the excitement. If you love these bingo games there are even more planned on Sundays with 3-part games (for 3 prizes) and guaranteed big money games too…
…and while we're on the subject of big money games, the epic bingo party will kick off once again this month with $20K in cash guaranteed to be won! All real money prizes with no wagering make this promotion so inviting! Plus there are plenty of chances to win with money-saving offers too.
The one-night bingo event will commence from 6pm with 10 warm up games of $1K. The cards for the warm-up games can be purchased for $2 each with a buy 3 get 2 free cap. This means players are restricted to just 120 cards each. The biggest prize of $10K will be reserved until the final game on Saturday 28th of May.
Bingo Promotions & Bonuses
Back to articles
Your feedback
Please enter your comment.
Your comment is added.
Member's Feedback (1)
HangingAround
05/02/22, 05:05:29 PM
Big jackpot winners like the $10,000 game get the money in monthly installments. I like the sound of that because it means you always have something to fall back...
Big jackpot winners like the $10,000 game get the money in monthly installments. I like the sound of that because it means you always have something to fall back on (until it runs out of course). Getting it in one go means you're more likely to waste it.
Show more