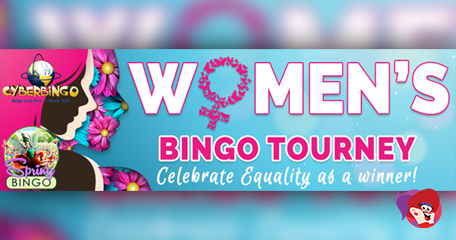 Have you noticed the change in weather these past couple of days because I know I have? The sun is out more than it's in and the rain has finally cried all its tears. Spring flowers are started to spring up everywhere and the grass is looking considerably greener. I think we can safely say winter has almost gone and to celebrate, Cyber Bingo have created three fabulous online bingo promotions for March, all packed with cash and bargain ticket prices as ever!
First up, a women's bingo tourney and not just a one-off, one every Monday in March! Why? They want to celebrate womanhood and the women in the world with prizes up to $500 for the first 20 players. Naturally, one would have thought this special was specifically for females, but it is open to all genders.
What's a bingo tourney? A little like a slots tourney one only you collect points when you win prizes not by the amount you spend on the reels. Win the most you can from playing bingo to land a spot on the prize board. Each bingo room offers prizes for matching a pattern or full house as well as a delicious jackpot!
Marching Into Big Cash
Spring isn't the only thing that's coming – St Patrick's Day is too, and whether you live in Ireland, the UK or the US, celebrations will be strong and not just over at Cyber Bingo either! Bingo Fest will be joining them in their fun with a St Patrick's Pots of Gold event every Wednesday in March. Each pot will be bursting with a $17K coverall, a minimum of $170 games at the top of the hour and an incredible buy 7 get 3 cards free offer!
There's plenty of time between now and then to sign up if you haven't already and by doing so, you will receive a free trial offer to test drive the bingo site! Slots - from Take Santa's Shop to the totally sweet sensation known as Swinging Sweethearts, plus and a great selection of bingo rooms are available to play 24/7 – why go anywhere else?
Last and certainly not least is the March Madness bingo tournament and Bingo Spirit are joining this one! A whopping $1,600 will be won and not as a prize pool shared between players, but that sum will be going to the overall winner! A pot of $1,900 will be split between remaining players who manage to land a spot on the leader-board. These top of the hour games are bound to be popular, running from Monday to Thursday, there should be plenty of time to gather those wins!
Bingo Promotions & Bonuses
Back to articles
Your feedback
Please enter your comment.
Your comment is added.
Member's Feedback (1)
TinTinn
03/01/21, 08:03:13 AM
If all three bingo sites are hosting these does that mean winners can come from any of them? Or are those prize pools per bingo site?