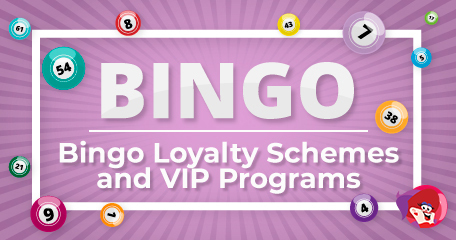 You often hear the phrase; "loyalty pays" but does it when it comes to online bingo? There are two answers to this; yes, if you're a regular bingo player and no if you're not. To benefit from loyalty programs and VIP schemes you have to log in to each bingo site on a regular basis because playing means points and points means rewards.
Have I lost you? Okay, let's rewind a little…
…in order to maximise your loyalty points balance and to progress further up the virtual VIP rewards ladder, you need to spend money; the more money you spend, the more points and rewards you can earn. Capeesh? Now, let's take a look at the difference between loyalty and VIP, just to confuse you a little further – just kidding!
VIP vs Loyalty
For this, we will need a couple of bingo sites. In the loyalty corner it's mFortune Bingo and Loadsa Bingo. For the VIP corner it's 888 Ladies Bingo and City Bingo. Over at the popular mobile friendly https://latestbingobonuses.com/reviews/mobile mFortune website, the bingo loyalty scheme works as follows; as you play, you will earn points on every spin of the reels or daub of a bingo ticket. When you have collected a decent amount of loyalty points, you can transfer them into bonus credit, branded merchandise or even gifts! A total point tally of 290 is required for a £3 bonus or 1,750 for a £20 bonus. Satnavs, top-up vouchers for mobiles, days out, supercar race days and much more can be claimed at mFortune.
Another popular loyalty scheme comes with Loadsa Bingo, but unlike other bingo sites, Loadsa Bingo is wager-free, which means points award bonuses which carry no play through terms. All you need to do is make one qualifying deposit of at least £10 and the rewards come flowing in daily…
…up to 50 bonus spins, up to 30 free bingo tickets to the daily £50 Kaching bingo game, free bingo tickets to the monthly Big Bang £10K jackpot game and up to 10% monthly cashback – real cash! If you claim your free bingo tickets and go on to win a small amount or a big cash jackpot – you're guaranteed to be able to withdraw with no complications.
VIP programs work slightly different to loyalty schemes and here's how; over at 888 Ladies Bingo, the Joy Gem VIP Club provides exclusive offers and exceptional benefits to the loyalist of members from a selection of sister bingo sites (Wink Bingo being one). VIP members are promised a top-notch service, including personal attention from a dedicated account manager plus access to an array of special promotions and luxurious treats! Rewards and treats are based on your level of loyalty (VIP status) …
…simply put; loyalty schemes allow you to gather points and spend them how you wish – VIP programs require you to spend a certain amount of cash to reach each tier, and you need to retain that level every month by spending the same amount. If you deposit and spend less than the previous month, you will drop a level (or two). Treats at the Joy Gem VIP Club include;
Exclusive promotions just for VIP players to receive red carpet treatment
Monthly mega gems: Win a share of the mega sliding jackpot – and win up to £5,000 every month.
New VIP bingo rooms: They have updated 2 of the exclusive VIP bingo rooms, giving you more winning chances than ever before.
Events: These include meet and treat VIP spa days and exclusive tickets to star-studded events (previous stars included Peter Andre).
Yes, the rewards of the VIP program are exceptional, but you have to spend exceptional cash to benefit from such a scheme.
How to Benefit Without Spending Loads
We all like a bargain or something for nothing, and there's nothing wrong with that, so when it comes to benefiting from loyalty and VIP programs, the best way is to spend a little and earn a lot. VIP's require you to spend lots of cash, which isn't good for those of us who hunt down bargain basement bingo games in the hope of bagging a fairly decent prize.
Working your way through VIP levels can take time and only when you reach the top, do the best rewards come your way, so how do you win in this situation? This is simple; play at wager-free bingo sites that deliver daily doses of fun! One deposit is all it takes – Bingo Idol for instance; the latest fun-filled bingo site with an astonishing selection of bingo rooms and slots, offers daily rewards with no strings attached…
…and that means no small print to catch you out! A soon as £10 has been spent, daily rewards of bonus spins and free bingo tickets will be credited to your account. You have 24-hours to log in and claim – so use it or lose it! Another popular bingo site is Cracker Bingo and no, it has nothing to do with Christmas so don't panic! The Dragonfish powered bingo site dishes out up to 50 bonus spins a day, as well as numerous free bingo tickets.
Okay, so you do need to spend more than £10 to earn more bonus spins etc, but the great thing is you don't have to retain your level of spend and your rewards are never jeopardised on a monthly basis. You can choose to play bingo or head on over to popular slots such as the dazzling gems and jewels themed Starburst by NetEnt; whatever you decide to do, every game you play will contribute towards your spending, Log in each day and claim your freebies – these will then go towards your spend tally, so you're effectively spending money for higher rewards without having to make additional deposits. Anything you win will be credited as real cash; remember that.
Just because the likes of Bingo Idol and mFortune don't offer a VIP program as such, doesn't mean you can't enjoy the red-carpet treatment! Each of these bingo sites offers VIP bingo rooms and promotions and you know what that means? Bigger cash and bigger excitement – without the exceptional spending.
Don't forget to let us know what you think of VIP and loyalty schemes below.
Back to articles
Your feedback
Please enter your comment.
Your comment is added.