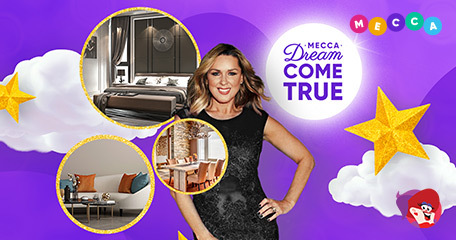 Take a Spin for Free and Win Real Prizes!
Whoever said "the best things in life are free" wasn't wrong, only, if something looks too good to be true, it tends to be. We're always being warned of scams and how to recognise a reputable offer (or bingo operator) from a rogue one, but have you ever seen a bingo offer so good, you instantly doubt its legitimacy? If you answered yes, you're not alone! I'm something of a seasoned bingo player and to this day, I still find myself questioning what I see.
Only one bingo operator goes above and beyond to ensure the bingo community gets the best gaming experience possible, and that is Mecca Bingo! Consistent is one word is one word to describe their promotions, genuine is another, but my favourite term to use would be 'no deposit'! Life-changing prizes, real (big) money and experiences are up for grabs for free – where else would you find that? Let me tell you - nowhere!
Set Me Free
First up you have the Mecca Bingo raffles, an exclusive feature you may have seen pop up in our news section over the last month or so. Just like standard raffles, you can enter online by purchasing a ticket or send your details off on a postcard to benefit from the no deposit route. This week they've some cracking prizes to be won (again!), including:
A dream celebrity home makeover: Claire Sweeny and her design team will tackle 3 rooms in your home, either the dining room, lounge, bedroom, or study/office space. There will be 75 x £10 bonuses and 150 x £5 bonuses for runners up too!
Win £1,500 in wager-free cash or one of 10 additional £20 bonuses.
£200 UberEats voucher or 20 runner's up prizes of a £5 bonus.
An experience day worth £500 or you could win one of 20 runners-up prizes of a £5 bonus!
Next you have the 'Mecca Dream Come True' promotion where you can win amazing money-can't-buy prizes absolutely free! To get your name into the weekly and grand prize draw(s), you simply need to log in daily (after noon) and give the wheel a spin! Options on the wheel include free bingo offers, bonus spins, raffle tickets and £100 cash! The only way to guarantee your name in the draw(s) and to get your hands on one of the following (weekly) prizes, is to spin that free wheel:
Two of the latest iPads
A brand-new iPhone 12
A 48" Samsung Smart TV
£1,000 holiday voucher for a staycation or holiday abroad
A selection of unforgettable experiences for one person and their guest(s)
Twice a week, you could win a £30 bingo bonus, every week for a year!
And those prizes are in addition to the main star prizes:
Mecca Makeover: Home makeover with Claire Sweeney.
Mecca Me Over: Feel like a celeb with photoshoot, make-up, outfit, hotel stay, food and drink with Gemma Sheppard.
Celebrity Street Party: You and 20 friends/family get to host the biggest party ever with free food, drink, entertainment, and your very own celeb guest!
Remember, entry is free, free, FREE!
Promotions & Bonuses
Back to articles
Your feedback
Please enter your comment.
Your comment is added.
Member's Feedback (1)
HangingAround
09/24/21, 06:09:10 AM
The weekly draw is a bit strange as it only selects 3000 players to go into that draw. I have loads of entries yet only been featured in the one weekly draw. Should...
The weekly draw is a bit strange as it only selects 3000 players to go into that draw. I have loads of entries yet only been featured in the one weekly draw. Should be all players who have a raffle in my opinion.
Show more