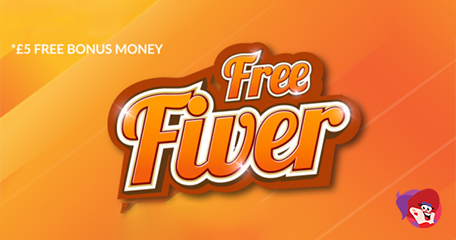 A Thank-You For Being Part of The Community
What's new in the world of online bingo this week? Plenty and if you're already a Tombola player there's a fiver bonus waiting to be claimed with your name on it! The Free Fiver promotion allows registered players to participate in unique bingo games on the main website or exclusive games over on Arcade absolutely free – that's enough for 500 chances to win in Paper Bingo or if you love Spin's big prizes, five shots at a top prize of £500!
All you need to do to claim your free fiver is to log into your bingo account and hit that redeem button, but there is a timeline of when you can do this and it all depends on your surname...
…players with surnames beginning with W, X, Y and Z can go right on over to Tombola and get their free fiver, same can be said for surnames beginning with T, U and V. The order of when you can claim by letters other than those stated is as follows:
Surnames beginning with S: Saturday 10th September
Surnames beginning with Q and R: Tuesday 13th
Surnames beginning with N, O and P: Thursday 15th
Surnames beginning with M: Saturday 17th
Surnames beginning with K and L: Tuesday 20th
Surnames beginning with I and J: Tuesday 22nd
Surnames beginning with H: Saturday 24th
Surnames beginning with F and G: Tuesday 27th
Surnames beginning with D and E: Thursday 29th
Surnames beginning with C: Saturday 1st October
Surnames beginning with B: Tuesday 4th
Surnames beginning with A: Thursday 6th
Is It Too Good To Be True?
There's two bit of good news with this free offer, the first being there are no wagering requirements attached to the bonus; the second is you can log in on any day on or after the date specific to your surname to get your freebie. Example, my surname begins with W therefore I could have redeemed the offer on Tuesday 6th but instead, I logged in on Thursday 8th and it was still there waiting for me and will have been until Monday 31st October.
The free £5 is bonus money and cannot be withdrawn or used to play Hamster Race or Tombola Roulette. Should you win any prize money it guarantees to be real money and there are plenty of games paying jackpots of up to £20K. Whether you win or lose is down to luck – there are no sure fire bingo strategies to follow however, to give yourself more chances to win you can play lower stakes and this in turn gives you more chances to win.
Want to withdraw what you win from your bonus? You can! If you normally use Visa Debit as a withdrawal method you can expect your winnings within an hour! That's what you call fast withdrawals. A word of warning though, if you do win and decide to cash out, you will lose your remaining bonus balance.
Bingo Promotions & Bonuses
Back to articles
Your feedback
Please enter your comment.
Your comment is added.
Member's Feedback (1)
lollipops321 09/09/22, 06:09:09 AM
The games at tombola are really fun and great value. There's only one game I haven't won on yet and that's the paint by numbers game.