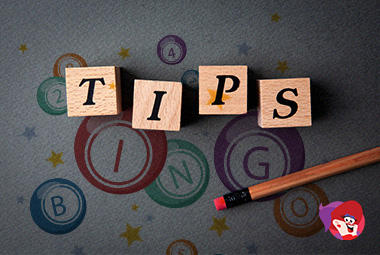 Up Your Game to Win More Often
Can you really improve your chances of winning a game bingo? Is there something you can do to give yourself the edge over your opponents? Bingo is a game of luck with numbers drawn at random, but that doesn't mean you can't benefit from learning a few strategies to improve your chances. Newbies to seasoned players who know their way around a bingo hall, there are multiple things you can do to help bag that elusive win and it all begins with an account.
You've got to be in it to win it, and unless you have a bingo account, you won't win. Playing for free will only every see you winning a bonus or a couple of quid in real money prizes, so the best strategy to win big starts with a real money account. Deposits can be made from as little as £5 and if you budget wisely, you can get up to 500 bingo games out of that one low deposit.
Known Bingo Strategies
There is one bingo strategy I swear by and that is buying tickets. Simple huh! Many have tried to 'beat' the game over the years and even came up with their own unique ways to play, but try as they might, they couldn't get one over on that pesky RNG. You may have heard of strategies in roulette and poker, but not so much in bingo, so let us remind you of the two well-known bingo strategies and their history.
Granville Bingo Strategy: When I learned of this one, I was half expecting it to be a spoof, a strategy from Open All Hours with Arkwright at the helm of some big joke, but alas not. Joseph E. Granville was born in 1923 in the US and went on to become a highly successful investor and financial writer. His expertise included mathematical equations that would determine how successful companies would become.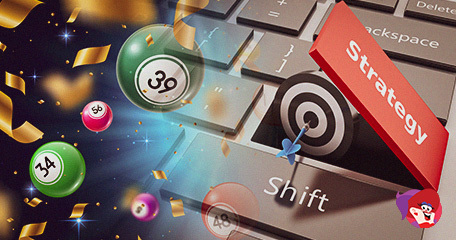 Being an avid bingo player, he wanted to see if there was anything he could do to boost his chances of winning, so he devised a theory that would do just that, increase his probability of a win. His love for 75-ball bingo resulted in him being able to identify numbers being drawn as patterns, quite apt as 75-ball bingo is a patterned bingo game. His experiment revealed in order to win, players should choose from a range of different numbers while avoiding any number repeats. Example, if you choose number 8, 18, 28, 38, 48, 58 and 68 should be avoided.
Unless you play at the likes of Cyber Bingo, you're unable to choose your own bingo numbers, making this strategy worthless and this means it will have no influence over you winning or losing.
Tippet Bingo Strategy: Leonard Henry Caleb Tippett, known professionally as L. H. C. Tippett, was born in 1902 in England. Despite being born in London, he spent his childhood in Cornwall where he attended the St Austell County Grammar School. Growing up, he had a love for two things - statistics which then resulted in him becoming a pioneer of extreme value theory, and bingo!
Triple chance bingo games are the most common form of bingo in the UK, and he wanted to see if he could come up with a system that could identify which numbers were more likely to come out than others. Hie evaluation revealed the numbers that would be closest to the median (middle number), increased as the game went on. Again, this can have no influence on your bingo games nowadays, what with the numbers on your tickets being generated at random.
Top Bingo Tips
Choosing your own numbers is not possible here in the UK, but if the strategies really did work, we would all be winning the lottery each time it was drawn. If someone claims to have a fool-proof way of beating bingo, they haven't, so don't go paying for something that isn't genuine. Same applies for roulette or any other casino game. We don't have the secrets to unlocking wins, but what we do have are some top tops that can improve your chances of winning, but remember, there are no guarantees – it's a game of chance!
Check the Time! Playing during 'rush hours' has its advantages and disadvantages. The advantages being there is more cash to be won, the disadvantages being lots more players competing for the money and as a result, your chances of winning are slashed! Off-peak times mean fewer players (and smaller cash), but your chances of winning are boosted dramatically. Busy periods tend to be between 6pm and midnight.
Look for the offers: Playing with more tickets means more chances to win, but as long as it's done responsibly. We recommend opting into deals where you get more tickets on your deposits, places like Bid Bingo where you have daily deals of spins, tickets and bonuses. Look for the lowest wagering terms too, because there's nothing worse than claiming an offer to find it has red tape attached. Bingo Storm is the latest no wagering zone with tickets and spins on every deposit you make!
Have fun and manage your money responsibly. There are tools supplied at all gambling websites to ensure you spend only what you can afford. If there's a game you don't like, you can turn access to the game off, you can set time reminders and see exactly what you're spending and where. Tombola's MyPlay tool even offers visuals with comparison graphs.
Back to articles
Your feedback
Please enter your comment.
Your comment is added.