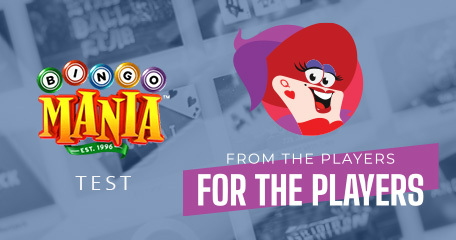 Once considered a major player in the online bingo industry, Bingo Mania has gone from top to bottom in no time at all, an accomplishment no bingo establishment wants to be recognised for. Despite this, we tasked our expert reviewer to take on Bingo Mania as part of our From the Players For the Players experiment to see if there have been any improvements since the years it's resided on our Blacklist.
If you've been following our exclusive project, you'll know a deposit is made and games are played before a withdrawal is requested. This allows us to witness first-hand how the operator deals with the customer. Only our reviewer, Juggaloroscoe, was left less than impressed when it came to cashing out his remaining balance. Stick with us as we find out what exactly happened when we put Bingo Mania under the microscope.
Tester of the day: Juggaloroscoe
Registration date: Wednesday 17th November
Deposit date, amount and payment method: 17th November, $50.01 via Bitcoin
Withdrawal request date: N/A
Withdrawal received date: N/A
Registration
On Wednesday 17th November, Juggaloroscoe signed up to Bingo Mania for the first time. The two-step registration form is simple to understand and gives the new player a snapshot of what to expect once complete – big sign-up bonuses, trial bonuses, exclusive offers as well as $25K and £50K coverall game previews.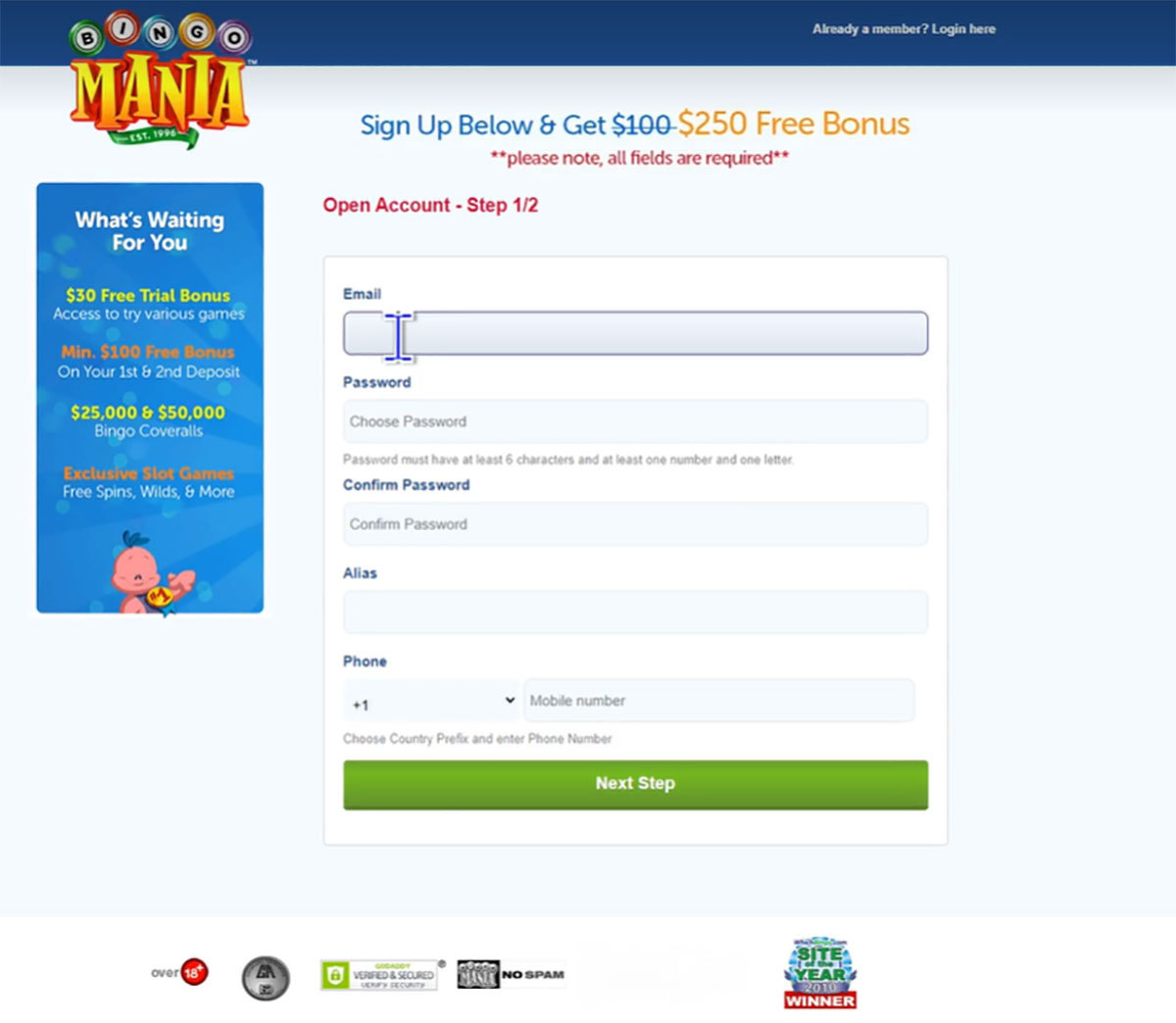 Before sign-up can be completed, our tester had to verify either his mobile phone or email address. Bingo Mania had sent a 4-digit code to both his mobile and email to be used for verification. The code was received instantly. Once all fields were complete, he was welcomed to the bingo community.

One last thing was to upload ID, this comes with a $10 bonus once approved.

Initial Deposit
All new players making a deposit for the first time are awarded welcome bonuses, unless they opt out of said bonuses (maybe). There are two ways to do this, the first is to untick the box when signing up, our reviewer had left this box ticked, the second is to contact support BEFORE you make that deposit, or the bonuses will not be removed. Most operators leave the tick boxes unticked so the player consciously opts into bonus offers if they wish to. But Bingo Mania does not operate like reputable bingo sites as our tester soon found out.

Juggaloroscoe headed straight to live chat before making a deposit to request all bonuses be removed before making a deposit as we were advised before this test was conducted. He didn't want to be left with wagering requirements.

He even asked a second time just to make sure there would be no restrictions when it came to making his withdrawal. It took several minutes for a response, and it wasn't what he was expecting.

Despite the following promise on the welcome page, Juggaloroscoe was told he would need to accept the bonus and complete wagering!

Persisting with the removal of bonuses, the chat support agent told him it was not possible and that he needed to check out the rules on wagering/withdrawals. Rule 10 features a warning that if 95% of the player's deposit was not wagered, any winnings derived from playing could be void and his account closed.

The rules also state if you win 'a big game', you can buy out your wagering requirements.

So many rules, so many ways not to win anything! The wagering requirement was fixed at 10x on both the deposit and the bonus received. With this in mind he deposited via Bitcoin and headed back to support to request bonuses be removed a second time. He was told the following:

But our tester of the day was not happy, since he was assured requesting the bonus be removed was an option.

His initial deposit of $50.01 in Bitcoin resulted in a bankroll comprised of just over $550 in bonus funds.

The problem with the bonuses is the wagering contribution – there are no games that contribute 100% to the roll over and the percentages are outrageous. For example, a standard contribution would see bingo gameplay contribute 100% toward wagering – meaning every dollar you bet on bingo games would reduce your playthrough by one dollar. It's quite common for slots to contribute 100% as well while other casino games may contribute less but not to the extent outlined in Bingo Mania's terms.
As you can see, playing bingo games would double your wagering requirement while slots and other games would take ages to meet playthrough.
Every $1 played in bingo will decrease your WR by $0.50
Every $1 played in slots will decrease your WR by $0.10
Every $1 played in all other games will decrease your WR by $0.05
Gameplay
The number of players in the first room Juggaloroscoe visited was just 3, which resulted in poor prizes. The chat feature was empty, nobody chatting, and this gives you the feeling that not everyone is happy with what they're getting from Bingo Mania. The selection of side games was decent, but every bet barely chipped away at the wagering requirement.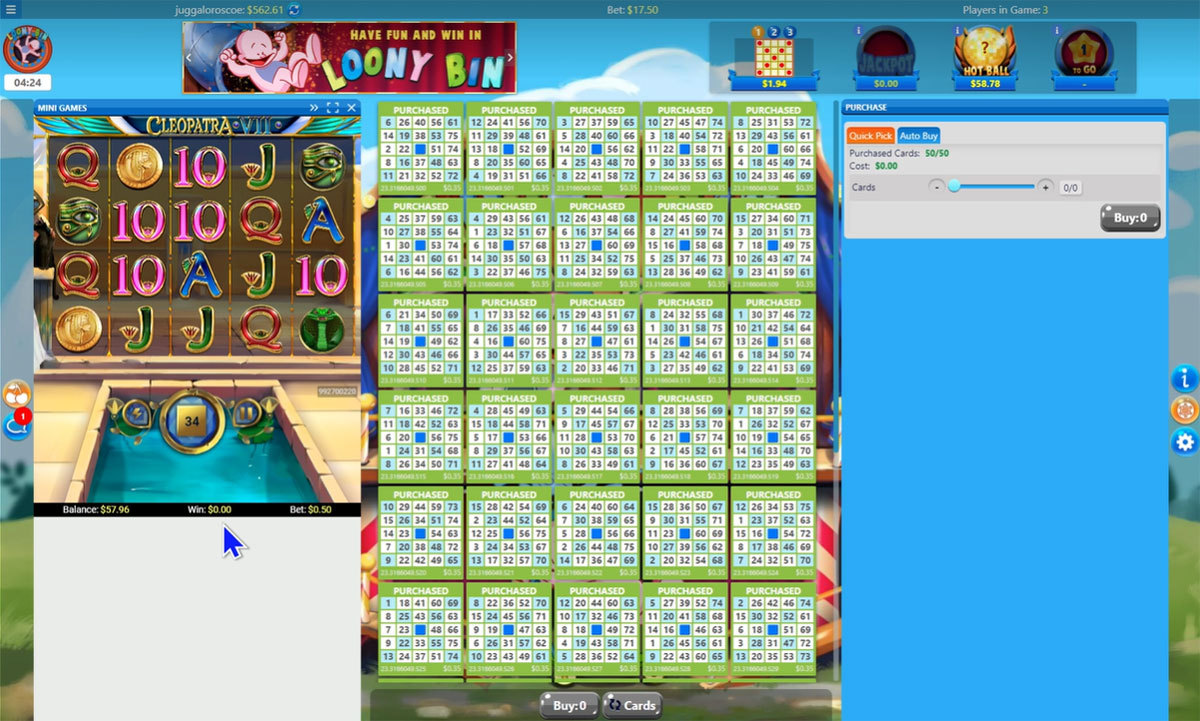 Room two offered more prizes and additional funds for calling house on a specific number, but still, no comparison to other bingo sites on the internet. Maxing out on tickets came in at a cost of $17.50 and the coverall prize was $46.68. The jackpot of more than $2k was promised should you call house within 48 numbers.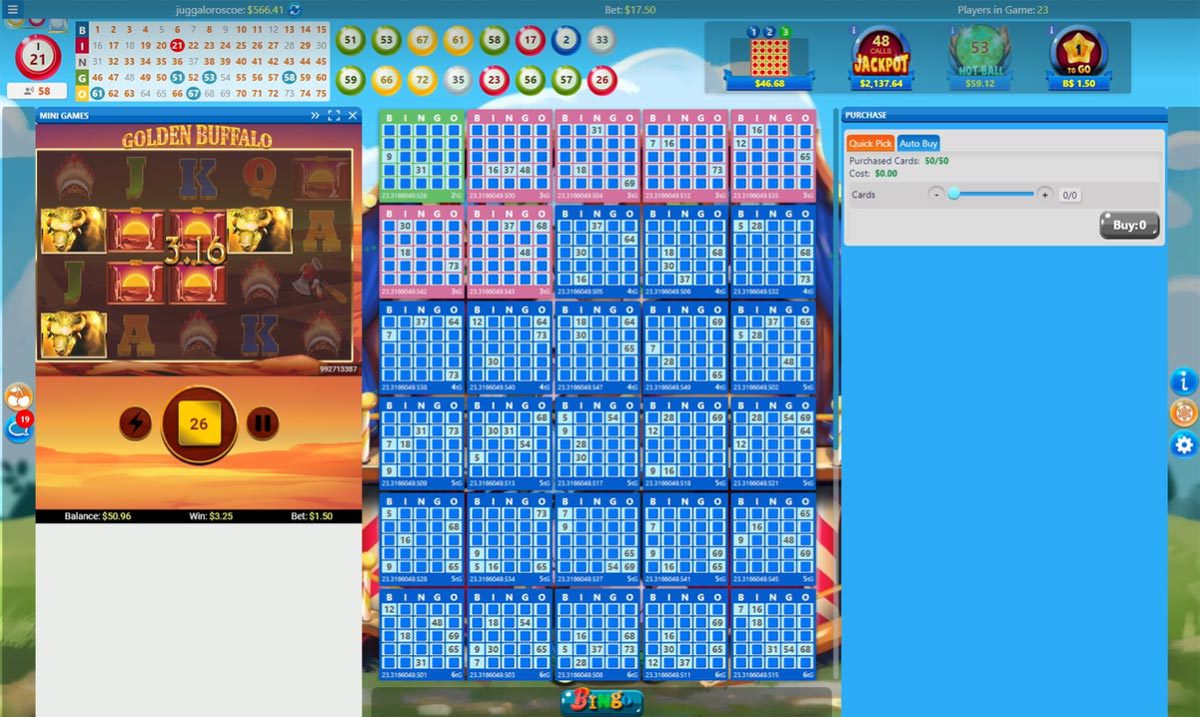 Requesting a Withdrawal
Not only is the minimum withdrawal $100, but players in the US and Canada can only cash out via cheque, and there is a hefty $30 charge with each withdrawal request. Only one withdrawal per week is permitted and they will only handle withdrawal requests on a Monday. With so many wagering restrictions attached to deposits, and no bonus opt out, the chances of our reviewer cashing out were impossible. No withdrawal was made.
How Does Bingo Mania Stack Up?
You could compare Bingo Mania to Medusa, charming on the outside only a nightmare when you get to know her! They offer huge bonuses, which are too good to be true. Customer service reps either lie or are uneducated about the rules. Either way, forcing players to accept wagering requirements when none of the games contribute 100% to the playthrough is unethical. There is virtually no chance of making a withdrawal. There is only one winner when it comes to Bingo Mania, and that's the owners themselves!
This information concludes this extensive test as part of the project From the Players, For the Players. If you are a member of Bingo Mania or consider making a deposit, we hope this report provided some useful information.
From the Players for the Players
Back to articles
Your feedback
Please enter your comment.
Your comment is added.
Bubles12
12/06/21, 01:12:30 PM
Wow! This is a one time play place once you see there is no chance of making a withdrawal. Thanks for the test.