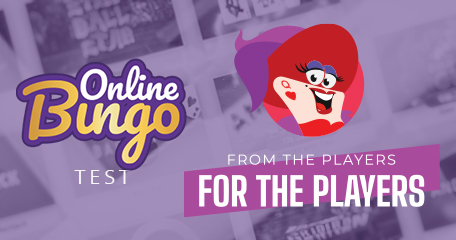 OnlineBingo.com resurfaced in late 2021 on the Jumpman Gaming platform and promised players promotions, big jackpots and plenty of choices. As part of our ongoing From the Players for the Players experiment, we sent in an expert reviewer to go undercover to see if there were any issues. Was it all plain sailing or were there a few hiccups along the way? Stay with us as we reveal everything there is to know about OnlineBingo.com.
Tester of the day: QuitYaMoaning
Registration date: Tuesday 18th January
Deposit date, amount and payment method: Tuesday 18th January, £150 via Visa Debit
KYC Verification: Uploaded utility bill, photo ID and a selfie plus image of bank card on 18th Photo ID and selfie approved on the 18th. Utility bill was rejected on the 19th and a new one submitted on this same day. The bank card was verified on the 20th. A day later on the 21st, the second utility bill was accepted and verified. This completed the KYC process.
Withdrawal request date: January 20th, withdrawal request of £78.50p was made via Visa Debit
Withdrawal received date: Withdrawal of £78.50p was subjected to a fee of £2.50p which was deducted instantly. The remaining balance of £76.00p was processed on Friday 21st January via Visa Debit.
Registration & KYC Verification
On Tuesday 18th January, we tasked our reviewer to put OnlineBingo.com to the test. Having only just launched, QuitYaMoaning was new to the website so she thought the sign-up process would be a quick and easy one. After supplying all her details, she was told her information was incorrect.

The details supplied were correct, so she decided to use a different email address. This resulted in having to fill in the registration form once again. The change of email address worked. Once in, the potentially huge welcome offer (Win up to £1,000 Match Up Bonus) was displayed with details on how to claim. To eliminate wagering requirements, our tester declined the offer.
An up-to-date smartphone or tablet is required to complete the KYC verification process, something not mentioned in the terms and conditions. Unless you submit photographic ID and a selfie, you may struggle to withdraw from your account. Utility bills need to be dated within the last 3-months. Our reviewer initially uploaded one for September/October and it was rejected. A second utility bill dated for December was accepted on the 21st.

It can take up to 48-hours to verify all documents uploaded to the website, and often longer on weekends. The status of all documents can be viewed in the 'document upload' section of the website.
The photographic ID and selfie process is long-winded and can only be completed via smartphone or tablet. There are multiple steps to complete before being able to return to the website.
Initial Deposit
The cashier was simple enough to understand and easy to navigate. Deposit methods offered matched that of those listed on the welcome page. Debit cards, Pay by Mobile, PayPal and Paysafecard were at our reviewer's disposal. To make a deposit, QuitYaMoaning needed to follow three steps:
Payment method: Visa Debit was selected.
Add details: All card details were required.
Deposit Amount
Pre-set deposit amount options included £10, £20, £50, £100 and £200. There was no option to choose your own amount, so a £150 deposit required two separate transactions. On Tuesday 18th January, a deposit for £100 was made followed by £50. The later transaction required verification via her mobile banking app.

Gameplay
Before being able to access the bingo rooms, players are required to select a chat name. Nothing unusual about this as most operators require you to do this to protect your identity. Only, there was one major difference…
…all others do actually offer a chat feature! Regardless of the room our reviewer entered, there were no bingo chat features available. Why require players to choose a chat name when there is no chat community? Our tester later discovered a chat function in the live casino games.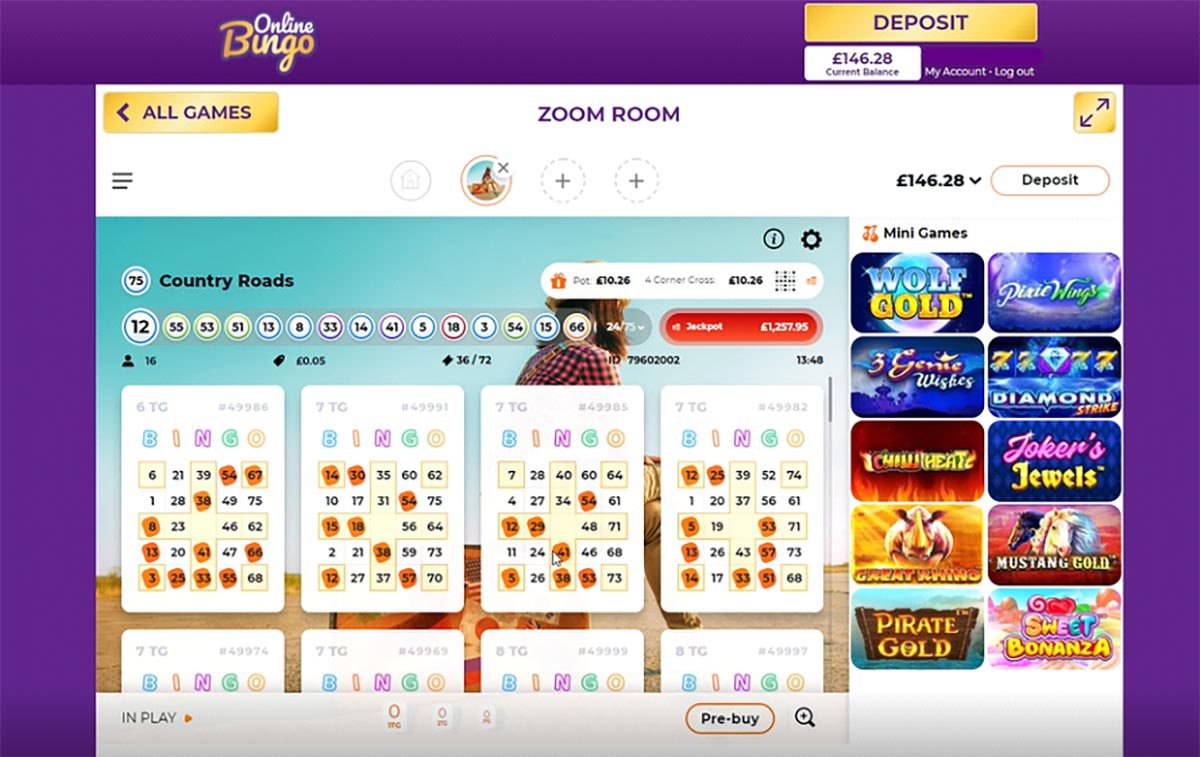 The choice of bingo variants was small with 90-ball, 75-ball and 30-ball rooms available, and not all of those were open when our tester of the day made a visit. Daily, weekly and monthly specials are highlighted via the bingo lobby with an option to pre-buy tickets. Handy for those of us who may be otherwise engaged while big money games are in play.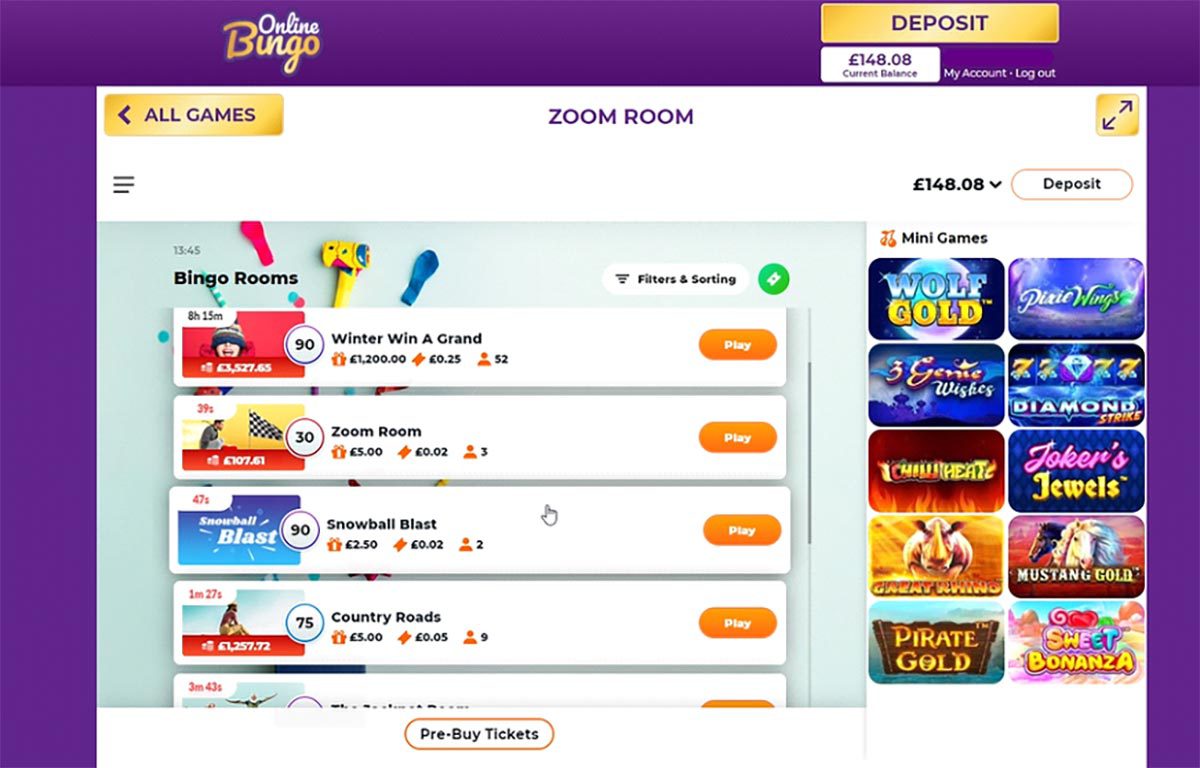 Snowball Blast, otherwise known as Beachball Blast (names change comes with current season), is a 90-ball bingo game, however, there is no triple chance feature (full house prize)! There is only one prize to be won in each game, however, no other bingo game delivers two explosions of bingo balls for 4x quicker gameplay.

Despite its name, OnlineBingo.com is also home to live casino games, table games and video slots. Pragmatic Play's Sweet Bonanza Candyland dominated the live casino section, so our reviewer decided to give it a try.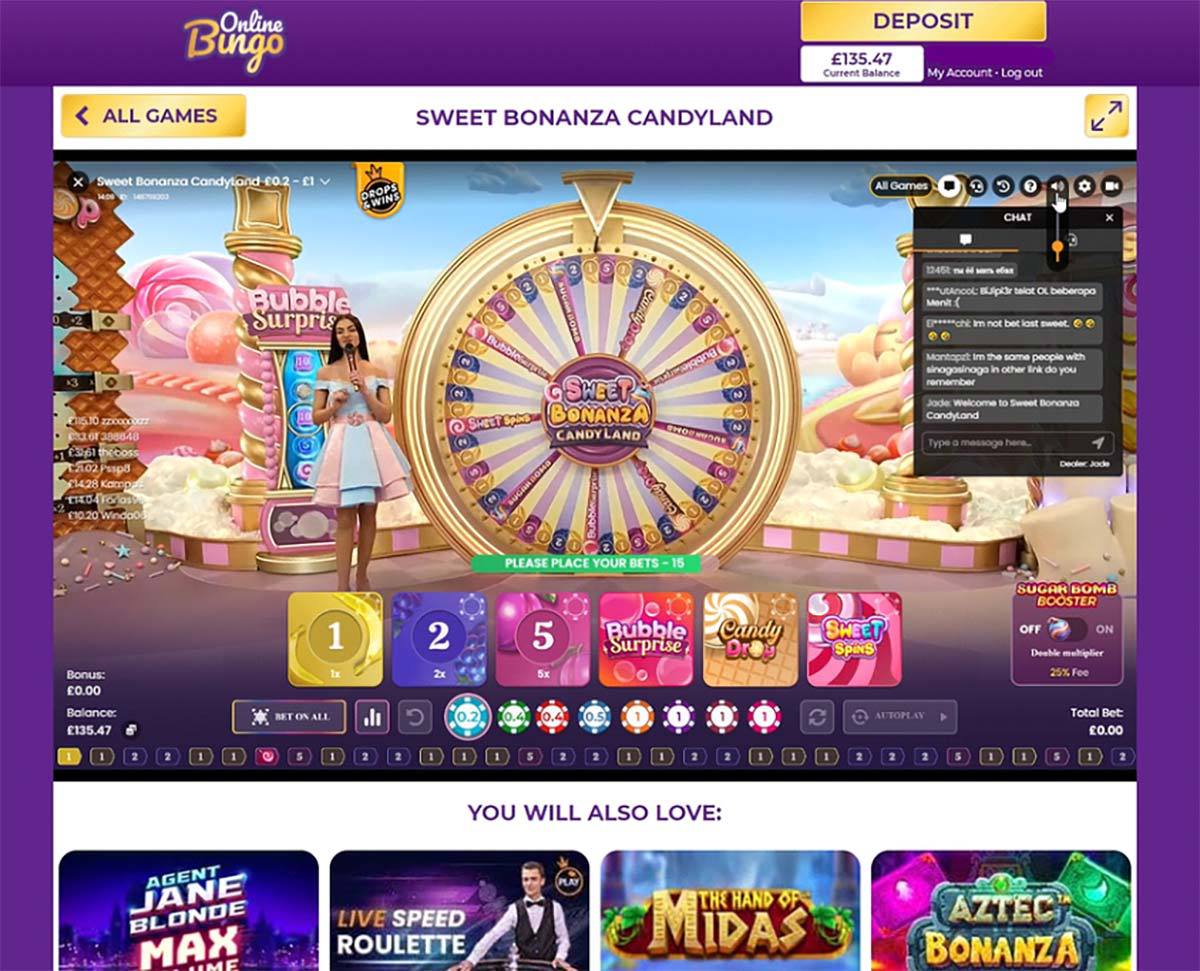 Having no luck, QuitYaMoaning headed to the slots where games of different themes and bonuses waited to be discovered. Games played included Agent Jane Blonde Max Volume, Arctic Enchantress and Big Circus.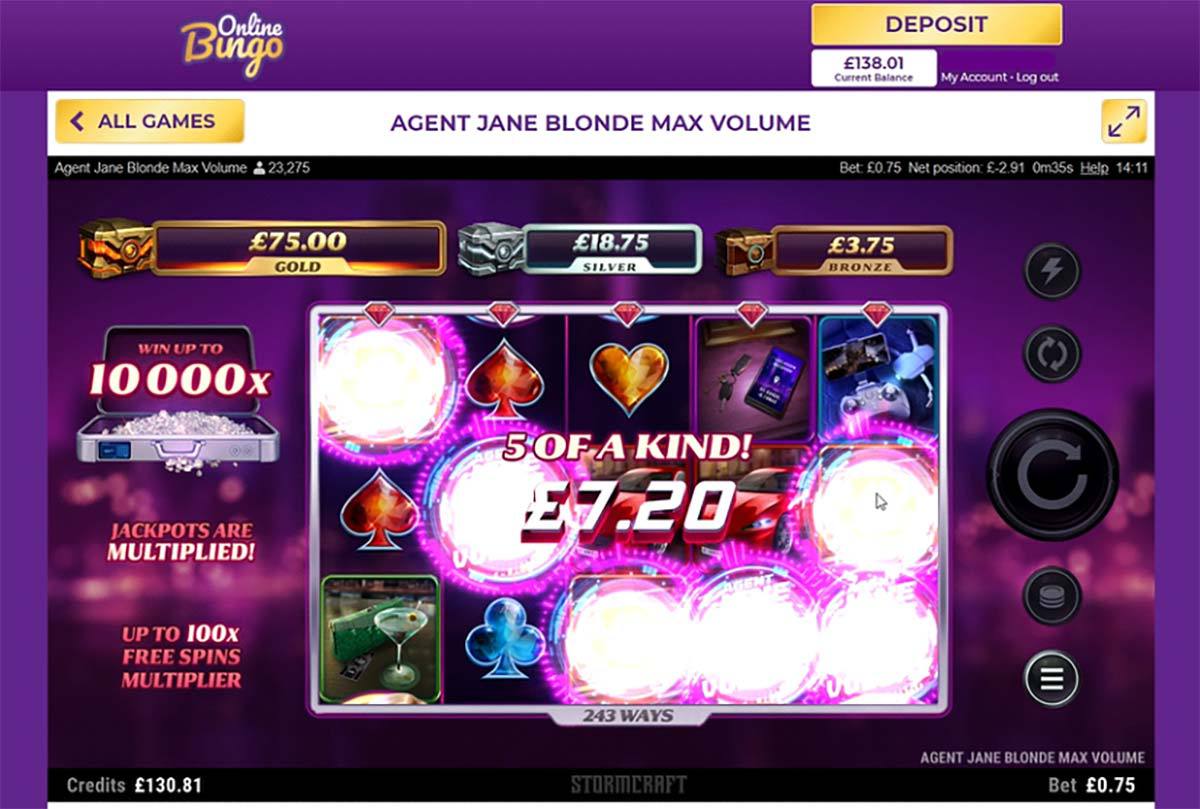 One final game was played, Clover the Rainbow, which started off slow. The reels were spinning with no result and a message appeared on screen 'SLOW CONNECTION'. QuitYaMoaning was informed her internet speed was slow and causing the error.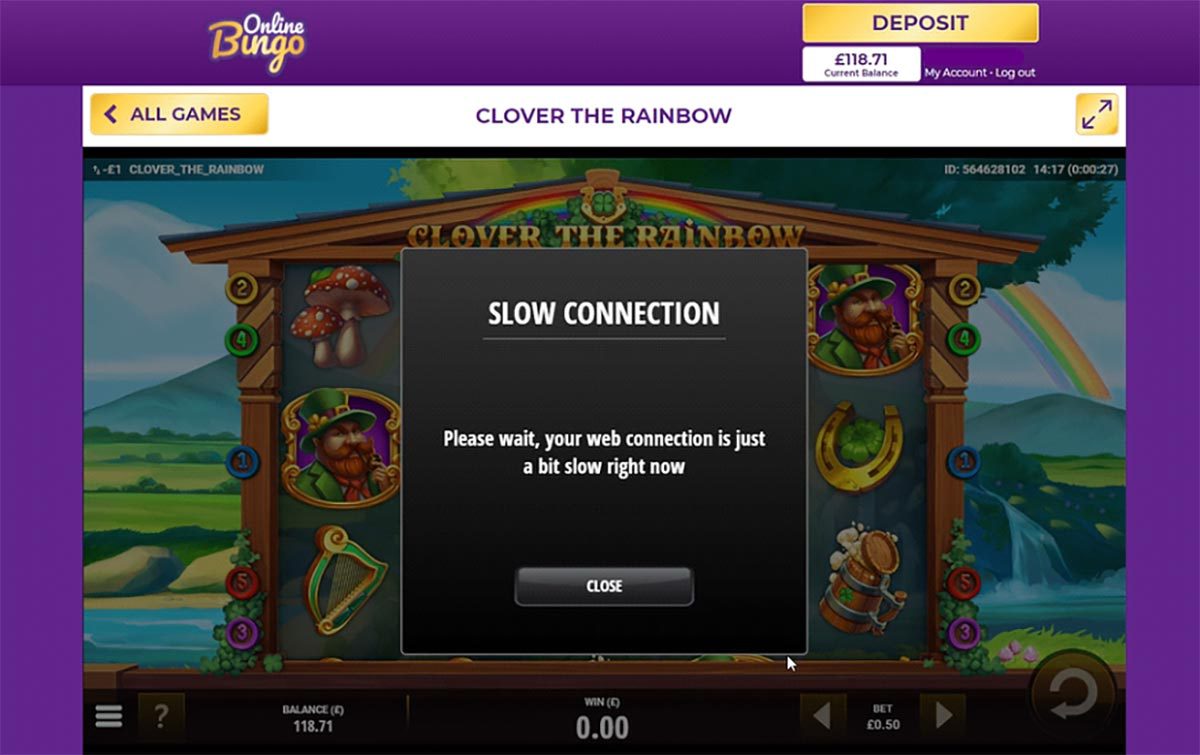 She instantly ran a line speed test of her home broadband, and the results were anything but slow.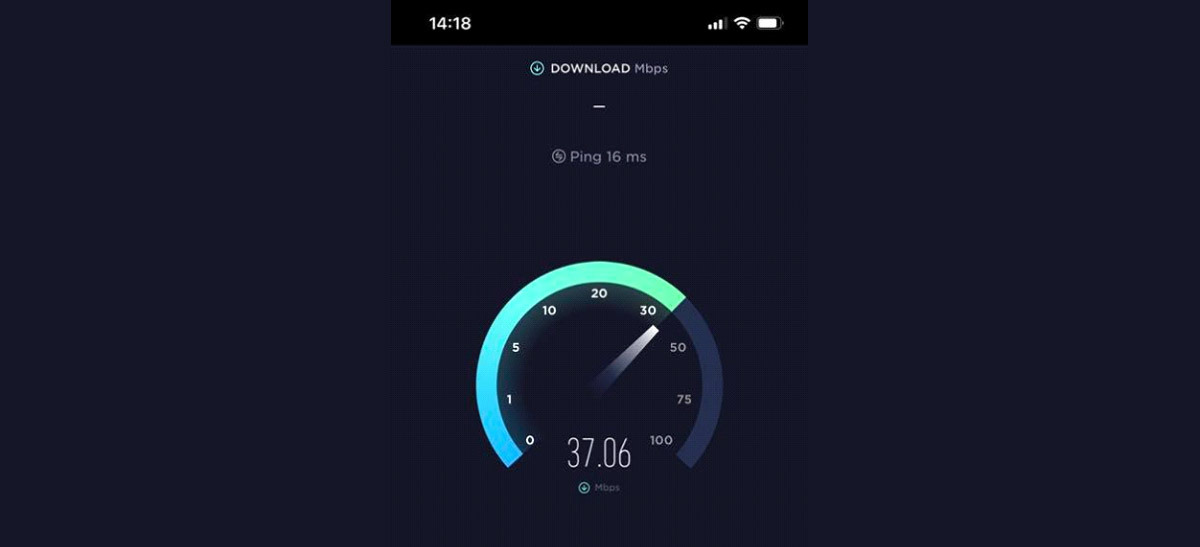 Requesting a Withdrawal
All new player accounts are subject to verification checks which could take up to 48-hours to complete. Our reviewer's account passed this check 47-hours later on Thursday 20th January. Logging into her account she discovered that KYC documents had not yet been verified, but she proceeded to cashout anyway.

On Thursday 20th January, QuitYaMoaning was warned that if she did proceed with her withdrawal request, she would lose any remaining spin the wheel offers in her account. As she wasn't planning on claiming any offers, the withdrawal request for £78.50p went ahead once she had agreed to the £2.50p fee. A summary of her withdrawal was displayed on her once submitted and a text message soon followed.

On Friday 21st January, the £78.50p withdrawal was processed minus the £2.50p, which meant QuitYaMoaning received £76.00 via Visa Debit once the fee was deducted.
How Does OnlineBingo.com Stack Up?
Unfortunately, cashouts are not free but come with a £2.50p processing fee for all banking methods. Once requested, the withdrawal was paid the next day via Visa Debit but it took four days (January 18th – January 21st) to complete the KYC verification due to the rejection of a utility bill from September/October. Without this oversight by the tester, verification would've likely been completed within 3 days (January 20th).
New players may have trouble registering if their email address is linked to another site via the Jumpman Gaming platform. Should this happen, players are given two options; to contact support via email, which could time to resolve, or register another email address as our reviewer did.
The only point of contact is email eliminating the possibility of instant responses you'd receive with Live Chat.
This information concludes this extensive test as part of the project From the Players, For the Players. If you are a member of OnlineBingo.com or consider making a deposit, we hope this report provided some useful information.
From the Players for the Players
Back to articles
Your feedback
Please enter your comment.
Your comment is added.
Bixy
02/10/22, 07:02:33 AM
I am not sure if I would continue and sign up again if at first the details entered were not accepted. Regarding withdrawal, it is clearly stated, the utility bill should have been from the last 3 months, so the payout would've been even faster if December's bill had been immediately uploaded.