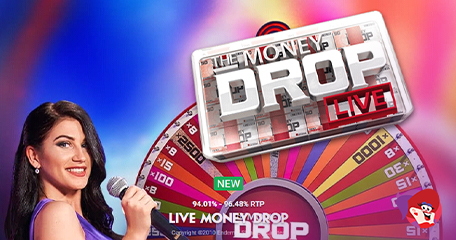 Cash is Droppin' Like It's Hot!
Endemol Shine UK is one of the largest independent media producers in the United Kingdom and is single-handedly responsible for a range of hit television shows, and not just dramas, but gameshows too. The most iconic being Deal or No Deal. It was in 2016 we last saw those identical sealed boxes, Noel Edmonds and the banker's offer grace our screens, but it's more popular today than it ever was, all thanks to online slots and bingo games bearing the DOND theme. And they're not done yet as we're about to witness the rebirth of another popular Endemol Shine gameshow, The Money Drop Live!
In 2018, The Million Pound Drop Live aired on Channel 4, with host Davina McCall handing over £1million in bundles to a pair of lucky contestants. The rules were simple, try to keep holed of as much cash as you can by answering correctly. Each round they were asked a multiple-choice question, with only one answer being correct. Stacks of cash would need to be placed on the chutes they think represented the right answer. When the timer reaches zero, the correct answer is revealed. Any cash on this chute would remain intact. All remaining chutes would open, and the monies placed upon that section would be lost forever. The process continues until they answer correctly in the final or they lose the lot.
Immersive Gameshow Fun
This isn't the first time we've seen a television gameshow come to life. Wheel of Fortune was given 6-reels and up to 1million ways to win per spin in IGT's more recent Megaways slot, and Who Wants to be a Millionaire was given a Slingo twist, but The Drop Live is more than just a reel engine. It's a supersized wheel with 54 segments, two bonus rounds and multipliers of up to 5,000x your stake! And it's coming to a Playtech casino near you soon!
Set within a live casino studio setting with adjustable camera angles and a chat feature, Money Drop Live is a thrilling game to play for all budgets. To begin, you select a stake you are comfortable with and place it on the table. You can bet on as many positions as you like. Possible options are 8x Quick Drop, 15x 1 Drop Round, 20x 1 Drop Round, 100x 2 Drop Rounds, 1,000x 3 Drop Rounds, 2,500x 3 Drop Rounds and the Card Clash. When betting time is up, the live host will spin the wheel. Before the outcome of the round is revealed, a booster will be revealed and shown on screen. When the wheel comes to a stop, you win the multiplier shown or you'll enter the bonus round if you placed a bet on this outcome.
Card Clash is a battle for the highest card. A standard deck of cards will be shuffled manually by the host during this feature. There are two sides, left or right and you need to decide on a side before the outcome is revealed. One card will be dealt to both sides. The side with the highest card wins. Multipliers are awarded based on your stake. In the result of a tie, neither side wins, unless the game outcome is 3 ties, then a multiplier of 1,000x is granted to both sides.
The biggest thrills come with the drop game. Just like the television gameshow, you will be presented with four drop zones, only there's no question to answer. Place your money on A, B, C or D and wait until the timer reaches zero. If you have your cash on the only drop zone not to open up, you win! There are boosters available for this bonus round also, so instead of one safe zone, there will be two.
Will you be giving it a go? Let us know your thoughts below.
General Bingo News
Back to articles
Your feedback
Please enter your comment.
Your comment is added.
Member's Feedback (1)
MadamMilly
06/30/21, 08:06:08 AM
All these gameshows as casino games are brilliant! I'm waiting for classics such as Who Wants to be a Millionaire as a gameshow, play your cards right, price is...
All these gameshows as casino games are brilliant! I'm waiting for classics such as Who Wants to be a Millionaire as a gameshow, play your cards right, price is right and generation game! How amazing would those be?
Show more