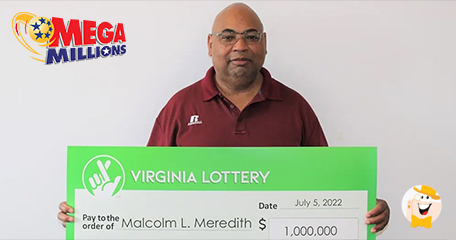 Weeks of Nothing Then BANG! Mega Cash!
Here's something you don't see every day, a 'no-win' lottery ticket producing an eye-watering $1m in cash and no, this isn't a fairy tale nor just a story, it is in fact reality. What we're about to tell you is the stuff of both dreams and nightmares – you ready?
Some time before the May 20th drawing of the Mega Millions this year, Malcolm Meredith, of Manassas, Virginia, decided to try his luck by buying a lottery ticket. The winning numbers were 33, 40, 59, 60, 59 with Mega Ball 22 (MegaPlier 3x). Soon after the man checked his ticket but wasn't sure whether he had won a prize or not so as you do, he headed off to a retailer to be doubly sure.
If At First You Don't Succeed, Try Again
Handing the ticket over to the cashier he was told that his ticket was a 'no-win' ticket, not that he ever thought he'd land a life-changing sum but it was always best to check. Retaining his ticket he went home and thought nothing of it…
…until two weeks later he had doubts in his mind over what he was told. Lottery ticket in hand he went to directly to the Virginia Lottery's Northern Virginia Service Centre and asked for a second opinion. According to local media Meredith was "hoping and praying" for a positive outcome and to his absolute horror and amazement, he was told his ticket was a winner and that he had won a mega $1million!
Here in the UK the National Lottery fitted sounds to their machines after a spate of rogue cashiers thought they could pocket a fortune by misleading winning ticketholders. Now, when a lottery ticket is scanned the machine will produce a loud jingle to alert the player to a win.
Meredith had decided to play the Easy Pick option instead of choosing his own numbers, which meant the computer randomly selected his numbers for him. The jackpot at the time was an impressive $131million. The lucky man from Virginia matched the first five numbers of the Mega Millions drawing, the only number he didn't have was the Mega Ball, and he was the only ticketholder to match the first five numbers drawn!
According to the Virginia Lottery, the odds of matching the first five numbers of the Mega Millions are one in 12,607,306. He bought his ticket at a Harris Teeter grocery store in Manassas. The grocery store will now receive $10,000 for selling Meredith his winning ticket.
If in doubt always check again even if it means heading to a lottery centre or picking up the phone to call the lottery helpline. Even the online service can malfunction or in worse cases can be hacked .
Source: "Virginia Man Wins $1M in Mega Millions Lottery After Thinking He Lost". Fox32 Chicago. August 8, 2022.
Bingo Society News
Back to articles
Your feedback
Please enter your comment.
Your comment is added.
lollipops321 08/10/22, 01:08:14 PM
There are way too many stories of winners being lied to. Surely there is a much safer way for ticketholders to find out if they have won. Like the United Kingdom the machines should sound or display a pop-up or something.