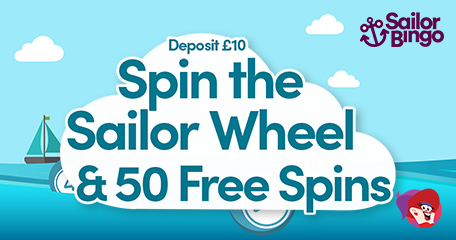 100% Wager-Free Prize Pots – Always!
Ahoy me mateys, have ye heard about the tidal wave of free bingo and no wager perks over at Sailor Bingo? By dropping anchor and exploring all they have to offer opens up a treasure chest of rewards and fringe benefits that truly need to be seen to be believed.
The rewards ahoy club invites players to level up for higher daily, weekly and monthly offers, and by doing so they are able to trigger up to 20 bonus spins, 3% real money monthly cashback plus free bingo tickets to some of the biggest cash paying bingo games!
Devil's In The Detail
Every bingo ticket and slot spin purchase boosts that point balance, pushing that loyalty level even higher. Take a look at the highlights of this promotional offer:
Bonus Spins: Get bonus spins every day from your first play, with all winnings going straight to your real-cash balance!
Kaching – Get In: Earn up to 15 Kaching tickets for a chance to win a share of a £50 community pot.
Big Bang – Everyone's A Winner: Earn up to 35 Big Bang bingo room tickets (worth £350!) to win a slice of £10K monthly. All ticketholders are guaranteed to win a prize!
Ace Clubbing It: Now, this is the one where you can earn free bingo tickets to big bingo games.
Earn up to 40 Ace Club bingo room tickets to win your share of up to £250 every 2 weeks
Earn up to 20 Ace Club Diamond bingo room tickets to win your share of up to £250 every month
Monthly Cashback: Earn 1% to 3% of monthly cashback as real cash on your losses – all 100% withdrawable with no wagering!
Level Up Exclusives: Reach level 4 on the rewards ladder for even more free bingo tickets to real money jackpot games:
Level 4: Win a slice of £100 every week by invitation only, exclusive to Sailor Bingo
Level 7: Win a share of £200 every week
Level 10: Win a share of £600 every month when at this loyalty level
Weekly Rewards: Unlock access to the Weekly Rewards Wheel when you deposit and wager £20+ in a week. Bonuses include playing top-performing slots for free, access to free bingo tickets as well as bingo and casino freebies.
Big Bingo Jackpots & Other Promotions
Reaching for the spyglass revealed even more Sailor Bingo promotions, all of which are wager-free and there's no hourglass in sight, meaning no end to the huge variety of exciting offers. We all want to win big bingo jackpots and many do here with thousands up for grabs everyday just in the bingo rooms…
…big slot game jackpots are available to be won around the clock, if you're lucky enough to land those jackpot symbols! Where were we? Oh yes, bingo room prize pots. If we were to list all of them we would need a couple of hours, so instead we bring you a brief look at what you'll find at this swashbuckling mobile bingo site:
Sunday: When the Sunday roast has settled, Sailor Bingo cook up £10K in cash! Played every Sunday at 8pm, tickets can also be purchased in advance if you've made other plans. This 75-24 Bingo room offers a chance to win a share of that ten grand for just 50p a ticket!
Monday: Will you beat the Monday blues with this weekly jackpot game of £600? There are five chance to win five prizes in every game for just 5p!
Tuesday: Every Tuesdays at 9pm, there's £1,500 up for grabs and someone has to win! Grab a ticket for as little as 25p and join the triple chance game for 1 line of £250, 2 lines of £500 and a Full House of £750.
Wednesday: At 9pm on the dot, £500 will be won for just 50p.
Thursday: Match the pattern on any (25p) ticket to walk away with up to £1K in cash!
And There's More
Want some (more) free bingo action? Ever single bingo room, paid to play or not, pays 100% wager-free prizes, making Sailor Bingo a popular choice within the online bingo community. Every couple of minutes £4 is won in the Free4U room, £250 is won every Sunday while £1K is won for free every Monday evening.
#1 – Weekly Giveaways: Every Tuesday at 9pm one lucky bingo dabber wins an amazing prize. What prize? The prizes vary each month based on player feedback and popularity. But how do you win? To win a prize, all you need to do is win the (coverall) full house in the Prize Room. If there is more than 1 winner, the value of the prize (stated) will be shared equally between with the winners…
…here's the fun bit, tickets to the prize room are not for sale! You have to either earn them or win them. Each month different promotions and offers will be running for free entry to the prize game(s). Players may be able to get them with a code, win them on the (daily) Rewards Wheel or earn them by completing fun tasks.
#2 – Mystery Jackpots: Every game in this exclusive room features a jackpot that is only revealed 10 seconds before the game starts. The prize value is 100% cash and will be selected at random of between £10 and £500. Once revealed, the jackpot is then "Fixed" and will be the full house prize for the next game.
#3 – Jackpot Slots: Tens of thousands of pounds up to multiple millions can be won with a spin of the reels! Eyecon jackpot games guarantee to pay before a set level while progressives from other software providers will creep up and up with no set limit! To win, land the jackpot icons and hey presto! Be sure to read the game rules before playing.
*New player offer: Deposit £10 and get a spin of the Sailor Wheel and 50 bonus spins.
Bingo Promotions & Bonuses
Back to articles
Your feedback
Please enter your comment.
Your comment is added.
bridgetjones
03/20/23, 08:03:21 AM
There's a win cap on spin offers but it's still cash. I love these types of offers.