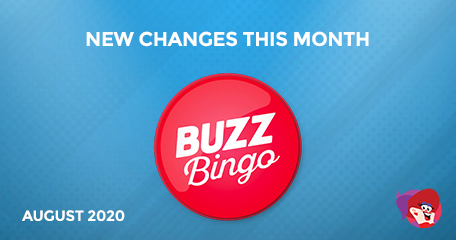 It's all go over at Buzz Bingo HQ this month! First came the mammoth of all giveaways; a prize draw to win an Audi A1 (keep reading if you missed this one!) to introducing a plethora of new games and all this came between hosting quizzes on social media and announcing big winners! But there are some changes to come this month – important changes that each and every one of you should know about!
Recently, I received and email telling me there will be some important chances to my Buzz account terms and conditions and I instantly started to fret! Was this popular bingo brand about to do a U-turn on its wager-free guarantee? We're we about to be hit with extortionate bonus terms?
The good news is the terms and conditions surrounding bonuses and wagering are unchanged (phew!) but the changes that are coming in on Monday 17th August may affect you. Monday 17th August will see changes roll out online from midnight with land-based venues following shortly after. A quick overview of the three key changes are:


Protection: Your Buzz Bingo club funds will be given the same level of protection as those online. This may not seem like a huge change but when changes are made to the protection of funds, their UK Gambling license requires them as a responsible operator to inform its customers. According to the email "This means customer funds are awarded a medium level of protection in case of insolvency - steps have been taken to protect funds, but there's no absolute guarantee that all funds will be repaid."


One Account: Soon, you'll be able to use one secure Buzz Bingo balance at any of the many clubs up and down the UK and at the online bingo site and this also means more flexible banking for both deposits and withdrawals! Plus, if you have a deposit limit in place online, this same limit will be applied to your in-club account, meaning you will never go over your chosen limit! One thing to note here is that any winnings you may win in-club, will not be counted towards your limit. Changes apply to all gaming products; bingo, casino and slot titles.


More Control: Buzz Bingo are introducing more self-exclusion options! From the 17th, you'll be able to self-exclude from the online bingo site, from their clubs or both, a brilliant change for those looking for gambling help!


Missed the piece on winning a new Audi A1? All you have to do is spend any amount on tickets in the Voice UK bingo room before midnight on Sunday 16th, to get 10% cashback on losses (up to £10) and get 1 entry into the win a car prize draw! Stake £5 cash and receive a £1 bingo bonus between Monday 17th and Sunday 23rd, for a prize draw entry for each bingo bonus triggered (up to 5)!
Monday 24th to Sunday 30th; every £10 staked on tickets in the value room triggers an entry into a prize draw to win £1K and one entry into the car prize draw. Twenty-five players will also get an invitation to play free bingo to win a share of £1K!
Promotions & Bonuses
Back to articles
Your feedback
Please enter your comment.
Your comment is added.
Member's Feedback (1)
bridgetjones
08/13/20, 05:08:58 AM
It's great to see the deposit limits being linked to club visits too, it closes the loophole of spending more than you can afford. Brilliant changes in my opinion.
It's great to see the deposit limits being linked to club visits too, it closes the loophole of spending more than you can afford. Brilliant changes in my opinion.
Show more