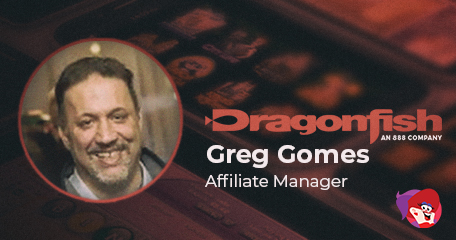 LBB is proud to present an exclusive interview with Greg Gomes. He's played a major role in the online bingo industry having worn many hats over 2 decades. As Affiliate Manager at Maxi Affiliates, a program with numerous bingo and casino brands under its umbrella, we wanted to pick his brain to answer some burning questions. Ever wonder about Dragonfish bingo networks and what the differences are? Greg covers this topic and more along with his thoughts on our From the Players for the Players project, which examined two Maxi Affiliates bingo sites. Without further ado, let's get into the interview!
Q: Please introduce yourself and tell us about your iGaming background.
A: My name is Greg Gomes – a South African by Birth - a Londoner by circumstance. Some call me the Dinosaur of Bingo – I prefer to be known as the connoisseur of Good Bingo rooms. Ive been working in IGaming for over 20 years, I have a passion for providing an entertaining IGaming experience.
Q: In addition to several online casinos, Maxi Affiliates runs many bingo brands such as Bid Bingo, Chit Chat Bingo and Lovehearts Bingo. Are there any notable differences between bingo players and casino players?
A: Bingo players we find mainly play for entertainment whereas Casino players are after the big bucks. That's a generalization as well as a simplification of how things are. Generally, we find that Bingo is used by players more so for entertainment reasons rather than to win massive amounts. There are still some amazing jackpots to be won, just ask the player that won the Rollercoaster Bingo jackpot at one of our rooms. The first time it paid out ever.
Q: Can you explain the differences between the various Dragonfish networks?
A: Absolutely – I was part of the team that sold the original software to 888/Dragonfish. There are 2 networks. The older original network is commonly known as the Globalcom network. It is the match bonus network. So that would be brands like Chit Chat Bingo & UK Bingo that offer a match bonus and other bits and pieces on a first deposit. There are wagering conditions attached to match bonuses. As all our bingo sites ae UK Licensed – these terms and conditions are very fair.
The newer network is the Real Bingo Network or the No Wager Network. This network does not have match bonuses. Brands like Lovehearts Bingo or Bingo Barmy will offer players Bingo Tickets and Free Spins. The popularity of these rooms increased hugely in the last year due to the fact that there are No Wagering Conditions. Players can cash out at any stage without having to meet any wagering terms.
Q: As part of our 'From the Players for the Players' project, a complete review from registration to cashout was conducted on Pink Ribbon Bingo and Bingo Barmy. While our goal is to educate online bingo players, were the tests of any value to your team?
A: Absolutely – the tests were shared internally with the team and taken to the platform provider. The tests highlighted some glitches in some games that have hopefully been resolved. Thanks for the reminder, we are going to follow up on that. Tests like these can be construed in a variety of ways. We enjoy them as a fresh set of eyes can often see what we have become immune to.
Q: As a representative of reputable bingo brands, what tips do you have for players when considering where to deposit?
A: I would say firstly make sure your information source is impeccable. Sites like Latest Bingo Bonuses are an invaluable resource for players as they cover and keep a watchful eye on the industry. Let's face it, this is the internet and there are always going to be fly by night operations out there. The best way to avoid them is to make sure your starting point is a good one.
Be sure to play at licensed venues or LBB recommended venues only. In the UK especially the UKGC have implemented a series of player responsibility rules and verification rules. Sometimes it can be annoying as certain documents will be asked for. You will know that you are playing at a good venue if this is asked. If it is not asked, then you might want to reexamine where you are getting your bingo joy.
Q: With the majority of your brands licensed by the UKGC, how have regulatory requirements and compliance affected you?
A: Initially it was a lot of work, and it took away resources that would normally be used to focus on player entertainment. We did realise however that player safety and player responsibility are paramount and decided to knuckle down and ensure that all of our bingo sites were covered and totally compliant with all regulations. It was a huge amount of work as we have more than a few sites. It is well worth it though as we are happy to know that first and foremost we are offering a Responsible entertainment experience in a secure environment.
Q: Bingo52 recently exited the UK market. What led to this decision and how has this changed the brand?
A: The exit of Bingo52 was driven by 2 reasons. We wanted to focus on the Canadian & New Zealand Bingo market and the retention of a UK License for these regions was not required. We also wanted to be competitive in these regions, that meant that we had to offer a registration bonus in some format, and this was impossible to do with the UK License attached. We decided to remove the License from that single brand and launch it to those markets. So far so good, we have a lot of people playing housie with us as its known in New Zealand and we are one of very few Dragonfish Bingo rooms to boast the Interac solution for Canadian Bingo players.
Q: What are your thoughts on the future of online bingo?
A: Innovation, more variations and increased entertainment. Online Bingo really has been a huge driver of fun in the UK. It is the most popular game along with the lottery in the United Kingdom. For so long there was the stock standard 90 ball & 75 ball bingo games. We are now seeing a lot more variety with 52 ball and 40 ball bingo games available at our rooms. In short, we think that players are going to see a lot more variety coming up. That said the increased regulation in the Online Bingo market in the United Kingdom might see a few more bingo rooms shutting shop. That might mean fewer brands to play at. So more variety in terms of games on fewer brands. The future is bright, the future is bingo.
Back to articles
Your feedback
Please enter your comment.
Your comment is added.