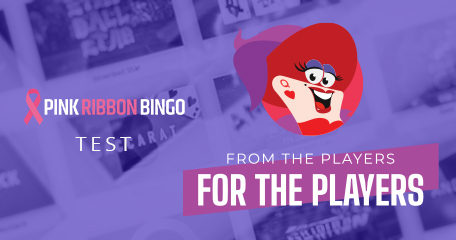 Established in 1997, Pink Ribbon Bingo is one of the oldest online bingo sites still in operation, but despite this, the website, promotions and bonuses are anything but dated. Since its launch, the brand donated a percentage of its profits to charity, something they continue to do to this day. Bingo players won't see a drop in prize money or bonuses, in fact it's quite the opposite! The bingo community can help a charitable organisation while trying to win a full house, all without spending any extra cash.
The time has come to put Pink Ribbon Bingo to the test. All operators claim to deliver the very best games, promos and perks, so naturally, we wanted to see if this was the case for ourselves. We've sent the reviewers in to test Big Tease Bingo and Lady Love Bingo over the last couple of weeks, and we've picked up on a few things no operator likes to admit. Nothing beats personal experience, which is why the entire process - from registration to withdrawal - will be subject to scrutiny. Pink Ribbon Bingo are the latest to go under our microscope, so let us take a look at the results.
Tester of the day: iminthepink
Registration date: Wednesday 23rd June 2021, at 13:55
Deposit date, amount and payment method: Wednesday 23rd June, £142 via Visa Debit at 13:58
KYC verification: Identification submitted on day of registration. Documents verified and accepted on Thursday 24th June at 13:51.
Withdrawal request date: Wednesday 23rd June at 15:09, withdrawal request of £50.06p via Visa Debit.
Withdrawal received date: Friday 25th June at 20:43, £50.06p received via Visa Debit.
Sign-Up and KYC Approval
Sign-up was the first step toward accessing the promotions and games Pink Ribbon Bingo has to offer. Registration was straightforward and no issues were reported.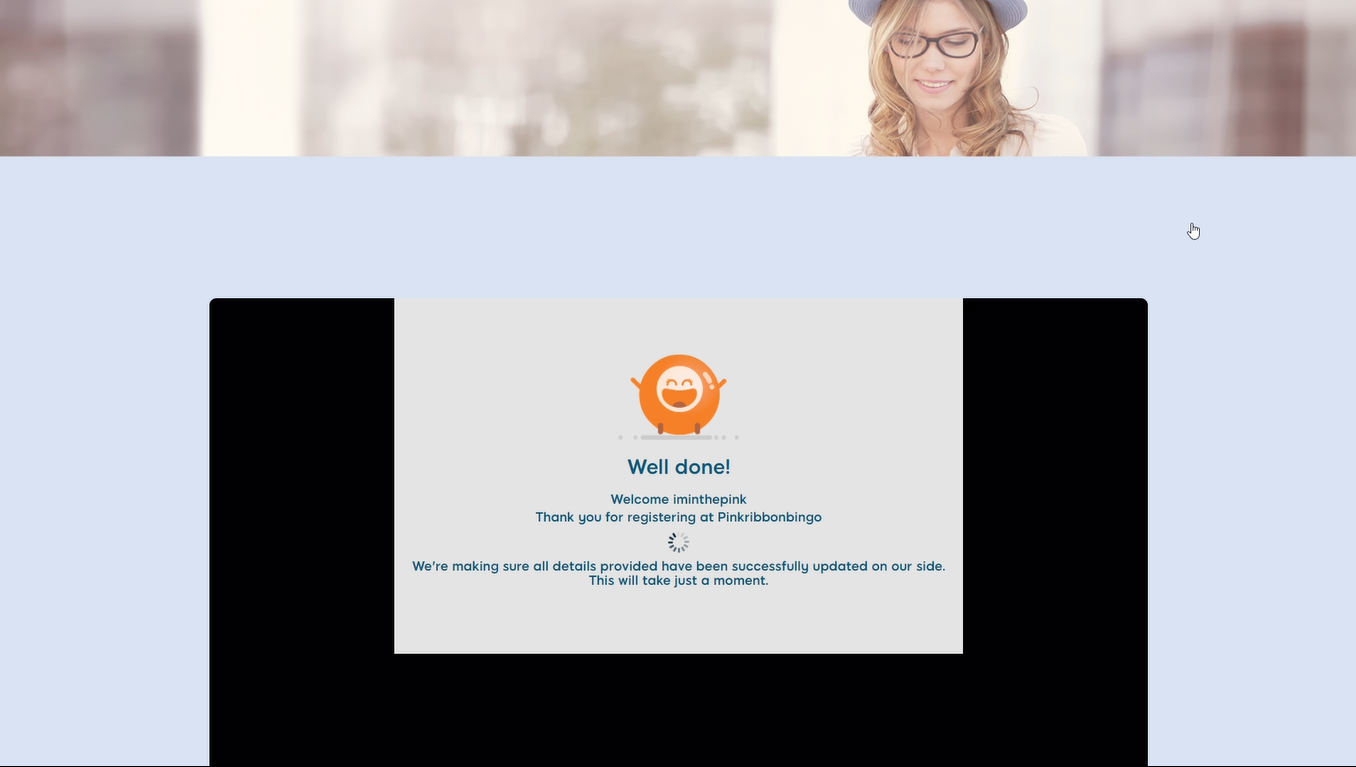 Upon completion, iminthepink uploaded KYC documents to avoid stalling of her withdrawal. It took less than 30-seconds to upload a copy of a recent utility bill, photo of payment methods and driver's license. Less than 24-hours later an email stated her documents were accepted and verified.

Initial Deposit
Our reviewer is a fan of PayPal due to quick withdrawal times, so when making a deposit, she always looks for this banking option. Pink Ribbon Bingo welcome deposits via a handful of payment methods, including PayPal.
Heading to the cashier, iminthepink selected PayPal and accepted the 'funds protection information' message.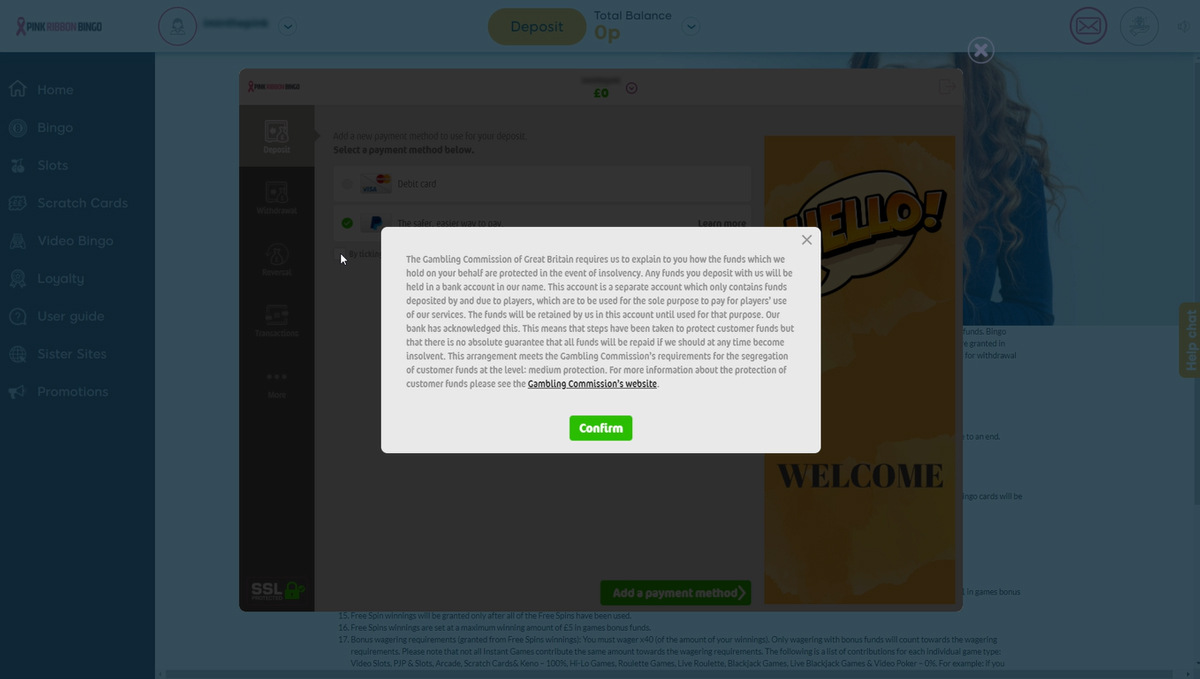 The next step was to complete the PayPal transaction and for this, it requires the user to select a deposit amount. Skipping past the pre-set value buttons, our tester entered her desired deposit amount of £142 into the box labelled 'other'. Having done countless PayPal deposits, iminthepink knows in order to complete the transaction, she would be navigated away from the bingo site. What's next? A PayPal email and password to authorise the transaction. Usually, this process takes a few seconds before being returned to the bingo site to confirm the deposit was successful, but it wasn't this straightforward for our reviewer.
To the lower of the cashier was a message in bold red text: "PLEASE NOTE: PayPal supports only on modern browsers. If you encounter an issue depositing using PayPal, please contact us."
Our reviewer was using Internet Explorer in Windows 10, which is no longer considered a modern browser. Microsoft Edge has replaced it on Windows PCs in recent years. Unaware that the browser was outdated, she continued attempting to deposit with PayPal twice and was met with a screen full of error messages each time.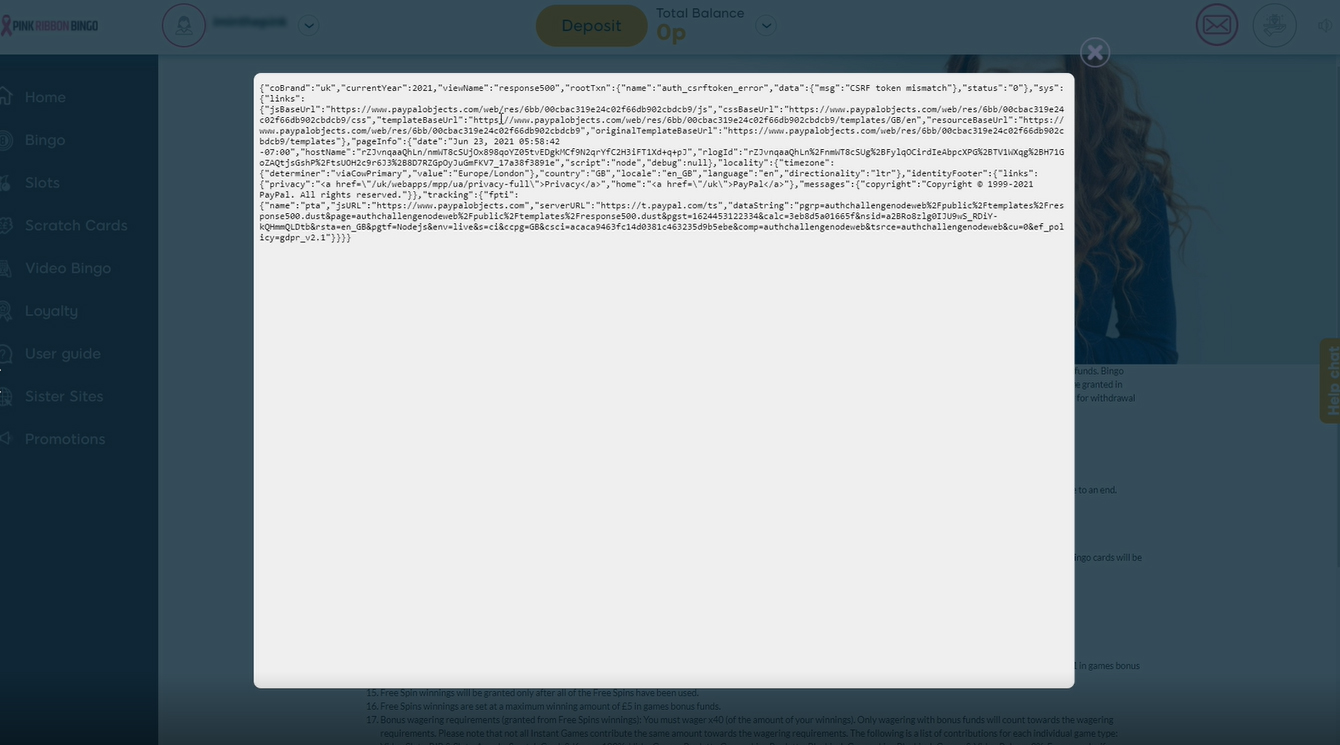 Pink Ribbon Bingo support recommended that she contact PayPal regarding the issue. Rather than follow up with PayPal, the UK-based tester completed the deposit via the only alternative payment method, Visa Debit. On Wednesday 23rd June, a successful card deposit of £142 was completed.
We reached out to the affiliate manager for the bingo brand for clarification to discover that Dragonfish is responsible for payment processing and the error messages displayed. It was also suggested that players use current browsers such as Chrome or Edge for safety.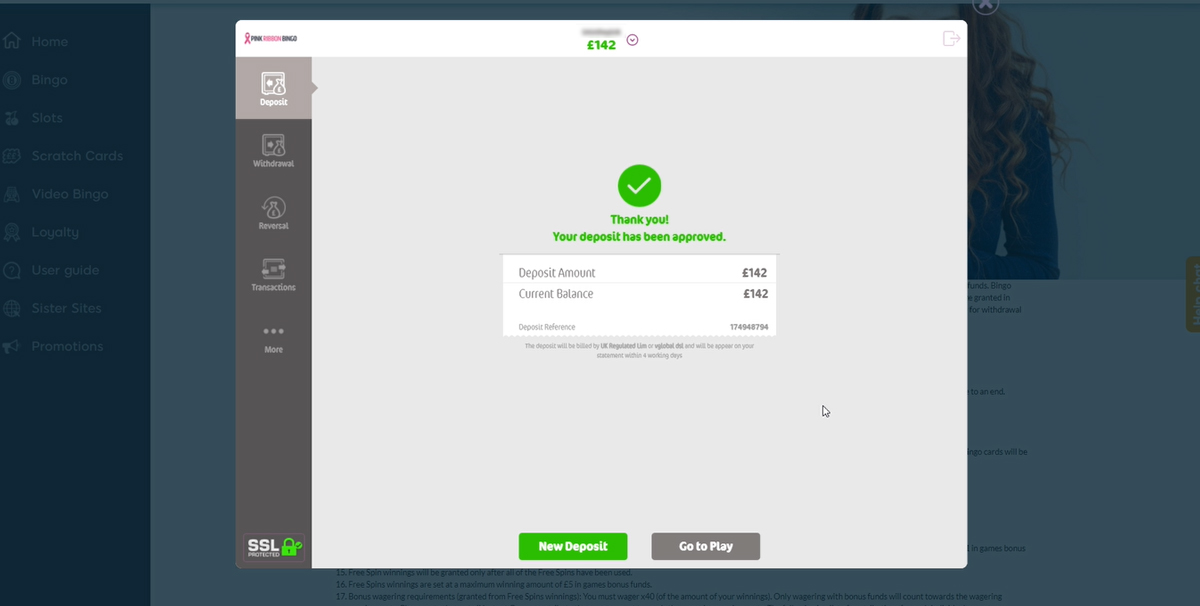 Gameplay
Pink Ribbon Bingo is not only the home of hundreds of top-tier slots, but a charitable brand where a chunk of profits from bingo game play goes directly to the Against Breast Cancer charity. The choice of bingo rooms is great, only many of them were either closed or had few players in on this day. One of the most exciting rooms available is the Mystery Jackpots room, where you won't know what you can win until ticket sales close.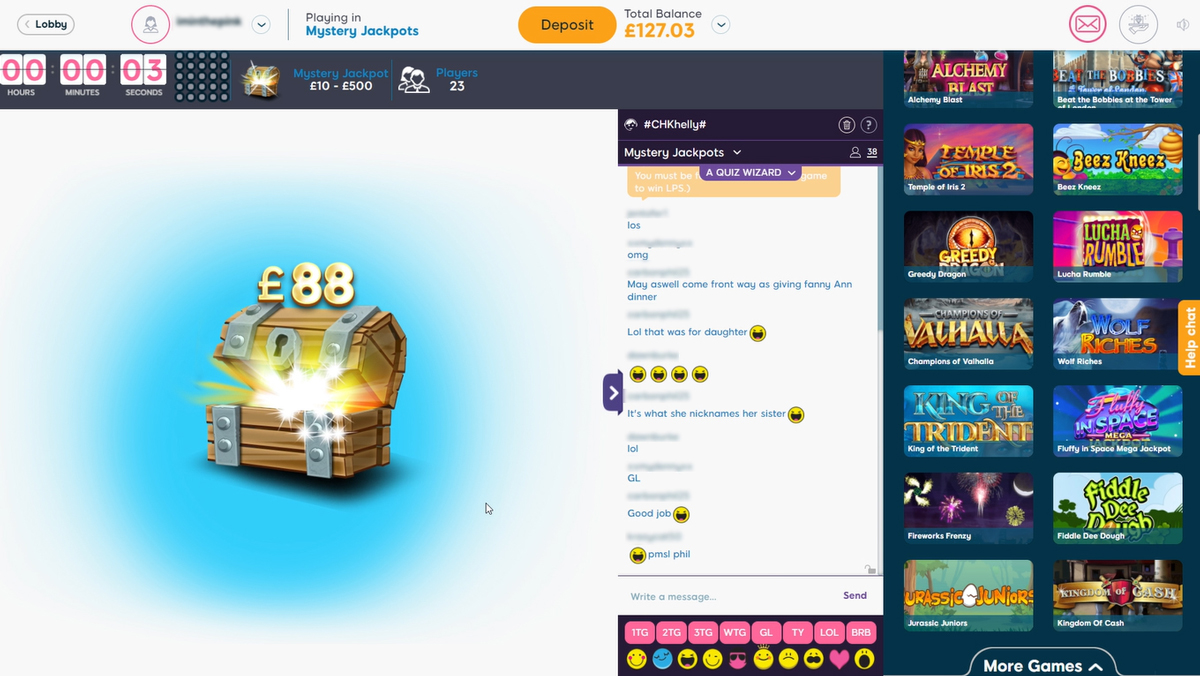 Iminthepink noticed that while her current game was in play, there were big signals as to what the next game prize would be, and this happened in every game she played. While playing for £88, £42 appeared in the prize bar. When the game was over and ticket sales for the next game closed, the chest revealed £42! While that game was being played, £25 appeared. Guess what the prize was in the proceeding game? £25!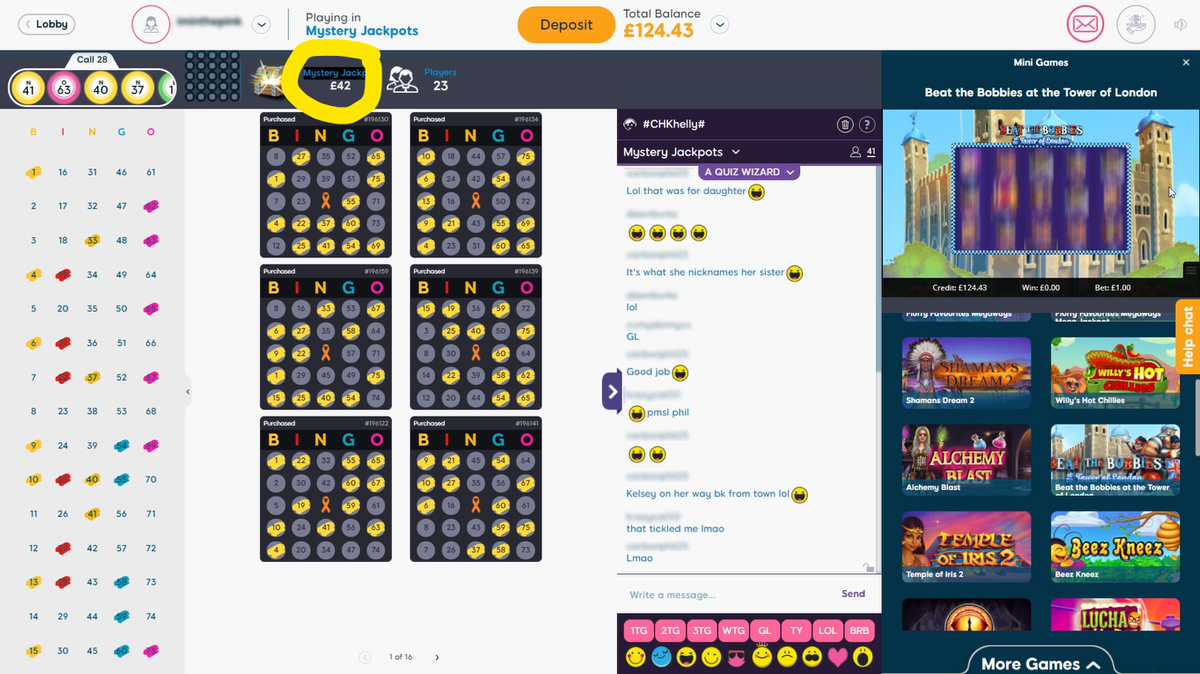 There were no other issues reported with gameplay.
Requesting a Withdrawal
Cashing out was an easy process. Just like when making a deposit, the cashier is where our tester headed. Requesting to withdraw her remaining balance of £50.06, she was asked to confirm the amount and the payment method type before proceeding. A pop-up appeared stating the request had been successfully submitted. The timeframe given in the cashier was up to 7 working days. On Friday 25th June at 20:43, our reviewer received a text message and an email to confirm the withdrawal of £50.06 had been processed and would be back in her bank account within an hour. It was there instantly!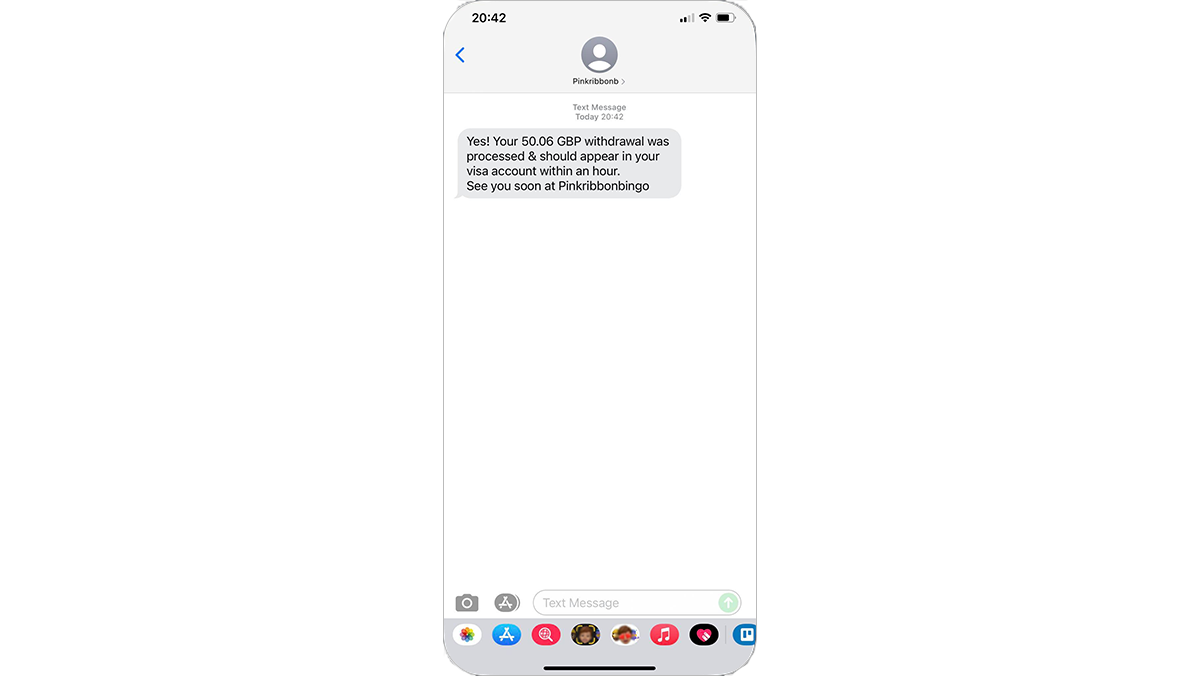 How Did Pink Ribbon Bingo Perform?
Success! Pink Ribbon Bingo does exactly what it says on the tin – offers a great choice of games, big jackpot win potential and plenty of promotions whilst helping a very worthy cause. Since 1997 it's supported the fight against cancer, and registered bingo players have been too. The Visa Debit withdrawal was done in little over 48-hours, so just as quick as PayPal!
This information concludes this extensive test as part of the project From the Players, For the Players. If you are a member of Pink Ribbon Bingo or consider making a deposit, we hope that this comprehensive and detailed experience helps in your future endeavours. Feel free to drop by and leave a comment for other potential players!
General Gambling News
Back to articles
Your feedback
Please enter your comment.
Your comment is added.
Member's Feedback (3)
Bixy
07/09/21, 09:07:41 AM
Awesome :) Great report, it's great when we find out that the entire procedure went off without a hitch. The fast payout is what we all search for. Thank you iminthepink...
Awesome :) Great report, it's great when we find out that the entire procedure went off without a hitch. The fast payout is what we all search for. Thank you iminthepink for your efforts.
Show more
Feelin froggy
07/08/21, 05:07:10 PM
Pink Ribbon Bingo promotes a great cause and treats players right! Positive experience and results from our tester in this report.
bridgetjones
07/07/21, 06:07:03 AM
I am glad to see everything went smoothly, Pink Ribbon is one of my favorite! Thanks for this report!