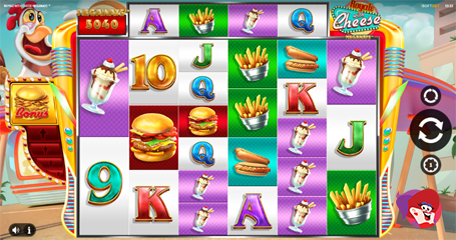 Serving Up a Big Feast 24/7!
There's something about an American diner that really hits the spot and we're not just talking about the food, it's the whole 1950's vibe they've got going on, and iSoftBet thought it would be a good idea to serve us up some delicious fun in a new classic American diner theme video slot! Hooray! Royale with Cheese Megaways is a fast-food adventure slot combined with a 6-reel engine and up to as many as 117,649 ways to win per spin, and thanks to some really tasty snack filled reels, the potential for huge wins of up to 50,000x is definitely there!
Why settle for standard when you can have super-size and that's exactly what you get with the build a burger mode, which runs in addition to the much-loved free games mode. Basically, you can trigger bonus spins by spinning in at least three scatter icons or you can land the feature by achieving five or more consecutive wins!
Mark Claxton, Head of Games, iSoftBet, said: "Royale with Cheese Megaways is a fun food-filled adventure offering a truly different gaming experience. With plenty of tasty symbols within the reels, we can't wait to whet players' appetites with this high volatility hit. The Build Your Burger feature at the start of the free spins mode adds an interactive element where the right fillings can lead to huge boosts in the round, with players leaving the diner with extra-large winnings!"
Where can you play? Stay with us as we reveal what you can win, how you can win as well plus details on where to play to keep 100% of your winnings!
Sample the Delights 24/7
Juicy burgers crammed with cheese, lettuce, tomatoes, onions, bacon and relish plus crispy fries, foot-long hotdogs with ketchup and mustard plus huge sundaes topped with wafers, cherries and chocolate sauce are on the menu and the good news is, the only piling on the pounds action we're going to see is when those tasty wins decide to come rolling into your bankroll! To help achieve wins you have wilds as well as a horizontal tracker above reels 2, 3, 4 and 5.
Every winning symbol is part of a reaction and one that can become part of a chain reaction! Each win will result in symbols being removed from the reels to make way for more. Nothing unusual there as we've seen this plenty of times with other slots, only, what you don't normally see is two different ways to trigger the free games, making it a unique game! Before that, let's talk about a surprise element that could spring into action when you least expect it – the max Megaways reel modifier! If you're lucky enough to witness this in action, you're about to get a full 117,649 ways to win spin!
Three or more scatter icons (golden burger) awards the bonus spins round where each win sees that win multiplier increase by 1x. Now for the build a burger mode. Five or more consecutive wins will award this feature, and you can expect great fun from what's to come! The pick mee style bonus will involve you picking items to build your perfect burger, which sounds absolutely dreamy! The first pick is done automatically and will always be a burger bun with +1 free game. All sorts of ingredients are packed behind the 5x5 grid including sauces, sides, mains and more!
Ingredients for your burger include:
Bun: +1 free game and the second initiates the free games.
Double Decker Bun: Doubles your spins and the multiplier at the point of being picked.
Chicken and/or Beef: +3 spins.
Chilli and/or Mystery Meat: +2 in the multiplier.
Chorizo and/or Egg and/or Bacon: +1 in the multiplier.
More Bacon: +2 in the multiplier.
Even More Bacon: +3 in the multiplier.
Cheddar: 1,000 minimum Megaways.
Swiss Cheese: 2,000 minimum Megaways.
Blue Cheese: 10,000 minimum Megaways.
Super Golden Cheese: 117,649 Megaways guaranteed!
Onions Rings/Jalapenos/Tomato/Onion: +2 spins each.
Mushrooms/Pickles/Lettuce/Ketchup/Mustard/BBQ Sauce/ Special Sauce/Mayo: +1 spin each.
Large Meal: Symbols 9 and 10 are removed.
Super-Size Meal: Symbols 9, 10, J and Q are removed.
Each pick can award one of the following:
Extra casino spins.
Increased starting multiplier.
Increased Megaways (1,000, 2,000, 10,000 or the full 117,649).
Certain symbols being removed from the reels.
Build a burger guarantees the multiplier at 1x with the potential to push this up even further. Plus, starting Megaways will be 324. Once the final burger bun has been found, the feature will end, and your free games will play out. Where can you play the latest lip-smacking slot title? Play OJO Bingo, where cashback is guaranteed on spins and bingo tickets, where winnings are always real cash and withdrawals are fast! New players are welcomed with 50 free bingo tickets and 10 spins on just a £10 deposit! Will you be giving it a try? Let us know below!
Bingo Promotions & Bonuses
Back to articles
Your feedback
Please enter your comment.
Your comment is added.
Member's Feedback (1)
HangingAround
06/08/21, 09:06:55 AM
Sounds like a lot of fun! I'm a fan of iSoftbet because I find their slots pay out more frequently than others.